There has been a bit of debate in this household as to when we should start packing. I think that starting about a week before we move is perfectly fine. Lindsey believes we should start in the next week or two. I suppose she does have a point, start going through the stuff you do not want to keep and as you do so, pack up stuff that is non-essential for the next few weeks. So yes, Lindsey was correct. I will say this here because she rarely reads what I write.
Today I started by going through my clothes. I just went through some of them about six months ago. Although that time I was not very aggressive. This time, if I had not worn something in a year, it was out.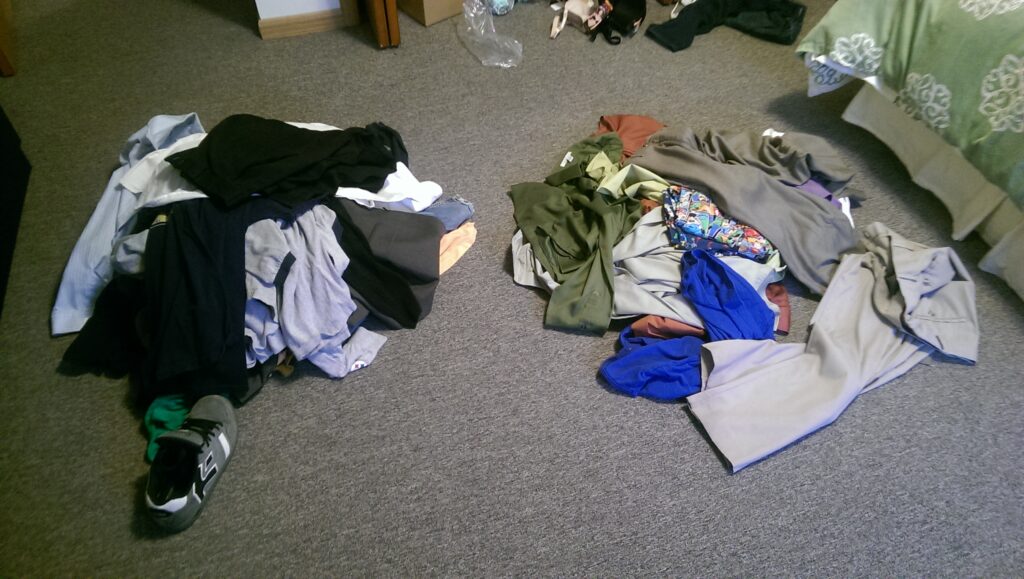 As you can see, I have two very large piles of clothes (the piles actually increased when I remembered the closet downstairs). The left pile is stuff that is in good shape that I will take to Plato's Closet in State College to sell. The other pile is garbage. These are mostly work clothes that have stains on them or stuff that has holes in it.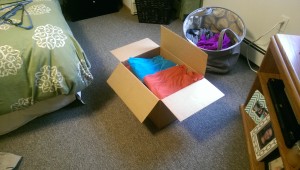 I then realized that it made no sense to keep all my summer time stuff out. So I packed up the shorts, polos, thin summer shirts into a box. Sadly it all fit into one box. I am guessing that is because Pennsylvania has like two weeks of summer weather.
The other day Lindsey and I went to some furniture stores to look at some new stuff. That was probably a mistake. We were both super tired from work and we were both a bit grumpy. Needless to say we did not find anything. Although, we did like a living room suit and one bedroom suit (not real sure if it will fit in the bedroom). Obviously the look on Lindsey's face says everything about this shopping trip.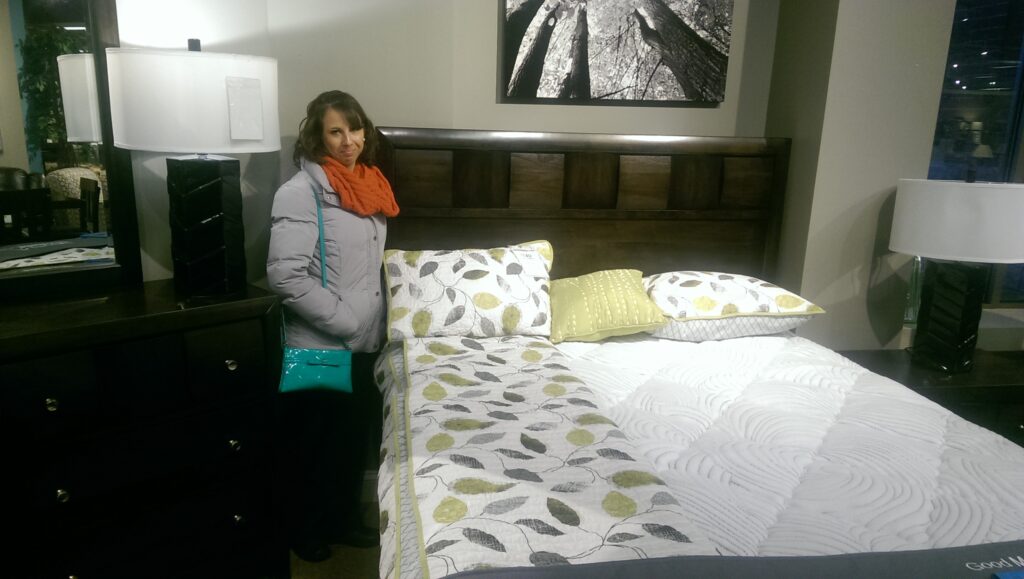 One of the things we discovered is that we have dissimilar tastes in decorations. I do not think that is all that weird. I also tried to reassure her that even though she does not really like the things I pick out (we are talking about bed spreads and shower curtains) that does not necessarily mean that I do not like the ones she picks out. However, after she says no to about forty of my choices, I tend to be a bit childish and say that I dislike everything she chooses. Like I said, it was probably a terrible idea to go shopping that day.
We will just have to keep trying and hopefully not murder each other in the process. I keep telling her that she can make all these decisions, I am fine with whatever, but for some reason she wants me to be involved. I imagine after a few years of marriage, I will come home from work and these changes will happen without me being consulted in anyway. I look forward to those days…