Well the title of this post just scared off 81.73% of my readers. Fortunately, that does not bother me and the rest of the people who like to read about this stuff (the nine other people in the league) will definitely enjoy…or not.
To start off, allow me to introduce the teams:
RyanLovesBigWieters:  Me
Kern Dynasty: Ryan
There is no Spoon:  Gideon
i can haz change: Jason
Roscoe G Cole Train:  Pat
I Like El Coffee & T:  Sean
Vandelay Industries:  Adam2
VeniVidiVici:  Dustin
Counting Aaron Crows:  Lindsey
Drunkin Salers:  Offord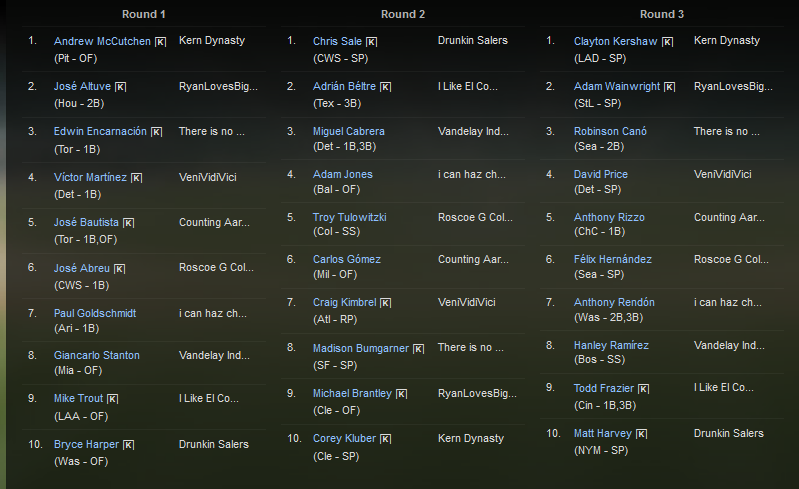 The first three rounds were a little uninteresting for most of us since this is a keeper league. That is also why it might look funny with certain people being drafted this early. There is one mistake, Ryan should have Michael Brantley and I have Corey Kluber. I must have assigned them backwards, but we will get that right.
Jason had the first pick since he decided not to keep anyone. I was shocked that he took Goldschmidt, I really thought he would take Miguel Cabrera. The crazy thing is that Adam2 lucked out by taking Stanton and then Cabrera (I guess he would have had Goldschmidt and Stanton, so it is not that big of a deal). Pat took Troy Tulowitzki, who I was really hoping would fall to the fourth round (I doubted it, but a boy can dream).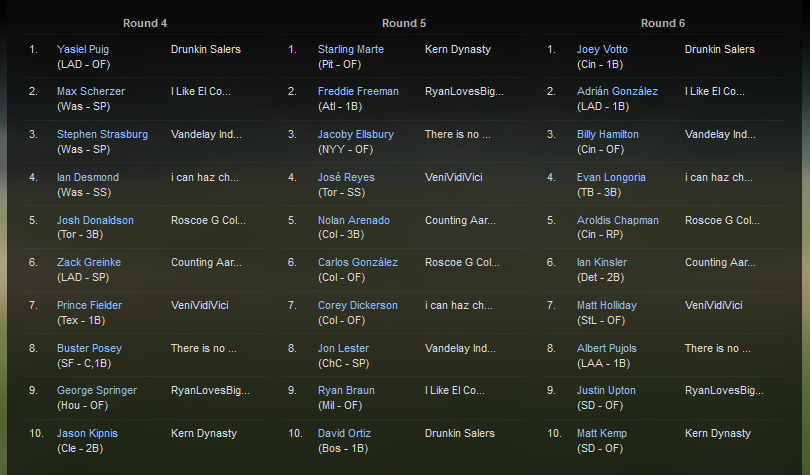 I thought for sure that Buster Posey was going to be available for my first pick. Gideon decided to ruin that dream for me. I took Springer because he could be a 30/30 guy, but he could also be a guy who only hits .220. The next guy I wanted was Starling Marte, but oh no, Ryan had to draft him. I decided to take Freddie Freeman because I wanted a first baseman, especially one as consistent as Freeman. After that things got a little screwy. I have no clue why I decided to take Justin Upton.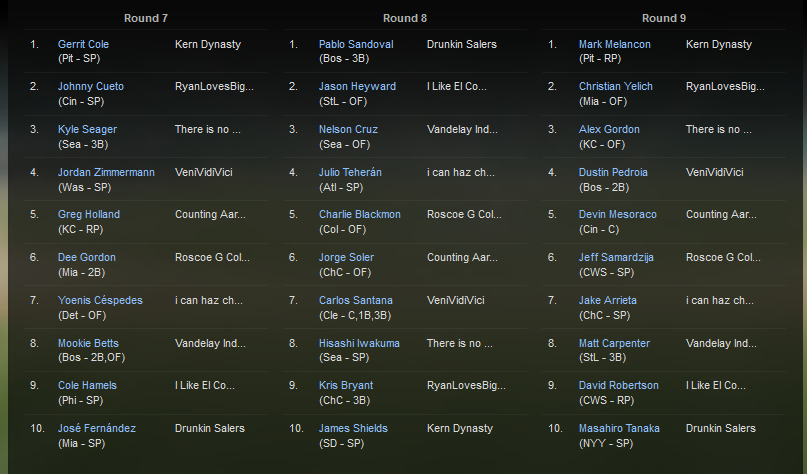 Then I received a phone call and almost ran out of time. I picked Johnny Cueto, not a terrible pick or anything, but Upton and Cueto were not on my list. I wanted Jose Fernandez, but as you can see, Offord grabbed him. He then started talking about Kris Bryant, which made me nervous (I wanted him in round ten), so I just took him. I do not want to mention what players I wanted instead of Cueto and Upton, but going down the line, I could have picked up the players from my list a round or two later. Ugh.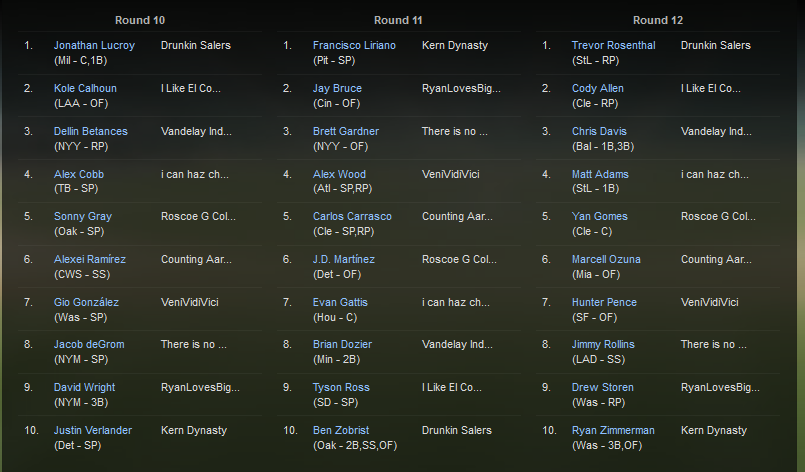 David Wright was available, so I took him because Kris Bryant will be in the minors for a month or so. I would say that Wright is a nice option to have. Then I took Jay Bruce. Why did I take Jay Bruce? Well I do not know. I meant to draft someone, but I was debating between two players and I ran out of time. Bruce was not even the next best player, Brian Dozier was the next best (I was debating him and a pitcher). Ugh, I am pretty sure Bruce will get dropped early on and I will pick up a middle reliever.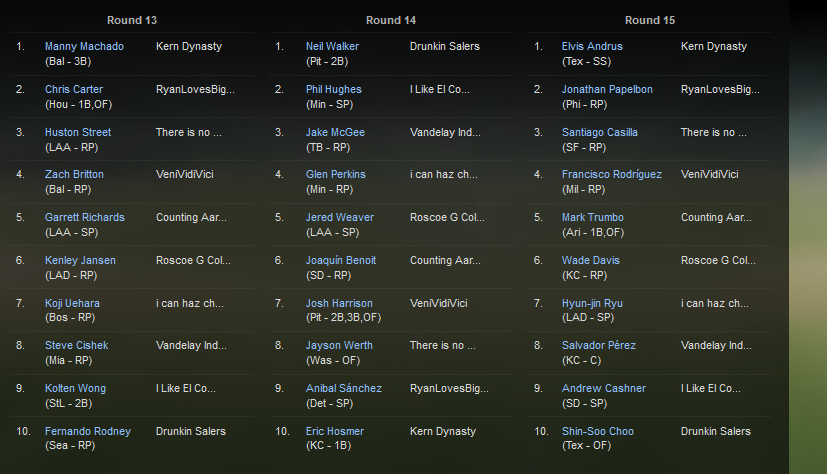 Here is where things start to get fun. I took Chris Carter. Why you might ask? Well the dude could hit 40 HRs, granted he might only hit .200, but whatever, he and Altuve can even out. Then I drafted Anibal Sanchez. Most of you know my love for him. If he is healthy, he has the potential to put up Zach Greinke numbers. After Sanchez, I took Jonathan Papelbon, who I would not normally draft, since he is on the Phillies and they will not be going for too many saves, but I have a feeling he will be traded at some point.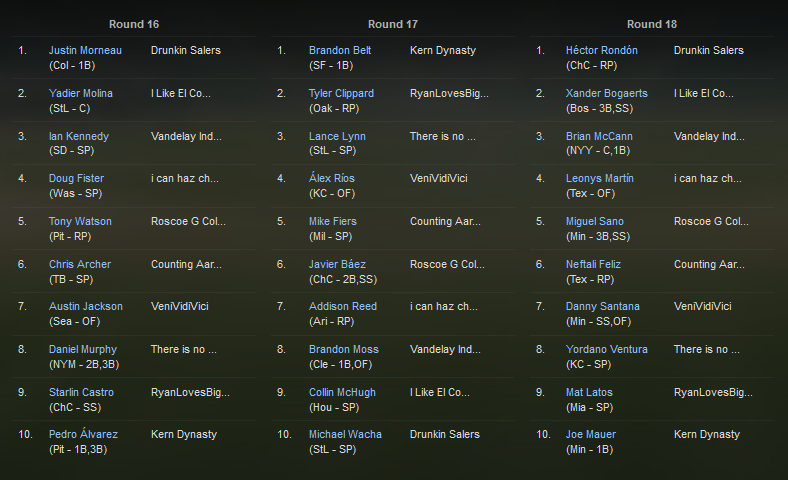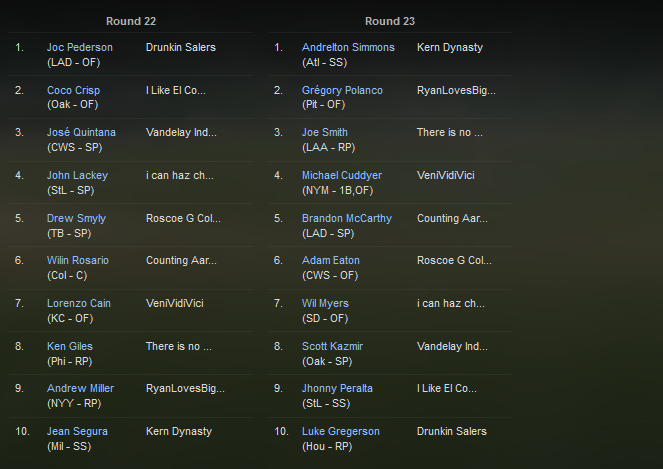 As you can see not too much excitement in the fina
l rounds. I was going to try and find some crazy pick for my final one, but I did not have time and Polanco was there so I figured why not.
Next week I will try to rank the teams based on projections.
I did a mock draft the other day (only the first twelve rounds) and I thought it would be interesting to compare.
I actually got six correct and one of them was Kris Bryant, so I guess I drafted him exactly where I thought. I did get some right just not in the right rounds.
A little note about this season. Lindsey played last season, but she did not really do anything. She took over a team because the guy did not pay attention after week one. She set the lineup sometimes, but usually I did all the work. This year she agreed to give it a real shot though. She actually drafted all on her own (in fact, she decided to steal a few of my players I wanted).
Last year whenever she would win, I would post a video of a cover of War Pigs. This year, I decided to do something involving the Counting Crows. Get it? I hope, I came up with the name. Not my finest work, but whatever.
Good luck to everyone this year!