I am sure you are getting sick of reading about our room painting adventures, but we finished another room and you get to read all about it! Once the Navy Room was done, we moved on to our room. We wanted to get it done before Saturday because that was when our bedroom furniture was arriving.
Fortunately, after the last time, we decided to do this room a bit smarter. First off, Lindsey went out and bought more tape, this time we tried Frog Tape. I took my time and made sure to really get the tape right. Then instead of starting with the trim, this time I just did the walls. I did small pieces of the walls with the edger tool and then filled in the area with the roller.
Once I was close to being done, Lindsey came home from work and helped with the second coat. As soon as it dried, we removed the tape and it turned out that my taping worked well. We did not completely mess up the walls or ceiling. This was a little easier because the color change was from light gray to dark gray, instead of pink to blue.
After the walls were finished, Lindsey painted the trim. She may have got some on the floor, but we were able to take care of it fairly easily. Then came the fun part, cleaning up.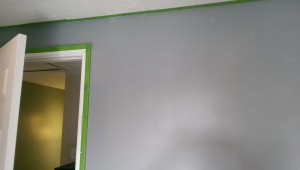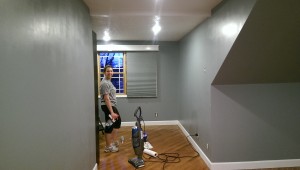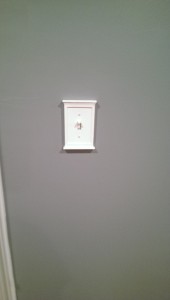 We went to Lowe's and I bought new outlet and light switch covers. I always figured they would be simple to put on, but that is definitely not the case. Those things are pretty easy to break, plus they are hard to get level and make line up properly. I finally got them all perfect, but it was not fun.
Then came the fun part! The furniture arrived Saturday morning, we spent the entire day finishing stuff up. We are still waiting for someone to take the old couch, so I will save the living room for another post.
I absolutely love the new bedroom suit. Also, at first I thought Lindsey was a little crazy with wanting to go a darker shade of gray, but she was absolutely right about the white furniture needing a dark wall to help showcase it.
This is the first time in my life that I have owned a bed with a headboard and a frame. Neither of us had a clue how much of a pain it would be to tuck the comforter into it. I think for everyday use, we will just make the bed without tucking, but when we have company that will be when we do the tuck.
I would like to point out that I was given three drawers. Fortunately, most of my stuff fits on the shelves in my closet, which is in another room.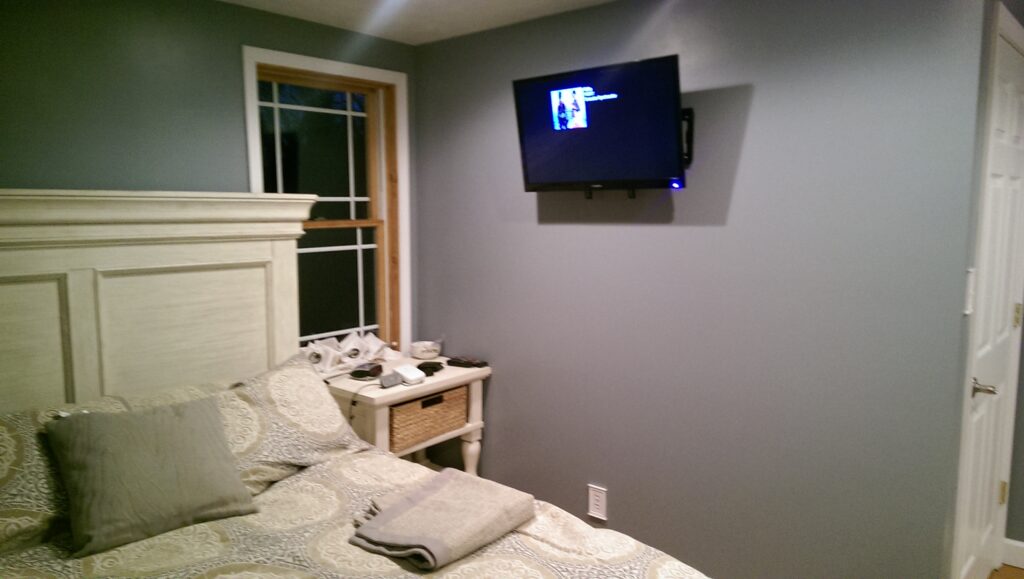 I also mounted the television in our room. As you can see, or not see, the wires do not hang down. Fortunately there was an outlet right behind where I wanted to mount it. Also, since we just use the Roku, there is no cable box or anything.
The office part of the room is not done yet, we need to get a desk, which I have picked out, we just need to head down to IKEA and pick it up. It matches perfectly with the book case and shelf the previous owners left here. I think at some point though I may need to make the office area smaller and install a closet on that side. You know, in case if we ever have a kid or something that lives in the other room. I doubt the kid would appreciate me going in there all the time to get my clothes. That sort of thing would be a few years down the road.
In Navy Room news, we were able to move everything out of there finally. I also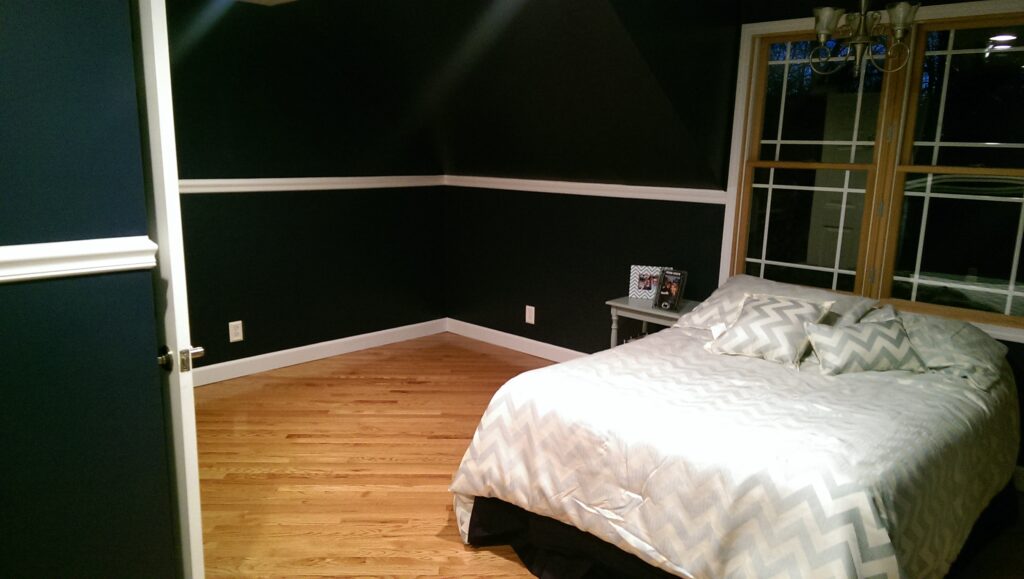 And we were able to find a bathroom rug that matches the other rug and shower curtain. That was definitely a miracle…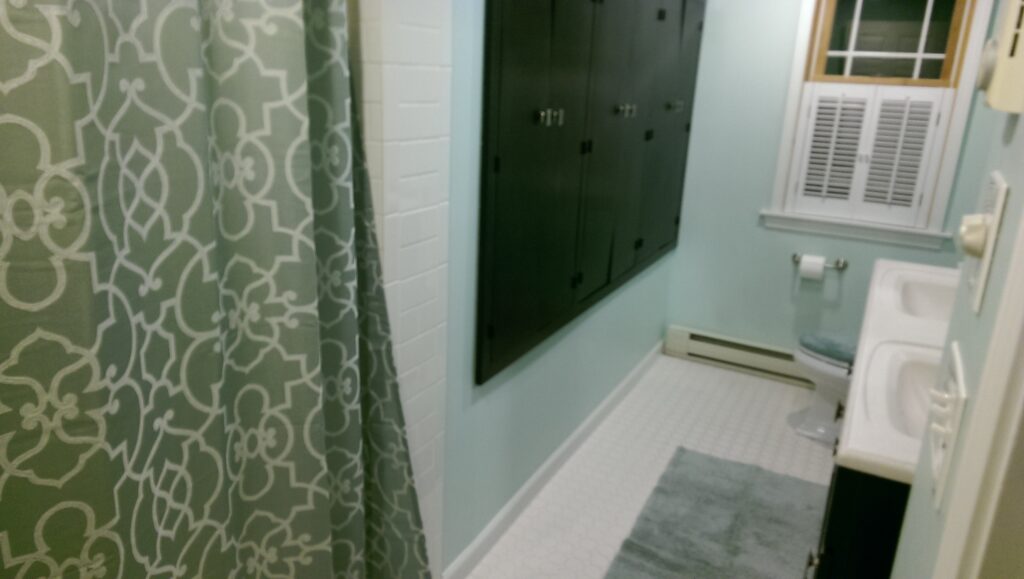 So now that room is completely done. I am excited to almost be done with this stuff. I am kidding, there will never be a time when we are actually done. Lindsey wants to put up a fence, fix the flooding basement, maybe do something with the garage (make it into a room or something). All sorts of fun projects! Can you sense my excitement?