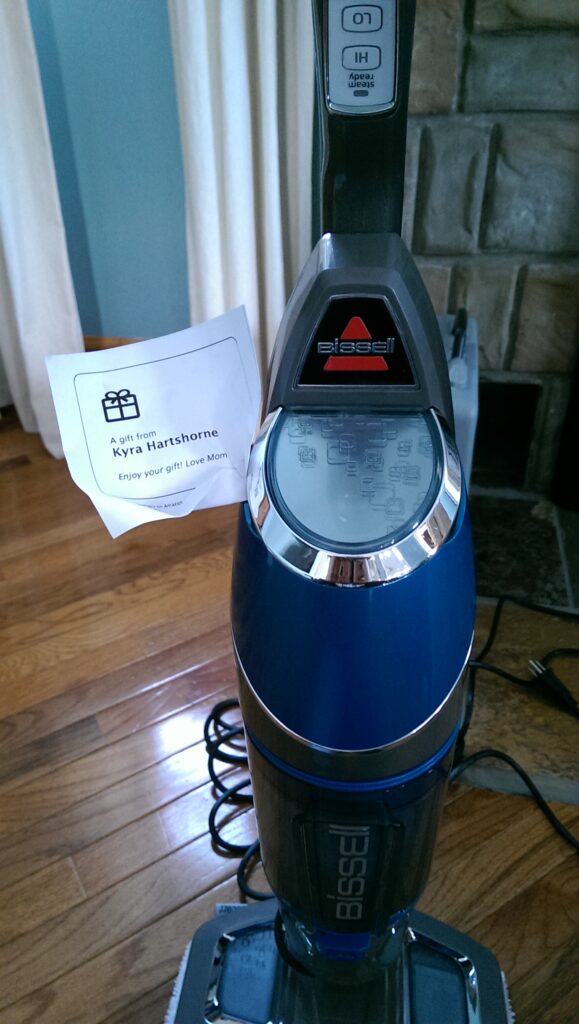 Do you see that note attached to my brand new Bissell Symphony  All-in-One Steam Mop and Vacuum? Yep this was a gift from my mom, who just happens to be the best mom in the world. She took one look at all these hardwood floors and knew just what kind of gift to get us. Thank you so much!
Funny thing about this gift. It came the other day in an amazon box. The box was the same shape as the television wall mounts I ordered. I had not opened them yet, so I just assumed that maybe they sent them separately.
Mom sends me a text today asking if I received a package. I told her no and figured she meant she sent a package from home. Then it hit me. I asked if it was from Amazon and she was like "yeah, did you get it?"
Here is the part that will make you laugh. Yesterday, Lindsey and I swept and scrubbed all the floors in the house. We used our Swiffer, which took like four pads just for the downstairs. Plus it does not work well on the stone flooring in the kitchen. If only I was not an idiot and just opened the packages that came for me…
Oh well, that does not change the fact that I have a wonderful mother. Not just because she buys me great gifts, but because she is always there for me whenever I need her. I love you mom!