The mistress of the house has given me a few free moments, so I figured now would be a good time to share with you the trials and tribulations of moving into a home in Pennsylvania in February. Obviously the weather has been pretty good up here. You know, negative temperatures, snowstorms, ice. All sorts of fun stuff to contend with during a stressful time.
The move went well. I was moving lots of boxes Thursday night while Lindsey and her mom cleaned the new house. Jason came over Friday and we got the moving truck and started loading some of the bigger, heavier items. I am glad no one bought the leather couch (still for sale, $500!) since we found out that our furniture will not be here until March 28th. Jason, Lindsey's step-dad, and I moved the dining room table/china cabinet (which was a bitch to carry since it was so awkward), the couch, TV stand, mattress, and box spring. We had a large enough load that it only took one trip with the truck on Saturday.
Funny story about Saturday. The apartment had a water line break somewhere and the entire complex was out of water. We did the best we could cleaning, but the landlord was understanding. My mom and Lora came over to help clean. They also spent the night which was pretty nice since they were able to help get things out of boxes and put some of it away. With them, Kayla, Adam2, Lindsey's mom, step-dad, dad, and aunt, the entire apartment was cleaned and moved out in a very short time.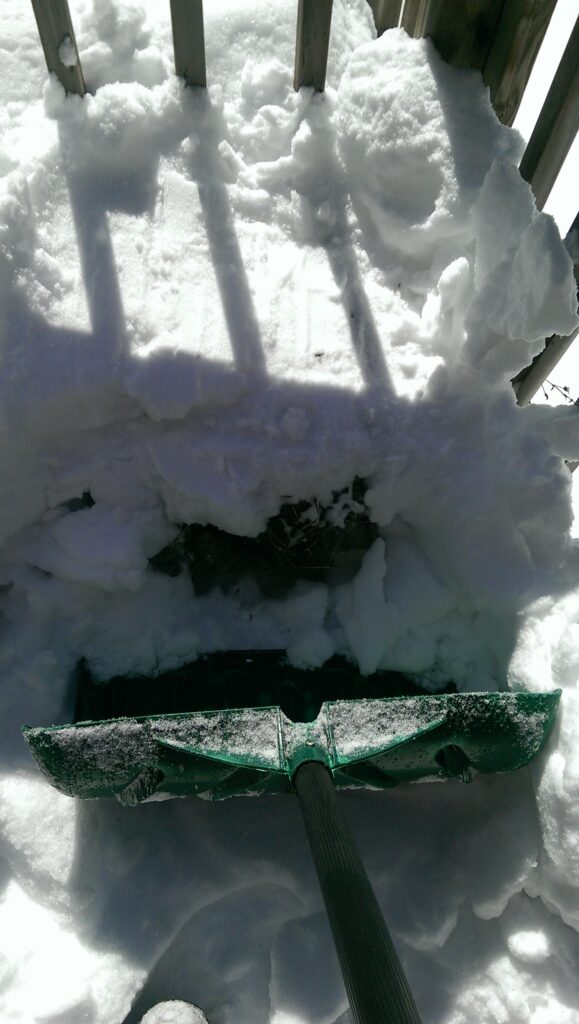 What was I doing during this time? I was performing snow archaeology. You may be wondering what snow archaeology is, but do not fear class, I will explain. I may have forgot to take stuff off our porch in the fall. There was a small bistro table and chairs, the grill (which we always leave out), flower pots, and Lindsey's lounge chair. They were covered in a good couple feet of snow. I had to dig everything out. As I dug down into the hard-packed snow, I hit something. I dusted it off and to my amazement there was an ancient pot! Okay, not very ancient. It was from Home Depot circa 2013. I used the same cool skills I learned while in Jordan and successfully excavated the pots and chairs. I did not take the time to draw site plans or anything like that, I failed as a true archaeologist.
Once everything was in the house, that is when the true fun began. We spent all day Sunday just unpacking boxes. I put my clothes away and organized my closet. Lindsey worked on organizing the kitchen and together we finished up the dining room. We moved a ton of boxes to the attic so that we could have some room to maneuver.
Monday we got up pretty early and decided to go to Altoona for some shopping. I know, we just bought a house, what more could we possibly need. Apparently tons of stuff. We needed all sorts of things, such as outdoor trash cans.
Yesterday was spent installing some of the stuff we bought. The big thing was a new faucet for the kitchen. The one that was here did not get any water pressure. I have never done anything like this before, so it was quite the adventure. The instructions were only like six steps and it seemed easy enough. And to be honest, installing the new one was pretty simple. It was removing the old one that was a pain in the ass. First, we have a garbage disposal. I could have removed it, but did not think it would be in the way. This made it very difficult for me to turn the nuts on the old faucet. Once I finally got the damn thing off, getting the new one in and hooked up took me about twenty minutes. The first part took well over an hour. Not bad for having no idea what I was doing! I was also shocked (and relieved) that when I turned the water back on that there were no leaks.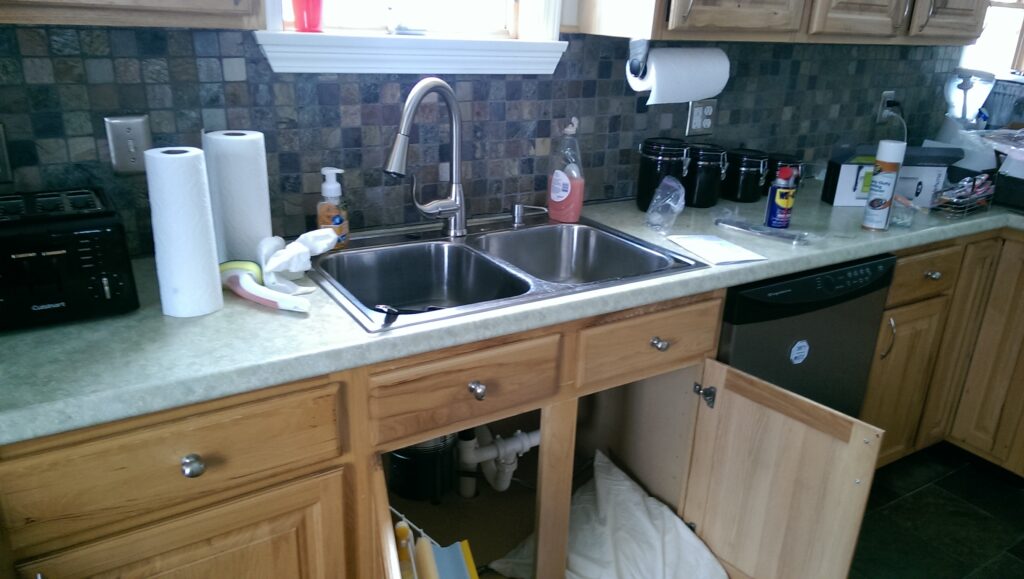 You may notice a paper towel holder mounted to the cabinet. That was also my handiwork. It might not seem like much, but that was actually a bit of a pain. I have put those on before and they are usually easy. For some reason, this one decided to be difficult. First, the screws that came with it were too long. Once I was finally able to get a hole started (I think I hit a knot in the wood or something), it looked like the screw might come through the bottom of the cabinet. So I had to go to the basement and dig through my tool box until I found some smaller screws. Luckily I had some and was able to finally get it mounted.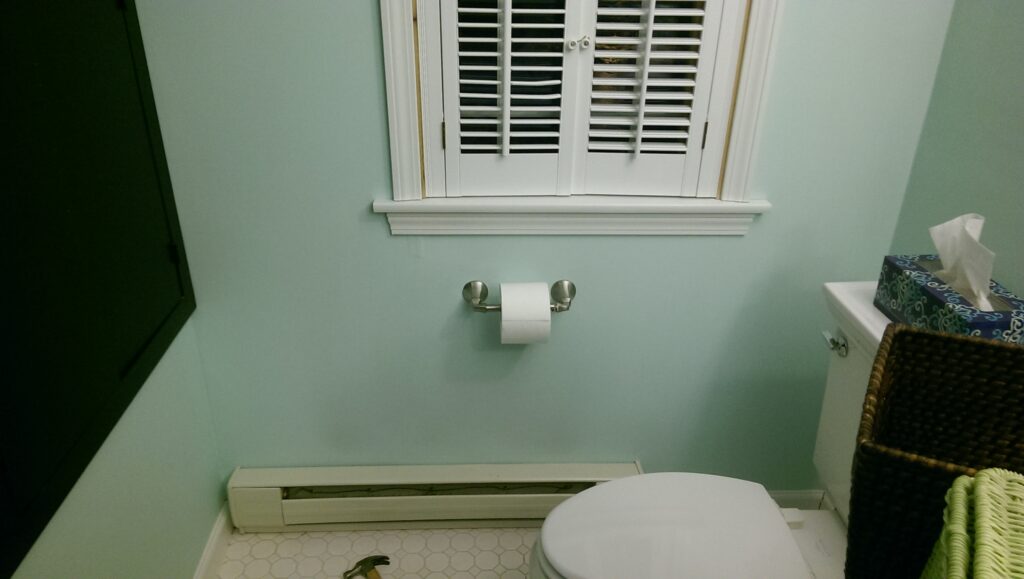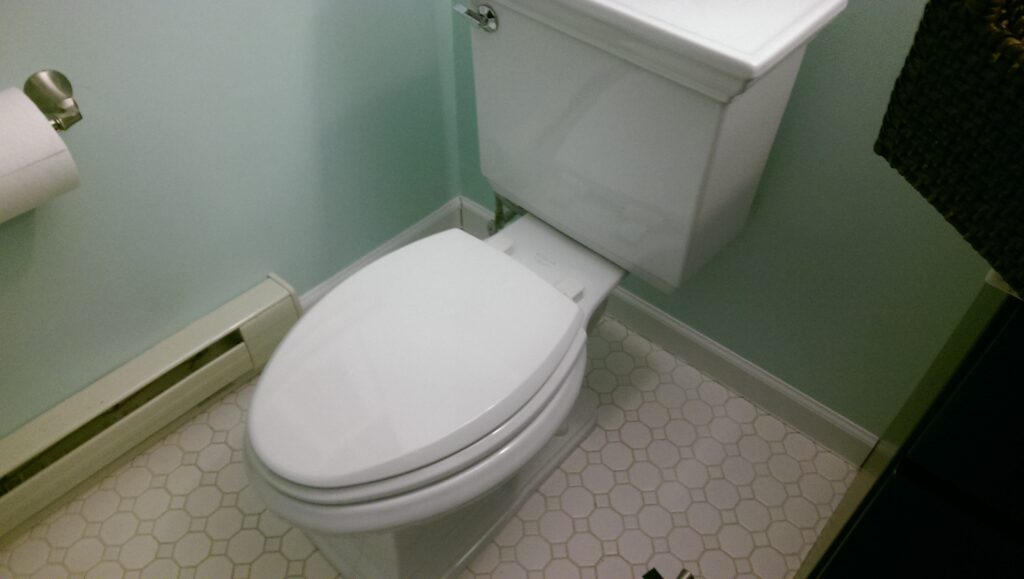 The simple thing was switching the toilet seat. I have also done this before and they are easy, but I like to applaud myself for doing even the simple things right. Although, every time I replace one, I always say to myself "Josh, you should remember to take this off every six months and clean the gunk around the holes." And yet I never remember to actually do it.
The toilet paper dispenser was also a bit weird. The instructions included a paper template to tape to the wall so you could mark where to drill. Mine must have been off by about half an inch since when I was done, the brackets were too close. I had to make some adjustments, but it is mounted now and looks pretty good.
I installed some organizers in my closet. Places for my ties, belts, hats. They actually look really good.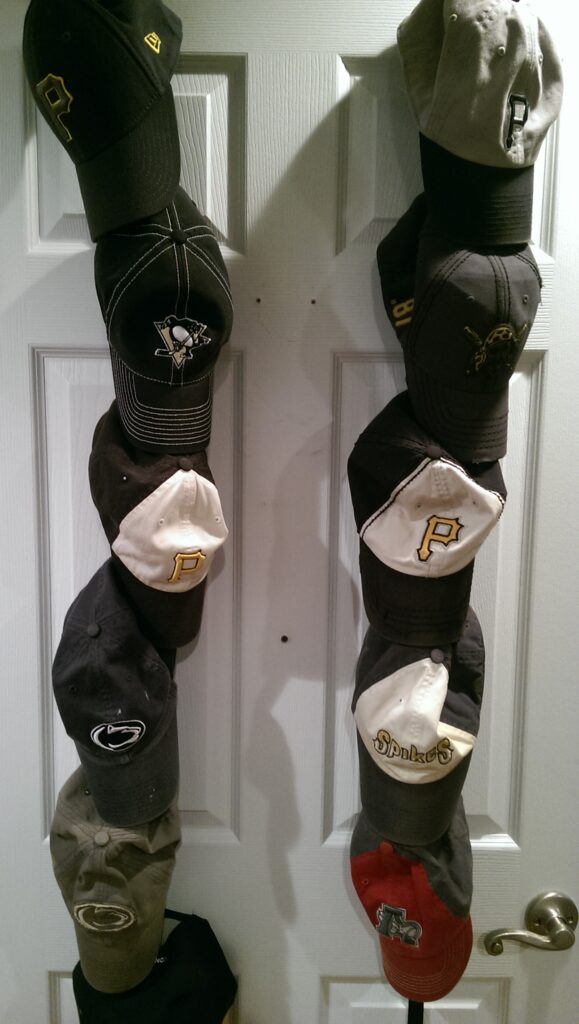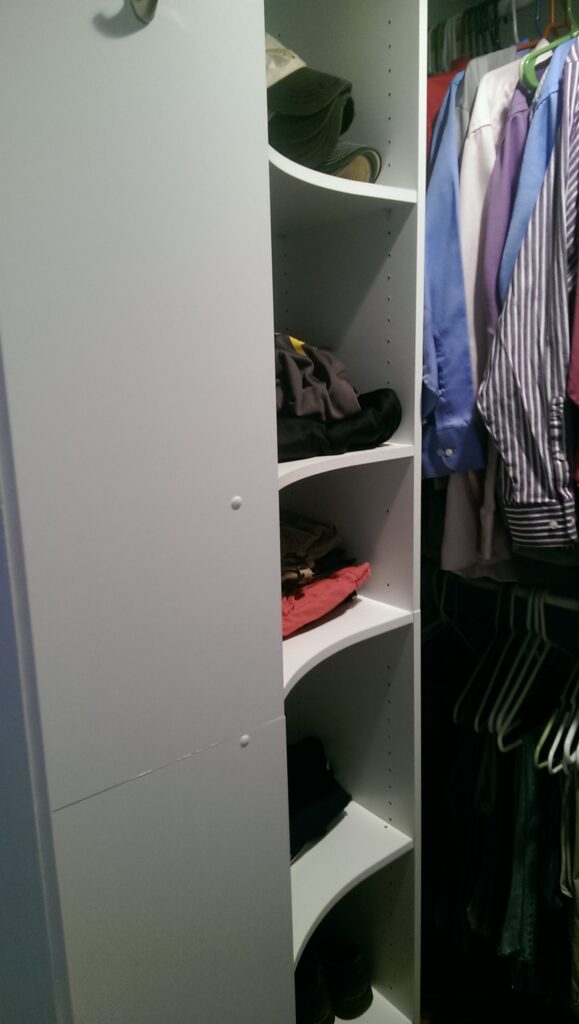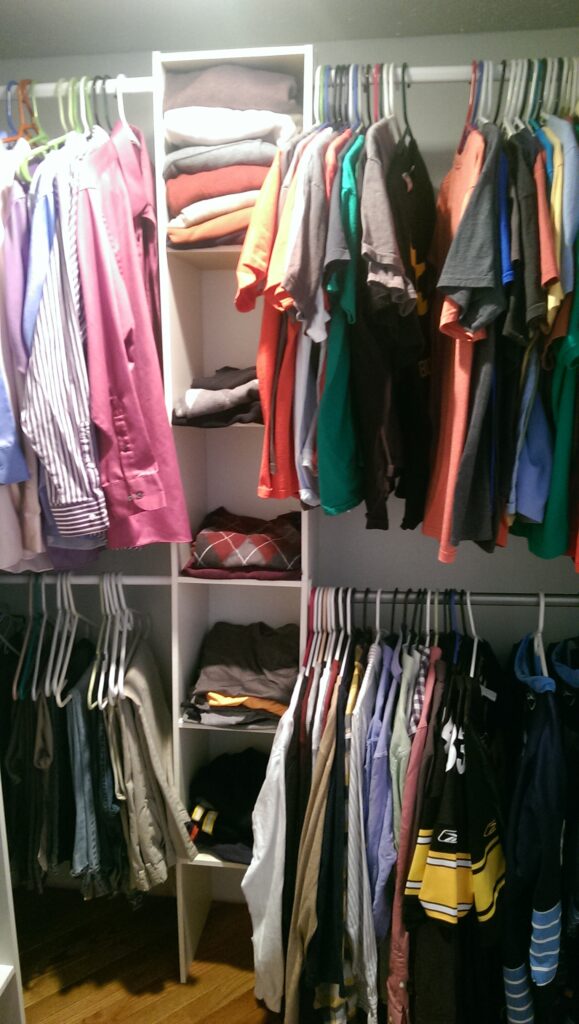 Originally I had the hats on a shelf, but I think they look better on the door.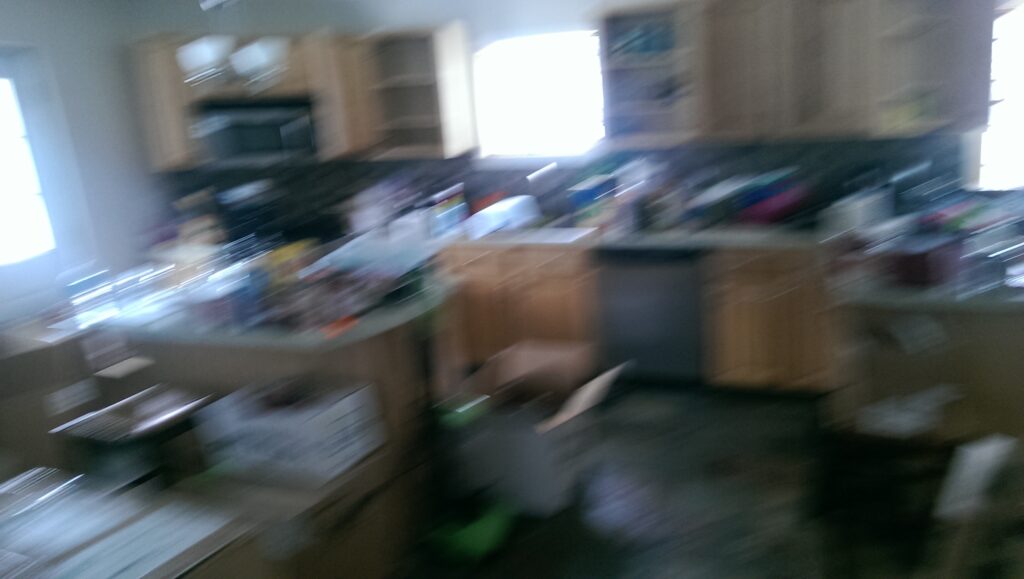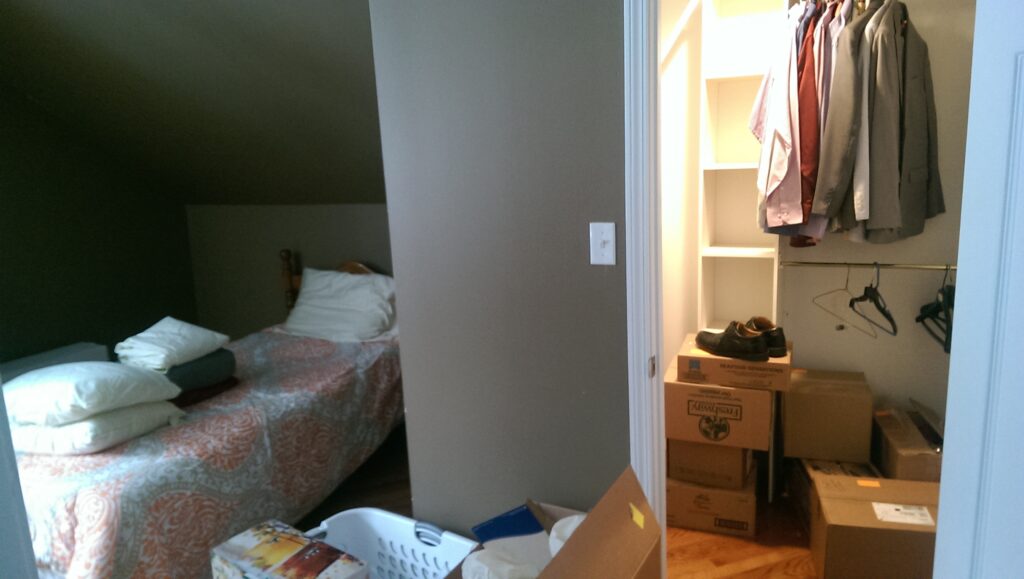 As you can tell, there was plenty of mess to start the days. We could not barely move around there were so many boxes. Hell the kitchen was such a mess that the picture was blurry! Fortunately, after a little work, the end result is much different.
The living room is not really done at all since we have no furniture and we are still debating on where to put the television (although, I think a decision has been made).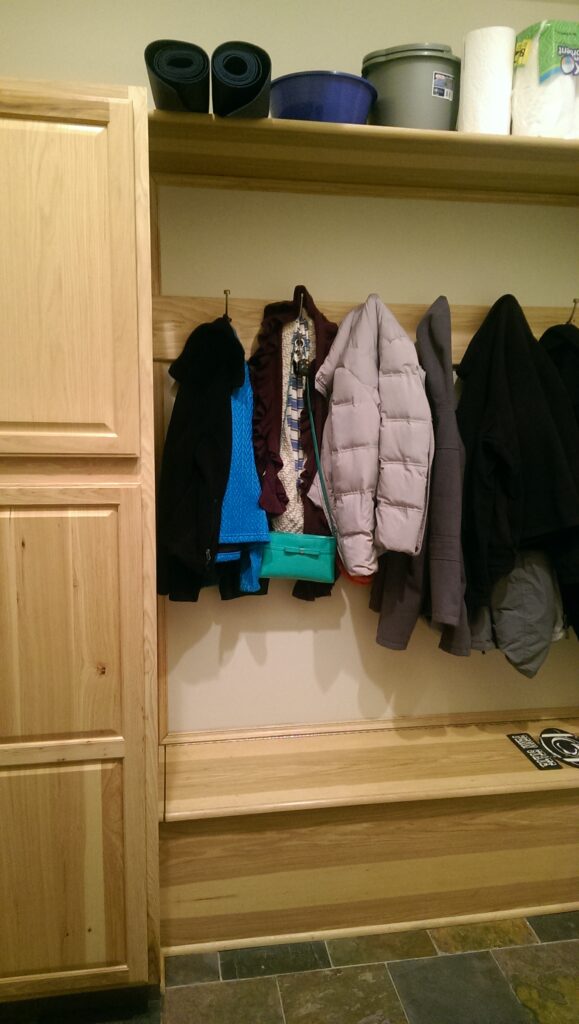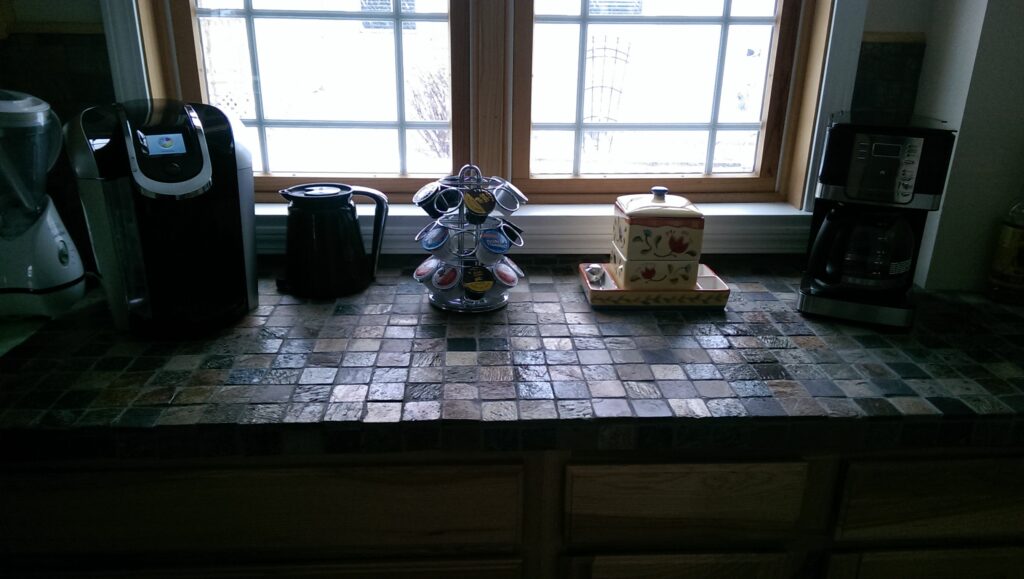 This was Lindsey's cool idea. Our coffee bar. We actually have another carousal for the big K-Cups.
Lindsey trusted me with putting the magnets on the fridge. I think I did a pretty good job. It actually looks like someone lives here now!
Obviously we still have a ton of work and sadly more things keep happening. I spent a good chunk of my morning shoveling snow. It turns out that when they plow our road, they pile it up in our driveway. So while we were out shopping on Monday, the snow was just accumulating for me to eventually try to move. Also, today I discovered that with the rain and snow happening, the basement and garage are flooded. So I get to tackle that problem. I am hoping that water down there is not a normal thing and just a special circumstance due to the insane weather we are having this time of year. I am hearing most people are seeing some flooding in their basements.
Uh oh, the boss is out of the shower, my break is over. I need to get back to work.