Another nice win, but it should have been by more. I was up 9-2 on Sunday, so to only win 7-4 is a bit frustrating. A rough average on Sunday dropped me to .265, ugh. It is also annoying that I keep tying or losing wins. I have great starting pitching, but they are just not getting the wins. Adam Wainwright blew out his Achilles tendon on Sunday and is most likely done for the season (I already went ahead and dropped him).
Best Hitter:  Kris Bryant is good at baseball. Usually after a week or two teams figure a g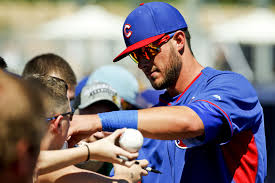 uy out and they need to adjust, but it looks like Bryant has either adjusted with them or they just cannot figure him out. He had a line of 6/0/6/1/.348/.464. Still waiting for that first home run, but it is impressive that a power hitter like him is not getting frustrated and just trying to launch one. Right behind Bryant were Altuve, Moustakas, and Starlin Castro.
Best Pitcher:  My starters were all pretty damn good, but just did not pick up the wins. Johnny Cueto was probably the best (1/8/1.13/0.88). That was his first win of the season despite being pretty dominant all season. The relievers were alright, but must have had some rough games since they all had bad ERAs.
Biggest Positive Surprise:  Carlos Martinez pitched seven scoreless innings to pick up his second win of the season. I drafted him as an afterthought, thought he might be a reliever with SP availability (sometimes I like having a bunch of relievers in the lineup when no one is starting, maximize my chances at saves and holds). When I heard he would be starting though, I figured he would probably be just a weak fifth starter, but so far this season he has been solid. Do I think he will be this good all year? Probably not, but I am thinking he is better than what I initially thought.
Biggest Negative Surprise:  Freddie Freeman (2/0/0/0/.136/.208) was pretty awful this week. He started out pretty well, but is slumping a bit. I never really expect him to be mind-blowing or anything, but he is usually pretty consistent. I do not want these little slumps.Get your shit together Fred!
This win puts me at 21-14-1, but since Adam2 beat Ryan 9-3, he moved ahead of me. Sean is still the overall leader and I am now in third place. Lindsey lost to Pat 7-4 and that dropped her to sixth place. This week we play each other and if I were unethical, I might forget to remind her to set her lineup each day. I will not though, because I like a challenge.