I have been hinting to Lindsey that I would like a tablet for awhile now. Okay, not really hinting, more like throwing temper tantrums at stores. She never gives in though. She just ignores me or in some cases just hits me with a wooden spoon. I am not going to get into the tablet I want because that is a post for a different day, maybe a day when I get what I want.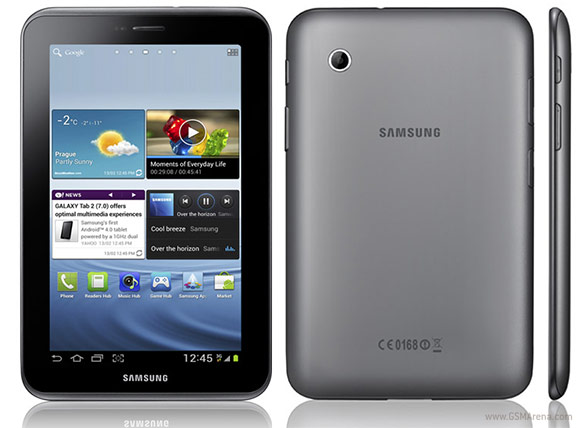 Fortunately, I have a mother who does love me very much. No, she did not go out and buy me a tablet, but Lindsey and I stopped over at her house on Easter and I noticed on her dry erase board a note that said "hook up printer." To say my mom is not tech savvy would be a bit of an understatement. Nothing wrong with that, since she has a ton of skills that I need to call and ask her for help on when I attempt them.
I volunteered to hook up the printer, which was already hooked up, but she could not get it to work. I played with a few things and realized that it just needed to be installed on the computer. Once that was done, I noticed there was a small tablet on the desk. My mom already has an iPad and so I asked what it was. She said that it was free with her cell phone, but she did not want to pay the $10/month to add the line. She said I could have it.
It is the Samsung Galaxy Tab 2 7.0. I know, that is quite the mouthful. I was able to restore it to factory, my mom had used it for a few weeks when she actually broke her phone. What will I do with a tablet? Well, when I am sitting in the living room, I am tired of using my laptop. I tend to just read blog posts, or do fantasy baseball stuff, so a tablet would be great. I eventually want to buy a desktop for the office area, which would be where I write my posts.
This tablet is sufficient enough for that at the moment. It is a little jerky with some of the apps, but for what I plan to do, it should be fine for awhile. I doubt I could watch TV shows or movies on it. Hell, some of the YouTube videos were a little choppy.
I have also been wanting to get out of the buying books habit. I love to read, but books can be expensive and what do you do with them when you are done. I tend to give them away to charity. I know, this is sacrilege to some of my bibliophile friends, but the price of eBooks is a bit lower than paper and hopefully that savings will net me something sweet…like a newer tablet! So this morning I downloaded the Kindle app and bought a book. I read a few chapters and like the way it feels.
At some point, Lindsey's iPad Mini is going to die. The thing is a few years old and she uses it every day. Hell, I really thought she would only use it a little bit. I think when she does get a new one, we should do one with 4G through AT&T. However, those are thoughts for a day down the road. Today I am happy to be able to enjoy some baseball and not need to have my laptop with me to see things happening on the internet…
And yes I am well aware that my phone has the capability to do all the things of this tablet, but I do not want to stare at that small of screen for everything. Stop judging me!