With all the excitement of the house stuff, some of the wedding stuff has been pushed to the back burner. That does not mean we are not still getting all of it done, but that for the past few weeks it has been put on hold. Well on Monday we went down to meet with the caterer to have our tasting and then went to look at invitations.
Elegant Catering is the only company that is allowed to do weddings at Greendance Winery. I assumed the food would be very good, but you never know. The choices they brought out for us to try were: chicken parmigiana, chicken marsala, chicken bruschetta, swiss steak, a pork loin, and some other beef. There were also carrots, pasta, and rice pilaf. Everything was pretty delicious. Going in, I assumed I would choose the pork loin because I love pork loin. Instead though, I liked the chicken parm and swiss steak the best. The carrots were probably the best thing ever, but we decided to go with a mixed veggie instead because it sounded like something we make here at home. Instead of the rice, we are having roasted potatoes. We kept the pasta because it goes well with chicken parm, but we chose a vodka sauce instead of marinara.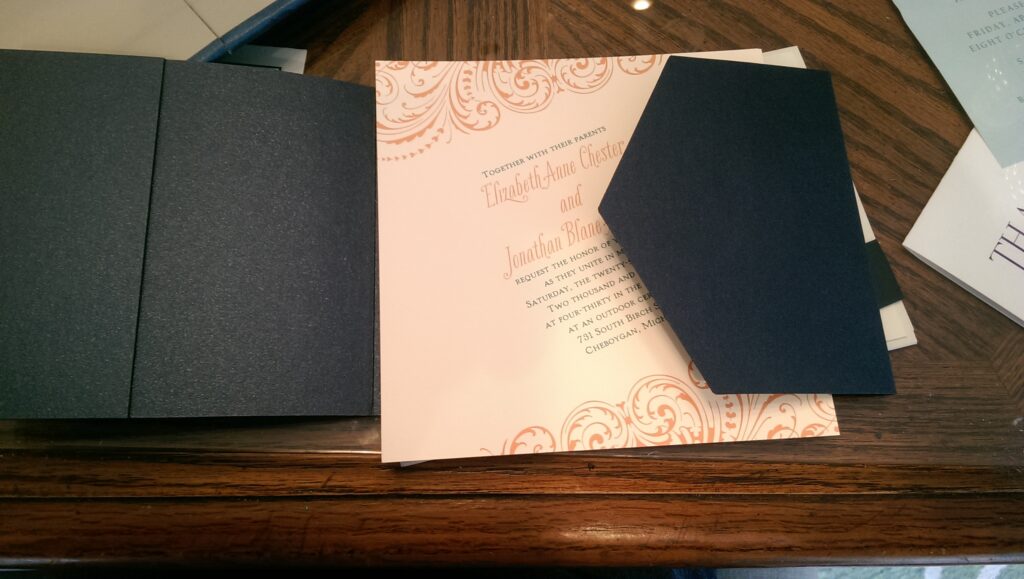 Once we were sufficiently stuffed, Lindsey and I went over to RSVP Greensburg to look at invitations. I honestly thought this would be the easiest thing ever. How hard can a piece of paper that says "hey, come to the wedding" be? Obviously, I am an idiot. We looked at like 24,875 different invitations. Lindsey and I definitely have dissimilar tastes when it comes to invitations. Finally though, we found one we both liked and now it is just a matter of how much money we are willing to spend. I had no clue that there were pockets and whatnot. Then came the other fun stuff, like choosing the fonts, what to say inside, different ways to say stuff. I am glad we went to an actual store and not just online. It was great having someone there to give us recommendations.
Also, I would like to mention that we have some other wedding stuff finalized like the officiant, the band, my suit, the ties…do not worry, I will post something about that stuff at a later date.