Okay, this was not really fair. I gave Lindsey an epic beating (that sounds really horrible). I think up until Saturday night I was shutting her out (usually the reverse, if you know what I mean!). It was not like her team was all that terrible, hell she would have beat two other teams this week. Interestingly enough, I would have beat basically everyone. That is just how great my team was this week. Look at those numbers. They do not get much better. Even Adam2, who beat up on his opponent, would have lost 8-2 (or maybe 9-2, I cannot remember). That is pretty awesome. I just hope I can keep that up.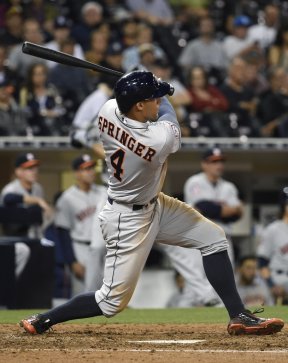 Best Hitter:  I had three guys hit over .400, five hit two home runs, six with at five runs scored, and six others with at least one stolen base. How do you pick from that kind of production? I am going to pick one that may not seem as obvious, but was super impressive. George Springer had a 7/2/6/5/.250/.419 line. I know the batting average is a bit low for your best hitter, but five stolen bases! And for a guy who does not walk…a .419 OBP, that was fourth on the team.
Best Pitcher:  Drew Storen picked up three saves without giving up a run and having a .25 WHIP. My starters were okay, but fortunately the relievers chipped in by barely giving up any runs.
Biggest Positive Surprise:  Chris Carter hit two home runs and drove in five, but only hit .182. I would love to see the average get up to about .220 and those home runs just keep coming. I guess another positive was that Jay Bruce was not terrible this week.
Biggest Negative Surprise:  Alfredo Simon. The guy was having a great start to the year, so I picked him up. What do I get for it? A 12.46 ERA and a 2.54 WHIP. Yeah, thanks for the help Simon. Your shitty performance cost me ERA! Dick.
The destruction of Lindsey vaulted me into third place with Adam2 in second after his victory over Dustin. Sean lost a tight battle to Ryan, which dropped him to third place (middle of the week, Sean was up on Ryan, and if it had stayed as it was, he would have been  in first place still…so thanks Ryan!). I am now 31-16-1 with Adam2 right on my tail, he has the same winning percentage as me, but I must have the tie-breaker (no clue what it is). I take on Ryan this week, who is in seventh place.
Lindsey is now 17-28-3 and in eighth place. She takes on Gideon, who is in fourth. It is still a tight race and all it takes is a big win to jump someone from a losing record to a winning record. And those big wins can happen in the blink of an eye. Someone gets hurt or goes on a hot streak and everything can change.