A rematch of last year's championship and as you can see the results remained the same. Ugh, it was a bit of a rough week for my team. I lost MIke Moustakas (death in the family) and George Springer (concussion symptoms). Since they were both out for a short time, I could not really add/drop anyone. I just had to run with a lighter lineup. Obviously that did not help my cause, plus everyone else decided to have a rough week. I guess the team morale might have been down after losing two key guys.
Best Hitter:  Freddie Freeman (6/1/7/0/.500/.538) pretty much carried the team. Without him my average probably have been been down around .210 (although, I suppose it does not really matter since I lost that category). Honorable mentions go to Stephen Vogt (hit a grand slam on Monday) and Justin Upton (who had four stolen bases).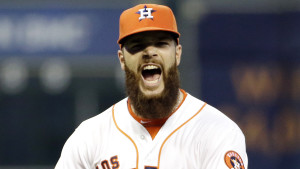 Best Pitcher:  Dallas Keuchel picked up a win, fifteen strikeouts, and had a 3.07 ERA and 1.16 WHIP in two starts. You have to laugh though because in his first start of the week, he gave up one run and struck out eight batters in eight innings, yet did not get the win. His second start, he gives up four runs, does not go a full seven, but gets the win. Baseball is a funny sport. Drew Storen also had a nice week, picking up a win, two saves, three strikeouts without giving up a run.
Biggest Positive Surprise:  Although Kris Bryant only hit .222 this week, he did have a .344 OBP and he finally hit his first home run of his career. He also managed six runs and six RBIs. Not too bad for a down week.
Biggest Negative Surprise:  COREY KLUBER! What the hell is wrong man? I had so much faith in you. I used a keeper pick on you. I was not alarmed by the rough start. However, now the time has come for me to panic. If this guy does not have a good start this week, drastic measures may ensue.
With my loss to Ryan, I dropped from first to third, with Adam2 moving into first place and Sean now in second. Sean beat up on Pat and Adam2 tied with Offord, so that means the standings are very close. I am only 1.5 games back. This week I take on Jason, who is not having a bad year at 28-26-6. I need my team to step up this week!
Lindsey beat Gideon 7-5 and improved her record to 24-33-3 and is still in 8th place. This week she takes on Adam2 and I really could use her help. Here is a pretty sweet Counting Crows cover by a 12 year old.