Obviously when going on a honeymoon to a beautiful, tropical island in the middle of the Caribbean, you need to have some new clothes. It only makes sense. I probably would have been fine with my normal summertime clothes, but then I read the dress code at the resor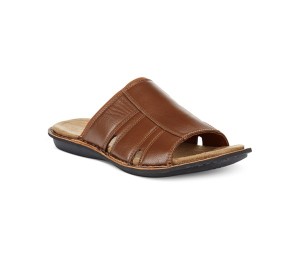 t and it does have a specific set of rules. Most of them say capri or short pants, dress or polo shirt, casual shoes or elegant sandals.
You know what this means, right? A shopping spree was in order! We went to Macy's because we had a bunch of gift cards from Christmas. Clearly I could not buy all new clothes for the trip. I have plenty of nice polo shirts. I wanted something a little different, plus I needed some new sandals. So let us have a look at what I got…
These are the Alfani sandals I found, which were on sale. I hope this is acceptable for elegant sandals. I will not be wearing them on the beach or anything. I have another pair for the beach, which I am not worried about them getting covered in sand.
I wanted to buy a Tommy Bahama shirt, but they were $98. Sorry, but I am not spending that much money on a shirt that I will only ever wear while on the beach. So instead I went over to the Tasso Elba section and found a nice blueish purple shirt that looked just like T-Bah, but only cost $35. Very nice!
I needed swimming trunks, I have some, but I needed another pair or two. I loved these ones because they are basically our wedding colors.
The yellow shorts are something a little different. I think I will look good in them though. I love my salmon color shorts, so why not try something else.
The pink shirt was on sale and it is a long-sleeve button up. And naturally there is a Hawaiian shirt there, which is probably the most appropriate thing ever.
I want to buy a shirt and dress pants. Yes, I have tons of them for work, but all of those have stains or have been splattered with mashed potatoes at some point. Lindsey and I will probably try to have dinner at the one really fancy restaurant at some point and it says you must wear nicer clothes.
This next outfit is something I am quite proud of because it is different from what I would ever wear. I figure that I am on an island, being relaxed, why not try something new?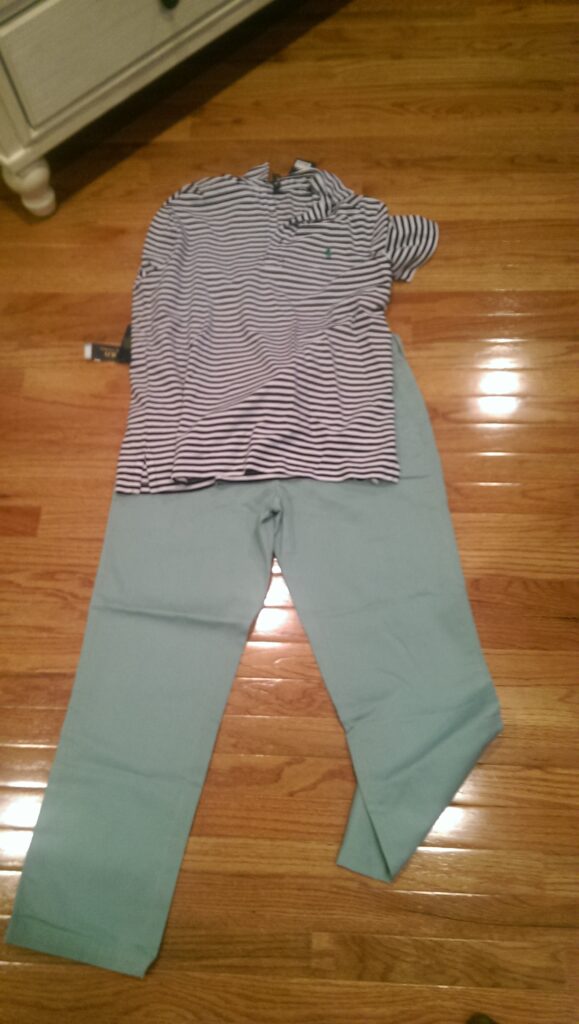 I know it is hard to tell from the picture, but these are some pretty sweet Ralph Lauren pants and shirt. They were really expensive, more than I would ever pay normally, but thanks to a gift card from my mom, I felt like it was worth the chance to splurge.
I was shocked with how good I looked in this one. I cannot wait to get some pictures at the resort wearing this.
Alright, so those are the clothes I bought so far. I am hoping to get a few more things before the big day.
Also, I cannot wait to show off my suit for the wedding ,but that is for another post…