This one was a little scary for me. Offord was beating the crap out of me all week and then by Friday I started to close the gap and by the weekend I was ahead. Then on Sunday, he made things interesting. I hate that my pitching has not been picking up the wins, that just annoys the crap out of me. Especially since they pitched pretty well.
Best Hitter: This week was not the best for my team. My best hitter though was Jose Altuve, which was nice considering my fear that he would be going on the DL. His line was impressive (7/1/2/4/.333/.379) considering his weakened hamstring.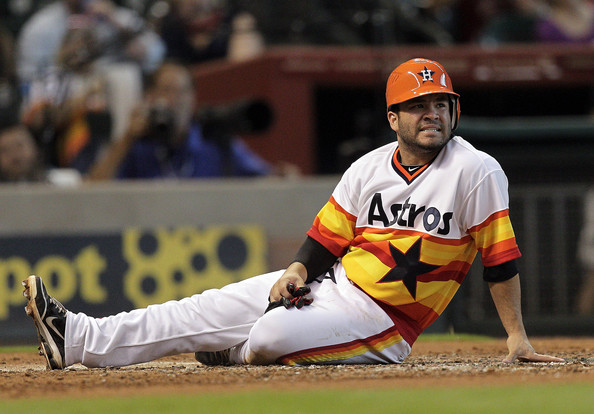 Best Pitcher: Dallas Keuchel was again my best pitcher after striking out twelve and shutting out the Yankees. I feel like he has been a huge pitcher for me this year.
Biggest Positive Surprise: Noah Syndergaard again pitched well and picked up a win and five strikeouts. He is up and down, but definitely has the skills to be a pretty awesome pitcher down the road.
Biggest Negative Surprise: George Springer. Talk about an up and down performance. He goes for a few weeks of just being a dominant force, then this week he can barely touch the ball (2/0/1/0/.083/.214). That is an ugly line!
So this win did not really help me. I am now in third place, despite having the exact same record as Gideon, who must have the better record head to head. Pat stayed in fourth after losing to Gideon, thanks Pat! Sean barely beat Ryan and his lead on Gideon and I is very slim (just a half game). Ryan remains in fifth place, but is only a game ahead of Lindsey, who beat up on Dustin this week. I guess that was a nice wedding present for Dustin, hahaha. Adam2 and Jason tied, seriously does everyone tie against Adam2? They stay in seventh and eighth. Offord is in 9th and Dustin pretty much has last place secured.
This week I take on Jason, while Lindsey goes up against Pat. Here is a pretty sweet Counting Crows cover of a Bob Dylan song: