For those of you paying attention to this match-up all week, you definitely got your money's worth. It was pretty much all Sean, all week and then I closed the gap over the weekend. I think it was around 10:00 p.m. last night when I finally went ahead. Crazy!
Best Hitter:  It was a toss up between two guys, but I think in the end Stephen Vogt had the better week than Kris Bryant. Vogt had five RBIs, a home run, three runs scored, all that with a nice .400 BA and .427 OBP.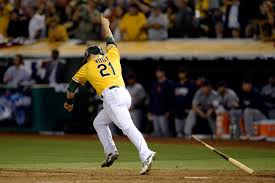 Best Pitcher:  My pitching was pretty great all-around. Dallas Keuchel was probably the best yet again, but Francisco Liriano had a nice start. Hell even Anibal Sanchez decided to pitch up to his potential. Over on the reliever side everyone did their part, minus Herrera, who did not pick up a hold, but hey at least he grabbed a win.
Biggest Positive Surprise:  Tanner Roark. He has been a reliever for the Nationals, but with Doug Fister out a few games, he is making some starts. Well in his two starts this week he picked up a win and had a nice 2.45 ERA and .91 WHIP.
Biggest Negative Surprise:  Whatever is wrong with Johnny Cueto's elbow. He missed both starts this week, but it does not look like a trip to the DL. I tried to trade him to some people in the hopes that they did not notice his potential injury. Hey, you cannot blame a guy for trying.
The victory over Sean puts me at 58-34-4 and keeps me in first place. Fortunately, Lindsey beat Gideon 7-4, so I was able to put a little room between us. Adam2 had a rough week, getting crushed by Pat. Ryan beat Jason, while Offord and Dustin tied.
There were a few shakeups in the other division. Pat is now in second with Ryan and Lindsey right behind. They are 4th through 6th overall. Jason, Offord, and Dustin are having a rough go of it this season. This week I take on Adam2 and I do not plan to repeat week one. Lindsey takes on Ryan, I have faith in her.