Damn, this should have been a 9-3 victory, but instead Sunday screwed me and Jason was able to gain a little ground. I would like to point out that it was nice of Jason to change his name to something making fun of Ryan. Everyone should have a fantasy name that makes fun of Ryan (happy belated birthday!).
Best Hitter: Jose Altuve again was the man. He scored seven runs, stole three bases, hit a home run, and drove in five. Plus he batted .400 with a .464 OBP.
Best Pitcher: My starters were all pretty good, they gave up a combined six earned runs (and four of those came from Anibal Sanchez who was pitching a no-hitter at that point). Dallas Keuchel was probably the best (again) with eight more scoreless and seven strikeouts.
Biggest Positive Surprise: Hector Santiago. I picked him up the other day and he rewards me by going seven innings without a run and picking up a win. Thanks Hector!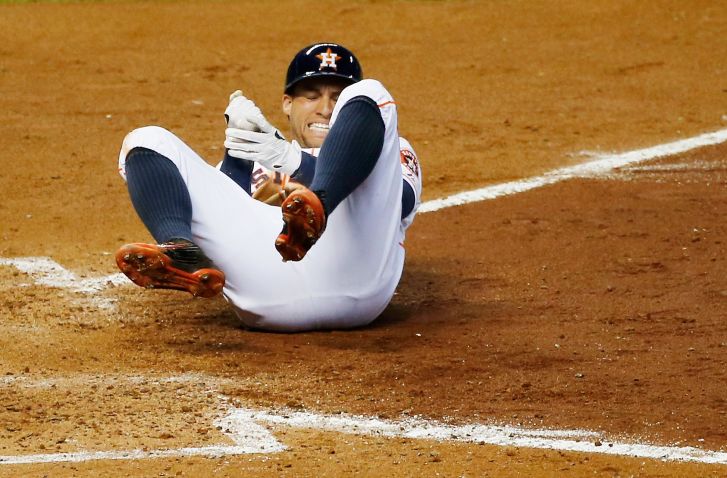 Biggest Negative Surprise: George Springer's fractured wrist. The dude was seriously heating up, hitting over .260 now, which is impressive when you think about those early weeks of hitting below the Mendoza Line. The worst part is that I do not have a DL spot, so I either have to drop someone like Myers or try to get by with having Springer on the bench for now. Ugh.
So how did things go for the rest of the league? Well, Sean crushed Gideon to stay in first place, which also helped me move into second place. Pat beat Lindsey to move up to third. Ryan sneaks into the fourth place by beating Offord. Gideon is now in fifth. Lindsey is in sixth with Adam2 only a 1.5 games behind after he beat Dustin. I think you can figure out who the bottom folks are without me reminding you.
This week I take on Lindsey, which means it will be a very tense house for a few days. She has already started talking smack. Also, Adam2 takes on Sean, please do me a favor and win so that I can gain some ground. Sean is 2.5 games ahead of me and I just cannot accept that.