I suppose a tie is probably the best thing to happen. For the good of our household. Would not want any fights to break out or anything. Actually, for a good bit of the week, I really thought I might lose.
Best Hitter: Alright, my hitting was pretty ugly. As you can tell. Brandon Belt was probably the best hitter with this not that great line–5/0/0/0/.400/.478. Or maybe it was Ben Revere (2/0/2/2/.381/.458). I will let it up to you, the poor reader.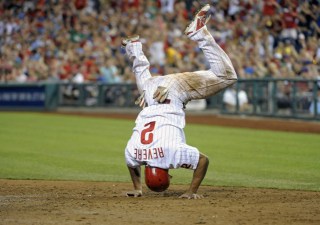 Best Pitcher: It was a tough one again since all of my starters were so dominant. Noah Syndergaard was probably the best though, since he struck out thirteen and gave up one run in eight innings. Scary how good the Mets staff could be the next few years if everyone stays healthy and no one regresses. (Big IFs)
Biggest Positive Surprise: Kelvin Herrera pitched almost everyday and he was fairly dominant, yet only picked up one hold and nothing else. Is this really a positive?
Biggest Negative Surprise: Francisco Liriano pitched twice and gave up two runs in each start. He stuck out six both times and you would figure from those results he would have at least one win, but no. Is this really a negative?
There is nothing crazier than having a tie and still moving into first place. Adam2 did his job and beat Sean. That means Sean is in second place (ACCEPT THAT SUCKA!) while Adam2 goes to sixth place. Lindsey's tie did not help her as she is now in seventh. Pat defeated Jason 7-5, which means Pat is in third while Jason is in eighth. Gideon wins against Offord 7-4 meaning that Gideon has the fourth spot and Offord is firmly entrenched at ninth. Ryan keeps his fifth place position by tying Dustin.
We are now at the All-Star Break and that means there will not be a post next Monday since it takes the two weeks and combines them into one. That means I get two weeks to beat up on Ryan, while Lindsey tries to move back into playoff contention against Offord. Since she did not win this week, there will not be a Counting Crows inspired song, but since it was a tie, here is a video to celebrate Yahoo's decision to change the color of the fantasy background…
Also, for those of you willing to continue reading after the video of David Bowie; I figured I would share some stuff about how things are going over in Pat's league.
I am currently in first place with a record of 104-49-15. I am 22 games ahead of Offord, who I tied this past week. What can I say, I am having a great year in fantasy baseball. You know what that means though, first round playoff losses for sure!
Next week I will try to do a little midseason analysis to see just how good my team has been. I know you are all excited.