A week and a half against Ryan and we end up in a tie. It was pretty back and forth, which just goes to show how our teams are usually pretty even. Funny thing is we made a pretty big trade during the week, I gave up Justin Upton, Ben Revere, Jonathan Papelbon, and Noah Syndergaard for Chris Davis, Dustin Pedroia, Lance McCullers, and James Shields.
Allow me to explain my reasoning. Upton has been having some oblique issues and I could see him going on the DL. Ben Revere is a guy I would drop as soon as George Springer gets healthy. Ryan wanted Papelbon because he figured that once the Phillies trade him to a contender, he would be a set-up guy. Unfortunately for him, Paps is saying he will turn down any trade where he is not the closer. Do not feel bad for Ryan, Pedroia immediately went on the DL. This trade probably did not work out for either of us, haha.
Best Hitter:  Justin Turner (6/2/5/0/.424/.457) continues to have monster weeks, usually followed by some very mediocre ones.
Best Pitcher:  My starting pitching was pretty good. Dallas Keuchel was probably the best with a win and 18 Ks. Anibal Sanchez had two wins.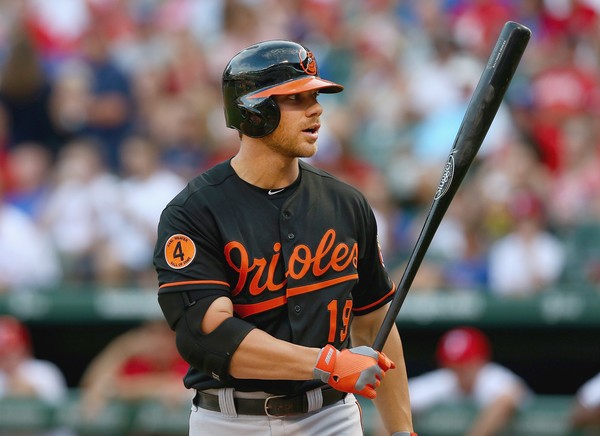 Biggest Positive Surprise:  Chris Davis. In the few days I had him, he belted two home runs, drove in six, and scored three. I really did not think much of him in this trade, but maybe he will bring the much needed power I am lacking.
Biggest Negative Surprise:  Jeurys Familia. He has not had a save in a few weeks. He blew a few chances and I have a feeling that Papelbon could end up there as the closer, with Familia moving to the set-up role.
The tie did not affect me too much, as I stayed in first place. Pat defeated Sean 7-5 and is now in second place and only one game behind me. Sean drops to third place, but is still in the hunt at two games out. Gideon beat Adam2, which keeps them in fourth and sixth place respectively. Ryan stays in fifth place. Offord beat Lindsey 8-4, which keeps him in ninth place and her in seventh. She is now below .500 and three games behind Adam2 for the final playoff spot. Jason beat Dustin, but honestly, does that even matter?
This week I take on Dustin and Lindsey takes on Pat. This is a chance for me to gain some ground. If I can beat up on Dustin and she can just keep it close with Pat, then things will be a bit more comfortable for me. Unfortunately every time I need something like this to happen, I end up losing.