Damn, last week it was a loss to Dustin. Now this week it is a loss to Adam2. We had tied in the previous two matchups and this week was close as well. Congrats on the victory Adam2, but the next time we meet, I shall have my revenge.
Best Hitter: Francisco Cervelli and his bizarre line of 5/1/3/0/.500/.471. You do not usually see a guy have a lower OBP than AVG.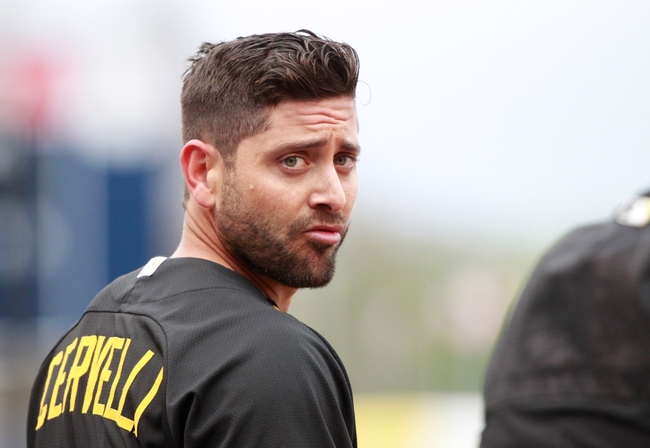 Best Pitcher: Jake McGee. He pretty much did it all this week. A win, a save, a hold, six strikeouts, a 1.80 ERA, and a .40 WHIP. That is a nice week. Too bad the rest of my pitching staff sucked.
Biggest Positive Surprise: It was nice seeing Kris Bryant have a great week, plus Chris Davis continue hitting well. But, as far as pleasant surprises go, Christian Yelich (2/0/4/4/.387/.387). I like when I pick a guy up after dropping him weeks ago and he does something positive.
Biggest Negative Surprise: Lance McCullers and his 162.00 ERA. Wow, that was a terrible third of an inning. Six runs. It was so bad that the Astros optioned him back to AA just to give him some rest. Yikes, I should probably drop him, but I will not since we have the same birthday.
So what did this loss do for me? Well it did not really hurt me too much. In fact, the standings are pretty insane right now.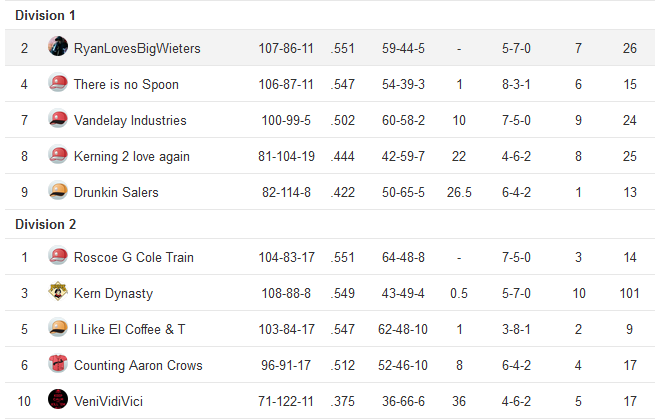 How did all that happen? Well Pat beat Ryan 7-5. Gideon beat Sean 8-3-1 (have you ever watched someone drop from first to fifth in a week?). Lindsey beat Dustin 6-4-2.  Offord over Jason by the same score. Look at how close the top five teams are right now? Pat and I are tied, but he edges me out with a better division record (I think that is the criteria). Yet, Sean is only a game back. Hell, Lindsey is only eight games out. That may seem crazy, but say she shuts out someone this week, she could easily move into this conversation as well.
This week she takes on Adam2 and I take on Sean. I would really love it if some of my guys got healthy soon.
I really like this cover…