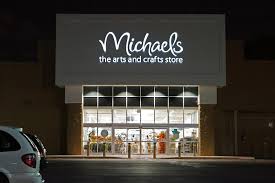 For those of you that have been reading this blog since day one (HI MOM!), you know that I have never mentioned going to Michael's. Why is that? Because I never went to Michael's. Obviously. It is an arts and craft store. Why would I ever go there?
Well, at this point in my life, I can say that I am an old professional at Michael's. In the last week, I have been there at least five times. And since we started planning the wedding? Maybe fifty or so. Do not get me wrong, I am still not an artsy or crafty guy, but I at least know my way around some glitter and stencils.
My last two visits though were kind of interesting. Lindsey asked me to stop and pick up some ribbon. Instead of explaining what kind of ribbon, I told her to just send a picture. I went to the ribbon aisle (an entire aisle devoted to ribbon, what kind of crazy world is this???) and there were four women there debating what kind of ribbon they needed.
The one was the bride and another was her mom. The other two must have been older aunts or whatever. They saw that they were in the way and apologized and I was like "oh no worries, I have no clue what I am even looking for yet." To which one of the older women says "just ask BRIDE'S NAME, she practically lives here!" The bride laughed and was like "I am not here that much…but what ribbon do you need? Oh, you have a picture, may I see that?"
I handed her my phone and she proceeded to find the ribbon I needed. She and the other women laughed and said that it was a brilliant idea to send a picture since her future groom would never be able to find what they would need.
Naturally though, Lindsey forgot to mention how much ribbon to buy. So I had to make another trip after work today and buy some more. This time there were two older ladies in the ribbon aisle and they thought it was so cute that I was there buying ribbon.
First Lady: Do you know what kind of ribbon you need?
Me: Yeah, I took a picture and just need to match the size.
Second Lady: Make sure you get the right color. What are you making?
Me: Oh, we are making our wedding programs.
First Lady: Really? And you are helping?
Second Lady: Wow, she has you trained well.
First Lady: Probably more like a work in progress!
They cackled for a bit and I just laughed and agreed, then scurried away.
At least the patrons of the store are always willing to help someone out…