I reached out to a few of my blogging friends to write some posts while Lindsey and I are away on our honeymoon. Today's post comes from Alexander, who decided to take things in an entirely different direction. Thanks Alex for the great post!
As a nod to Josh's impending nuptials, my original idea for this guest blog post was to wax nostalgic about my 2010 honeymoon in Greece. Though I'm sure that it would have been a lot of fun reminiscing about the gorgeous Santorini sunsets and heaping Athenian gyros, I ultimately decided to go in a different direction.
You see, this is the first chance that I've had to write a guest post for a fellow male blogger. Just about all of the other bloggers in the Pittsburgh-area are blog-hers. I've collaborated with a bunch of them and they're truly wonderful and talented women, but the fact that Josh's blog doesn't routinely concern Magic Mike, macaroons or Smokey Eye tutorials is a huge breath of fresh air for me.
As a result, I'm taking this opportunity to indulge my masculine-side and write about the most important subject to men everywhere – Sports!!!
Unfortunately, this is a relatively dead period as far as sports go. The NBA and NHL just finished, NFL training camp is just starting, and we still have a long way to go in the interminable baseball season before games really matter that much.
Therefore now is a good of time as any to take a trip down memory lane and post some pics of my early 90s sports cards collection. But first, some history!
My interest in collecting sports cards began in the fall of 1990 when I was 13 years old. I was already a huge comic book fan and started to see more and more sport cards filling up counter space at the hobby shops (shout out to Collector's Den in Carrick). Combining my love of collecting and sports, it made a lot of sense for me to start spending my parent's hard-earned money on packs of athlete's photographs.
I started with football cards, mainly because it was the only sport on television during that time of year. The Steelers kinda stunk back then, but my love of Barry Sanders, Lawrence Taylor and Joe Montana kept me highly interested in the game. One bright spot for the Steelers during that time was Eric Green. He was a precursor to the athletic, pass-catching tight ends featured in the game today like Antonio Gates and really provided a spark to the otherwise anemic Bubby Brister-led offense.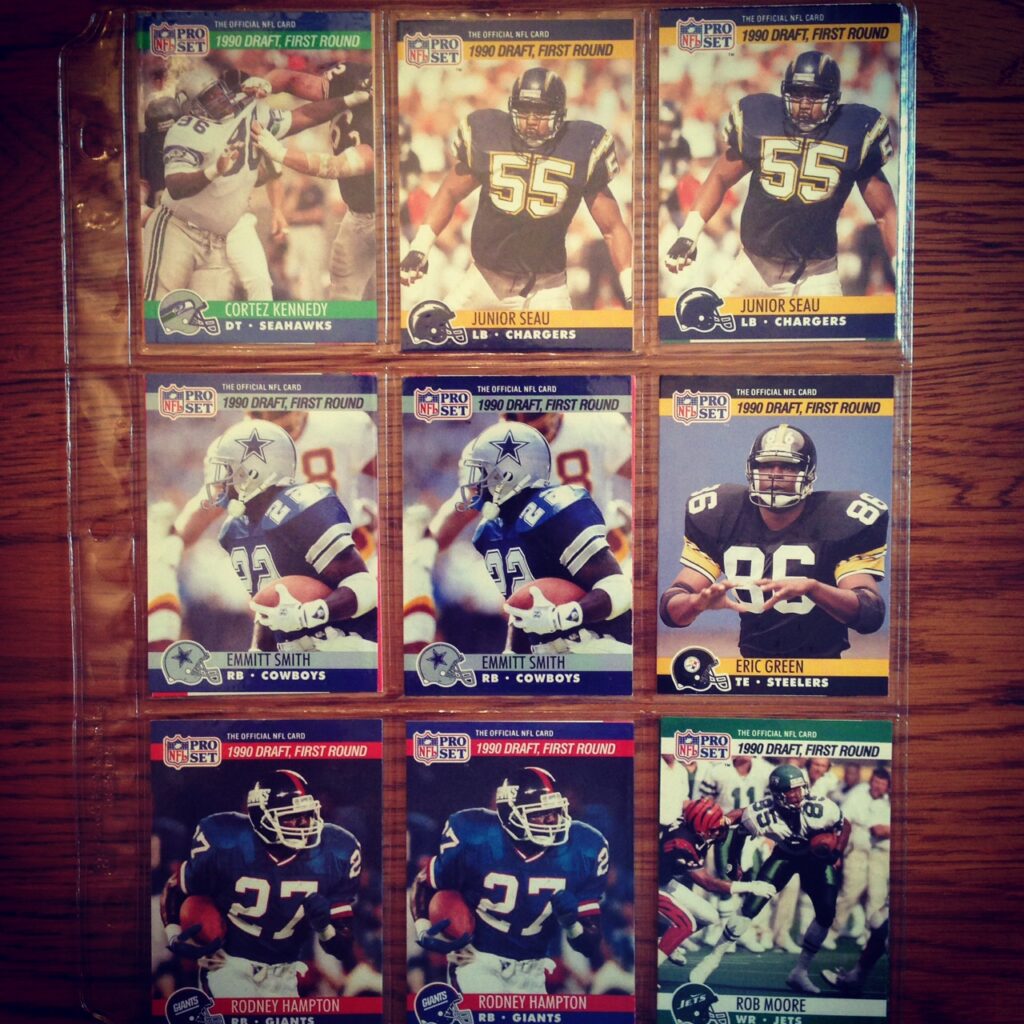 Along with Green's 1990 Pro Set rookie card, the sheet above holds the Pro Set rookie cards of Hall of Famer's Junior Seau, Cortez Kennedy and Emmitt Smith. Also shown are the RC's of two-time Pro Bowler and Super Bowl XXV-winner Rodney Hampton and Rob Moore, who was the body double for Cuba Gooding Jr. in Jerry Maguire. #TheMoreYouKnow
After football season was over, I dove head first into the linchpin of the collectables industry – baseball cards. The below sheet shows some nice portraits of the heaviest hitters from that era, including one b&w photograph capturing a statuesque Jose Canseco at the height of his juice-induced powers (44 HRs/122 RBIs in 1991).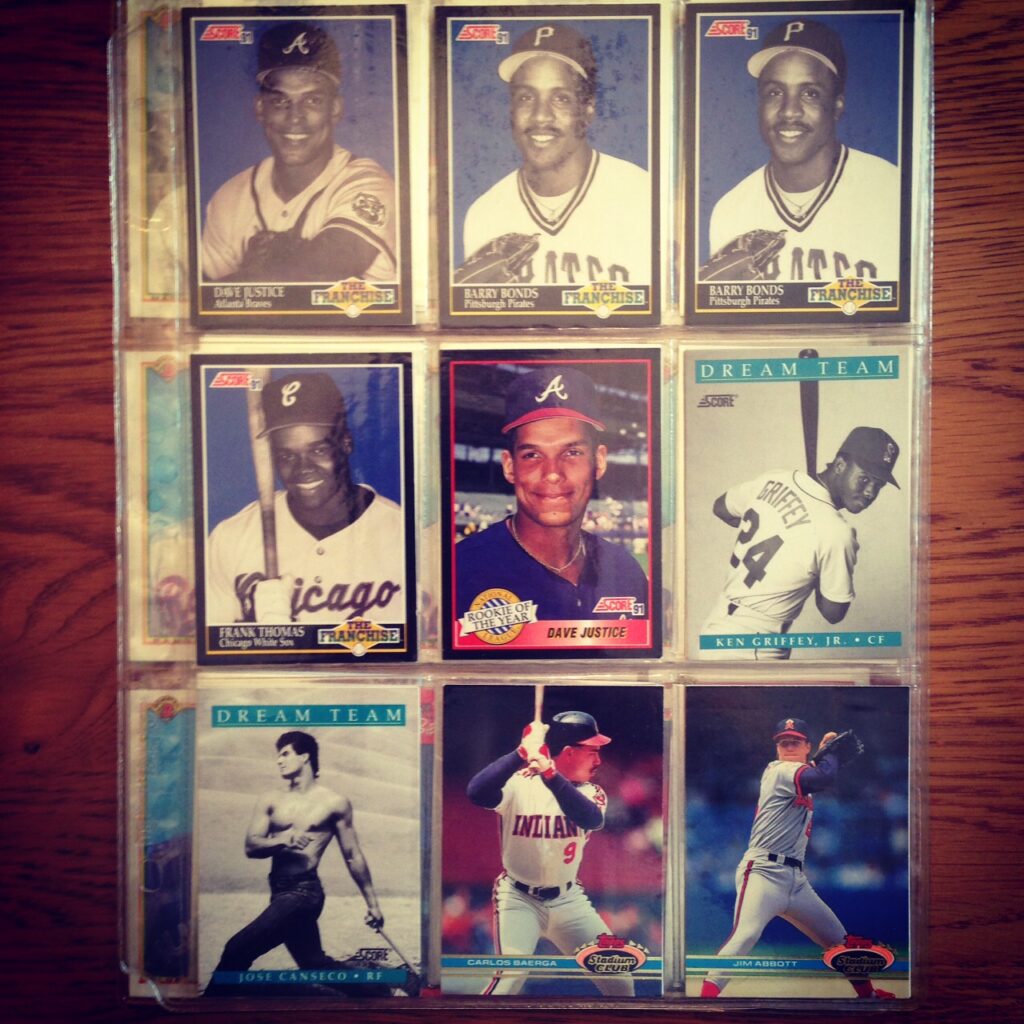 Though basketball was always my favorite sport, basketball cards never really excited me too much. A full set of the 1991-92 Topps Stadium Club and a sh*tload of Michael Jordan cards represent the bulk of my meager collection. Special shout-out goes to SkyBox, which represented the height of digital photo editing back then. Nowadays I think that a cat could walk across my laptop and create something more elaborate.
As I boy, I really wasn't that aware of hockey. I most closely associated the sport with Jason Voorhees, who wore an old goalie mask while eviscerating promiscuous teenagers in the Friday the 13th films. This all changed when the Pittsburgh Penguins won their first of back-to-back Stanley Cups in 1991.
My time collecting coincided with an influx of amazing talent, so I ended up with a lot of rookie cards of future superstars like Sergei Fedorov, Mike Modano and Jaromir Jagr. Shown below is also the Score RC of Mark Greig, who looks like he's holding-in a dump in his draft-day photograph.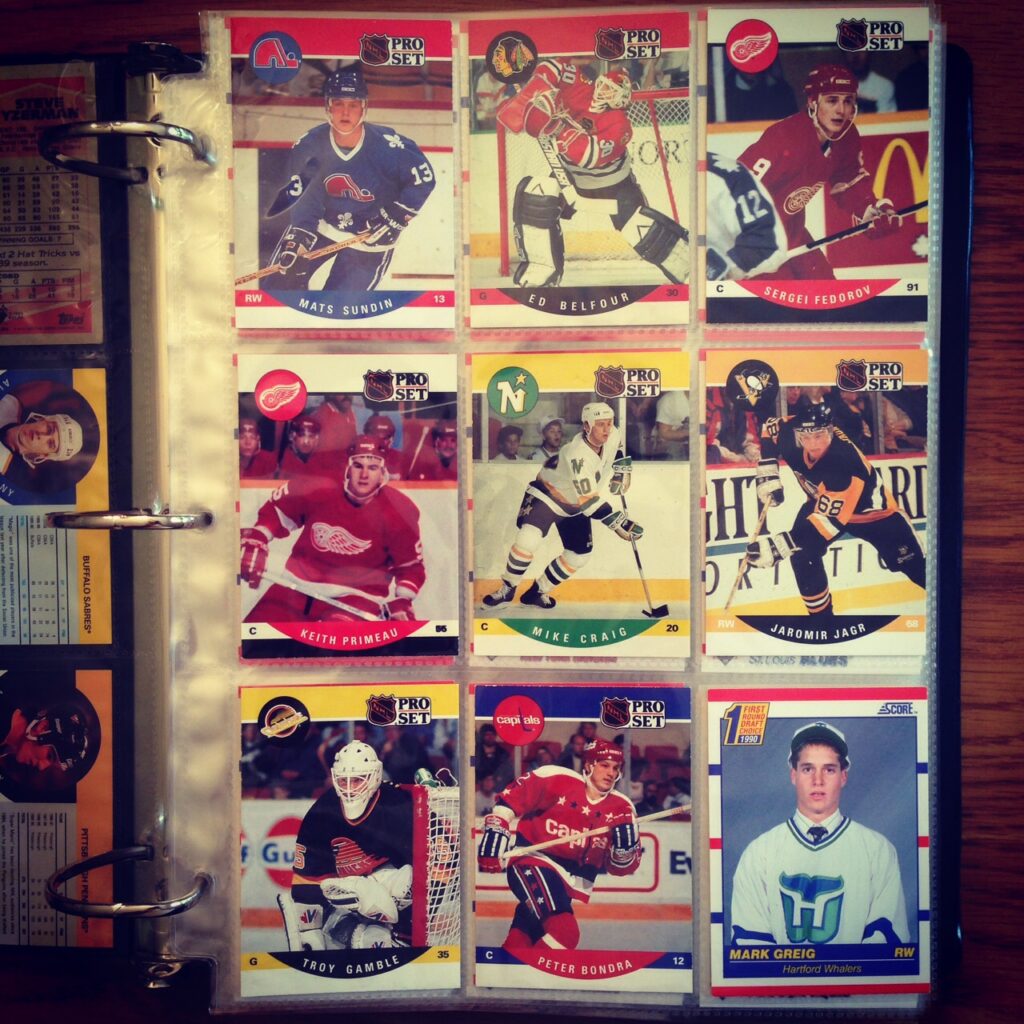 Well, that's it for me. I wanna wish Josh a big congratulations in advance and leave you all with a picture of the stunning Santorini sunset (#NoFilter). Opa!!!