ERGHHH!!!!!!! Things are not going well for my team. Now my pitching is falling apart. And it is not like some of the lesser pitchers, it is Cueto or Liriano. Do not even get me started on the bullpen.
Best Hitter: Chris Davis yet again. His 6/5/8/0/.348/.444 line was just impressive yet again.
Best Pitcher: Dallas Keuchel yet again. Two wins, twenty strikeouts, 2.40 ERA, and a .93 WHIP.
Biggest Positive Surprise: David Wright has not gotten hurt yet.
Biggest Negative Surprise: George Springer has not been all that good since coming back.
Since I am so disappointed in my team, I will just post a picture of the standings.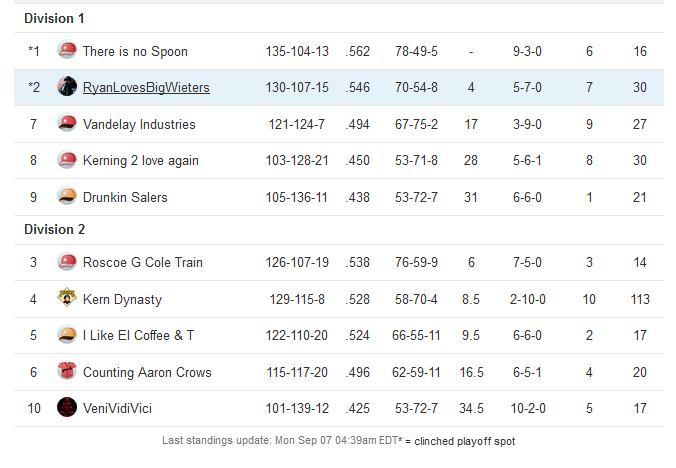 This week I take on Jason and even though he is in marital bliss right now, that does not mean I will take it easy on him. Sorry my friend! Enjoy the honeymoon. Lindsey goes up against Ryan and as you can see, she did win last week and Adam2 lost, so she is back in the playoff picture, but only by a half game. Adam2 plays Pat, so Lindsey needs to keep it close with Ryan (or just crush him). Gideon faces off against Offord, so it looks like he will probably remain in first place (come on Offord, help me out here!). Sean has Dustin this week, who just destroyed Ryan. Who knows what will happen.
Just out of curiosity, where do British people's accents go when they sing?