What a way to go into the playoffs…a shitty loss. It was actually pretty back and forth over the weekend. There would be times when I was winning, then losing, then winning again.
Best Hitter:  Seriously? Do I even have to tell you who was the best? Again, it was Chris Davis (8/2/6/0/.471/.679). He has 22 HRs since I traded for him and has batted .310. I can never stress how funny it is that Davis was basically a toss in guy.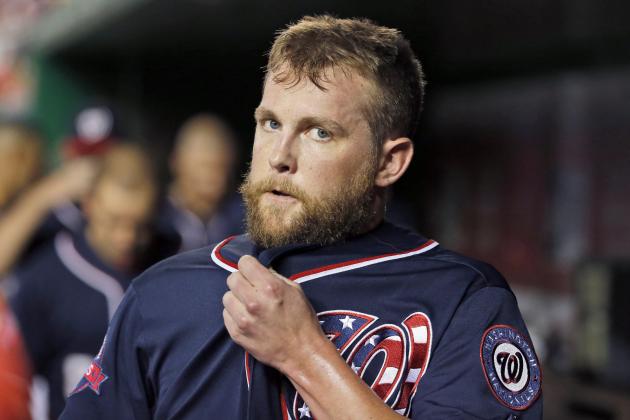 Best Pitcher:  Jeurys Familia finally turned things around after some weak performances. Four saves, seven strikeouts, and zero runs. Definitely the Familia from early in the season.
Biggest Positive Surprise:  Mike Moustakas fought a leg injury (I think it was his leg) and managed a week with 11 RBIs.
Biggest Negative Surprise:  Drew Storen getting hurt. Yes he has been having some troubles recently, but I figured it was just a bump in the road. Ugh.
Ryan ended up beating Lindsey and Adam2 tied Pat, so he gets into the playoffs and Lindsey was just a half game away. Here are the final regular season standings.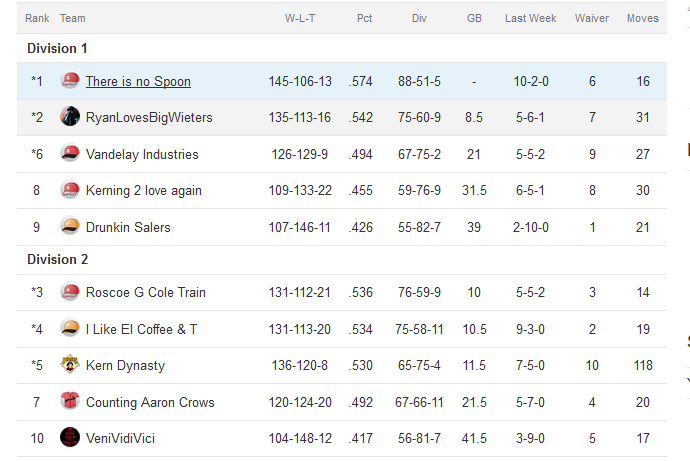 Congrats Gideon for being the regular season champion. But that does not really mean anything. Now it is time for the playoffs! I am actually in an odd position. In my two fantasy leagues I have a bye this week. While it is cool to have a bye, it also sucks because I feel like one of my guys could get hurt and I would probably not even notice it.
The brackets look like this: Gideon has a bye and is going to play the winner of Ryan & Sean. I am waiting for the victor of Pat and Adam2. I feel like I somehow lucked out by being in second place. No offense to Adam2 or Pat, but I hate playing against Ryan. Actually I should hate playing Adam2, since I have not fared so well this season against him.
Over in the consolation bracket, everyone has a bye. So do not expect a very lengthy write up next week.