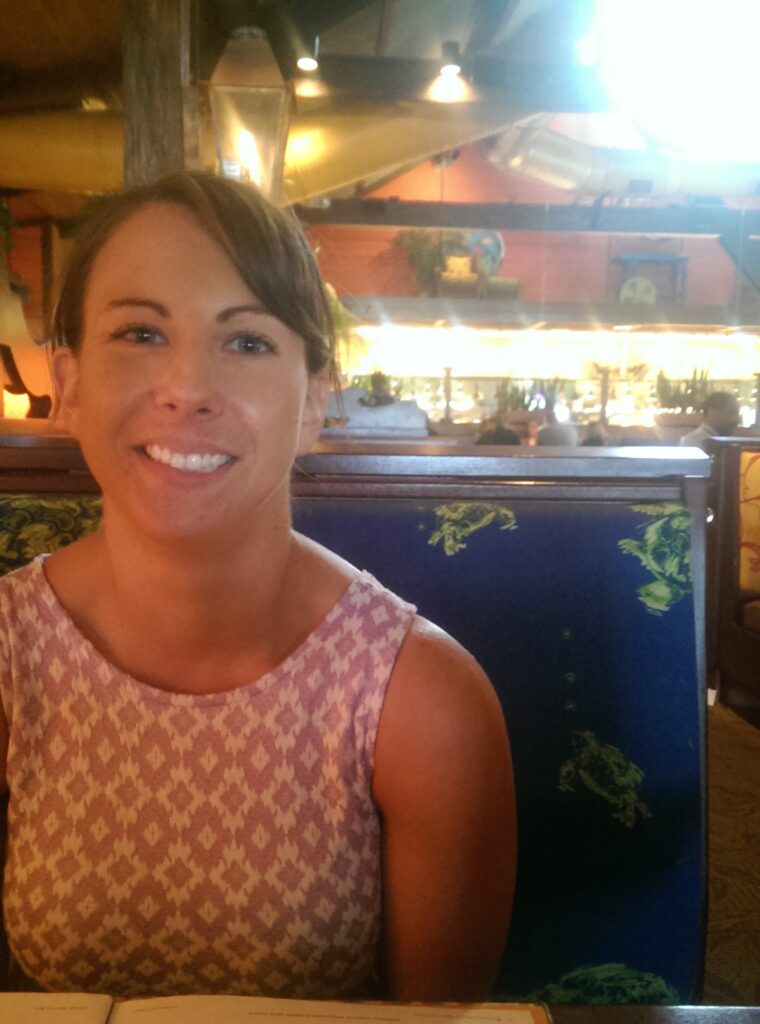 Alright, we discussed all the wedding stuff. Now it is time to talk about the honeymoon. You know, the part that comes after and is a chance to get away from everyone and everything. After all of the stress of the wedding, it was nice to head to the Dominican Republic and just relax.
Our flight was Tuesday morning at around 7:30 a.m. Instead of getting up super early and driving down to Pittsburgh, we went down Monday and rented a hotel room. They had a shuttle and free parking, so it really made sense. We went early and hit up Bahama Breeze for dinner. Nothing like preparing for a Caribbean island by going to a place that serves Caribbean style food. After dinner, we had to go to Kirklands and Home Goods. I mean, we were in Robinson, we could not skip those places.
We made it to the hotel around 10:00 and we had to get some sleep. The shuttle left for the airport at 4:00 a.m. So we set the alarm for 3:00. I actually woke up at 2:30 and got Lindsey up a bit later, so she would have plenty of time to get ready. For once we were early for something, down in the lobby like ten minutes early.
Our flight left Pittsburgh and arrived in Fort Lauderdale around 10:00 and our next flight had a delay, so we got some breakfast and just relaxed for a bit. We finally got on the plane around 12:30. We touched down in Punta Cana close to 3:00. This is when the fun began.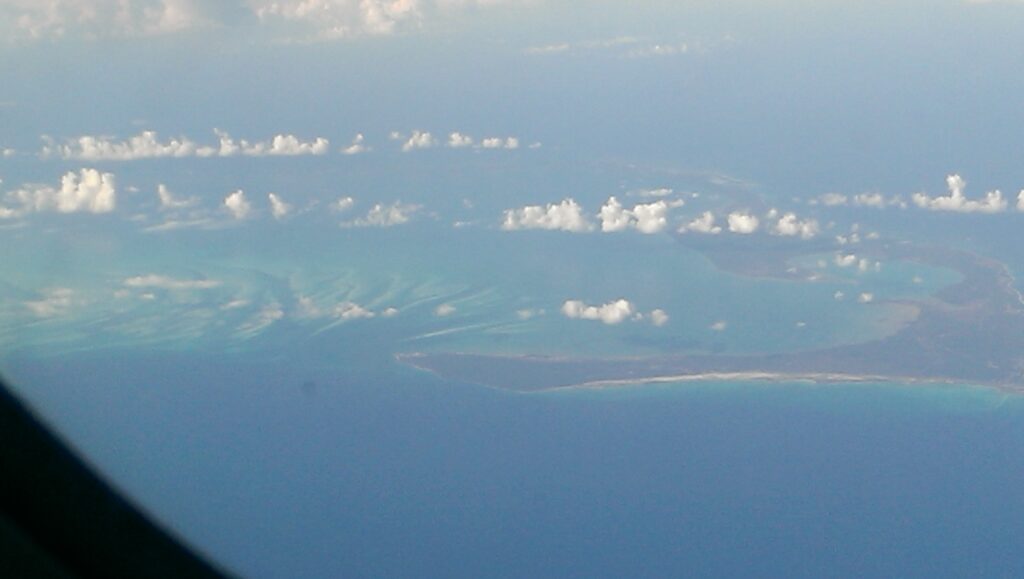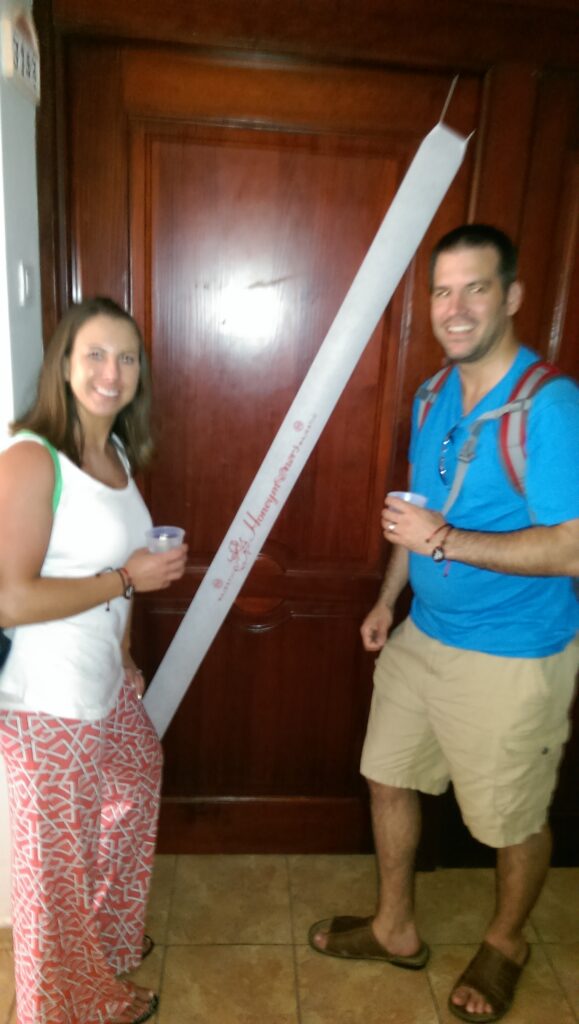 I felt fine all day. As soon as we landed though, I realized I had to poop. I also knew that it was not going to hold off until we made it through customs. I searched for a restroom and asked a security guard. He did not really understand me, but he could tell the desperate look on my face and pointed me in the right direction. Crisis averted.
People told us to buy the Dominican traveler's card ahead of time so you did not have to wait in line to get one. We did, but it did us no good. There was only one line inside and that was where they were making people buy the card. We showed ours and had to get in another line for customs. We made it through pretty easily and once out found the company that would take us to the resort. We had to wait a few minutes for a few more people and then we were on our way.
The van stopped at a few other resorts and it finally got us to the Majestic Colonial around 5:00. Since we booked the Colonial Club Executive Suite, we were ushered into a special VIP reception area. They gave us some champagne and gave us our wrist bands. This is definitely the best way to check in. Our personal butler, Frandy, escorted us to our suite and showed us around the resort.
It was like 5:30 by the time we were able to get the party started. We got cleaned up and went to dinner. Then we went to the entertainment for the night. We were both fairly exhausted and there was a band playing. We found a table to sit at and as the slow song ended, this group came over and started yelling at us for taking their table.  I said that there was nothing at the table and they were like "well someone must have cleared our drinks." I was in no mood to argue, so we got up and went to another bar and sat to have a drink. We ended up in bed fairly early.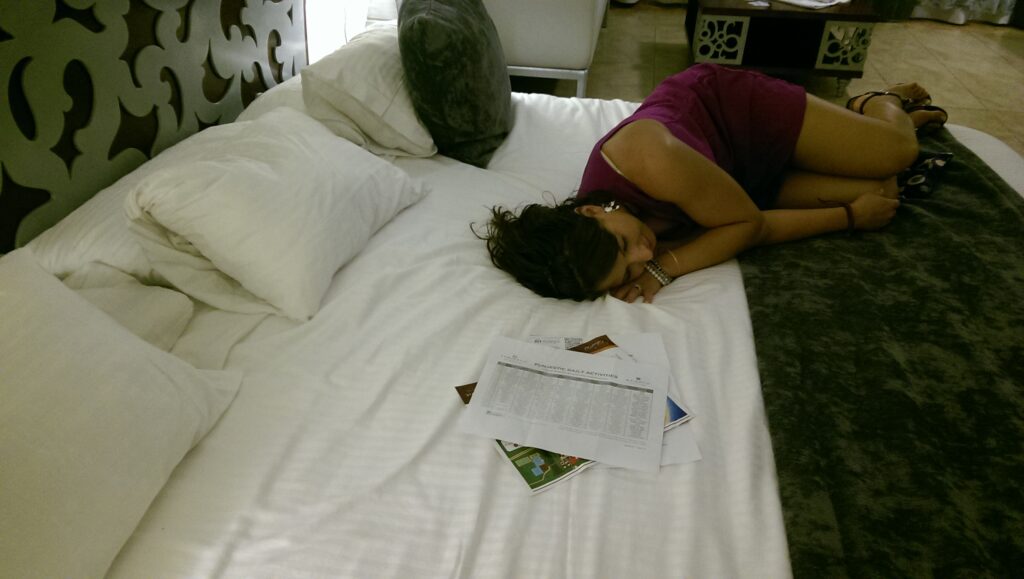 Most of our days were pretty much the same. We would get up, head for breakfast, come back and get ready to head to the pool. We would sit at the pool, drinking a frozen drink called a Majestic out of our large Tervis cups that Kayla & Adam2 bought us. There was a swim up bar, so as we got too hot, we would head to the pool and refill our drinks. As soon as we got hungry, we would get lunch then head down to the beach.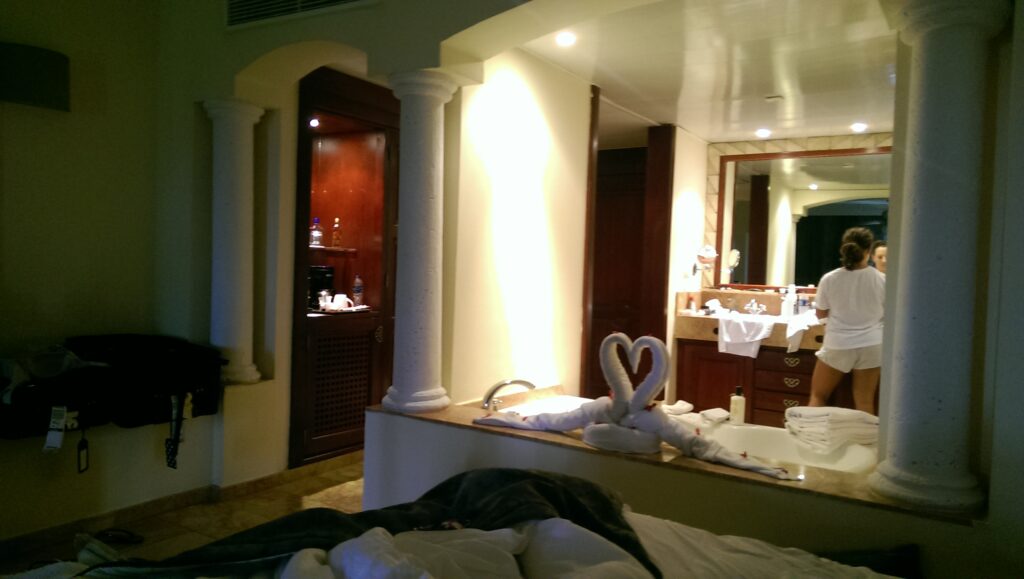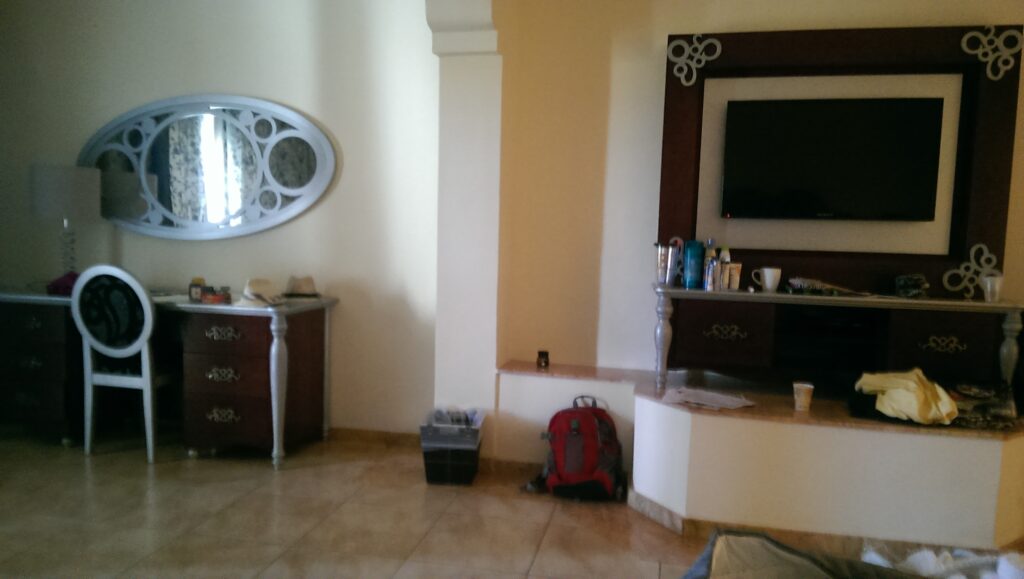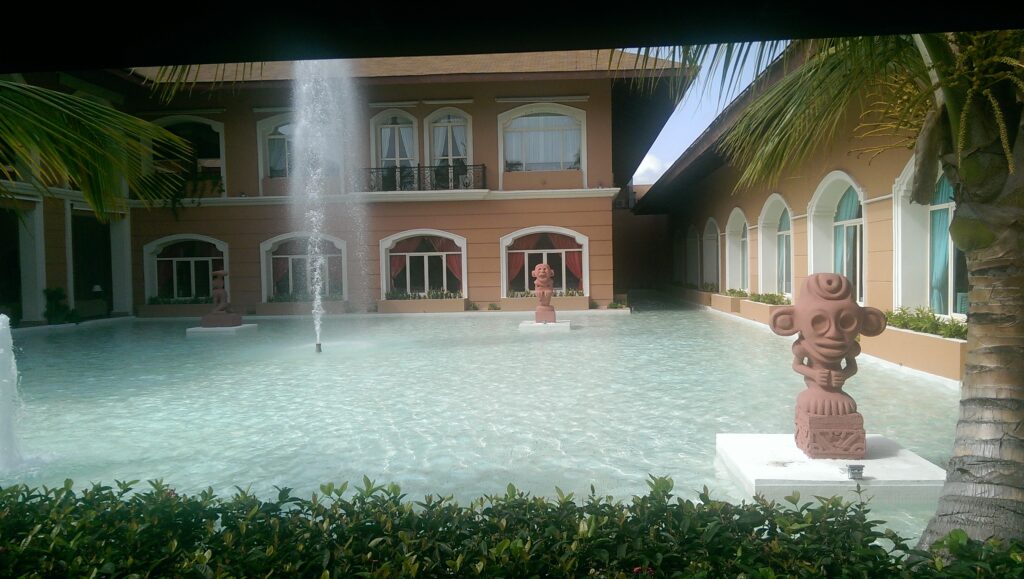 Lindsey is one of those people that can just sit by the pool or at the beach for hours. I read, but even then, I get bored after awhile. I am a good husband and just do what my wife wants.  At least one day we took a nice walk around the place and maybe confused ourselves by ending up in the other Majestic resort.
We did have a bit of a scare while we were there. A tropical storm hit the island. It was so windy and kept raining off and on Friday. Thursday night was our romantic dinner on the beach. We got halfway through it when it started pouring down rain and the waiter had us run inside to another restaurant where we finished our meal. The storm also caused our excursion to be cancelled. We were supposed to take buggies to some secluded beach then a small boat out to some other beautiful island.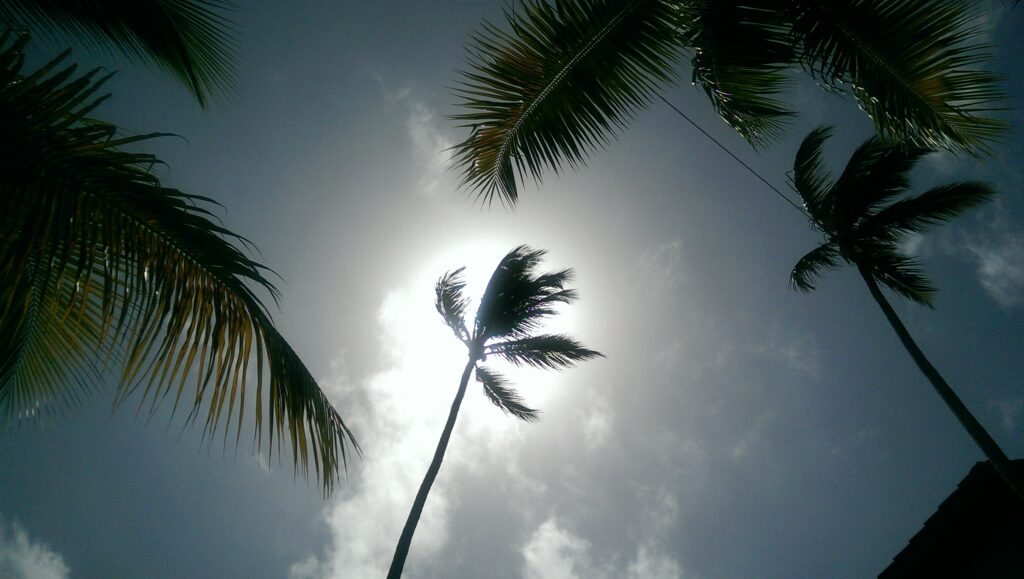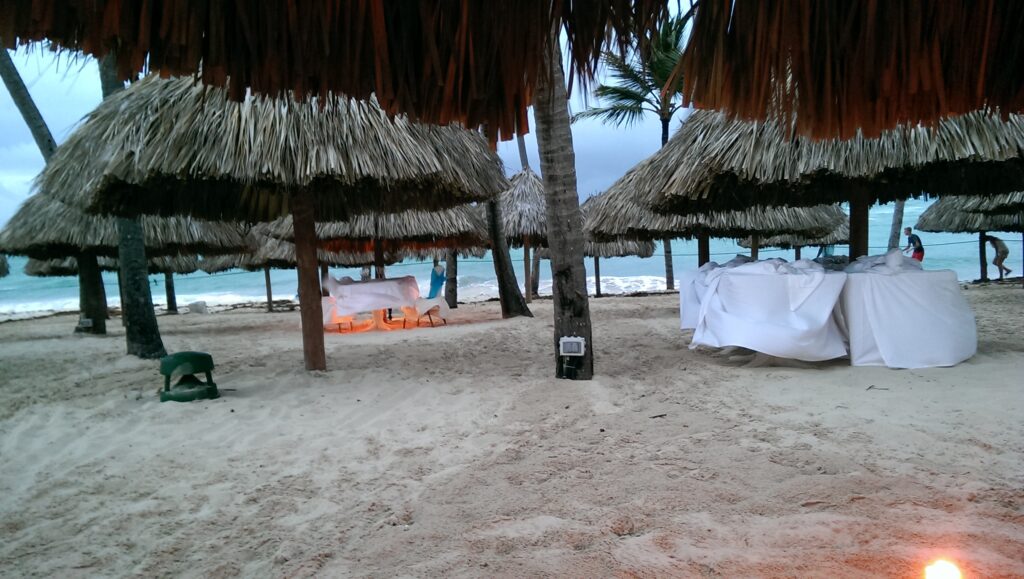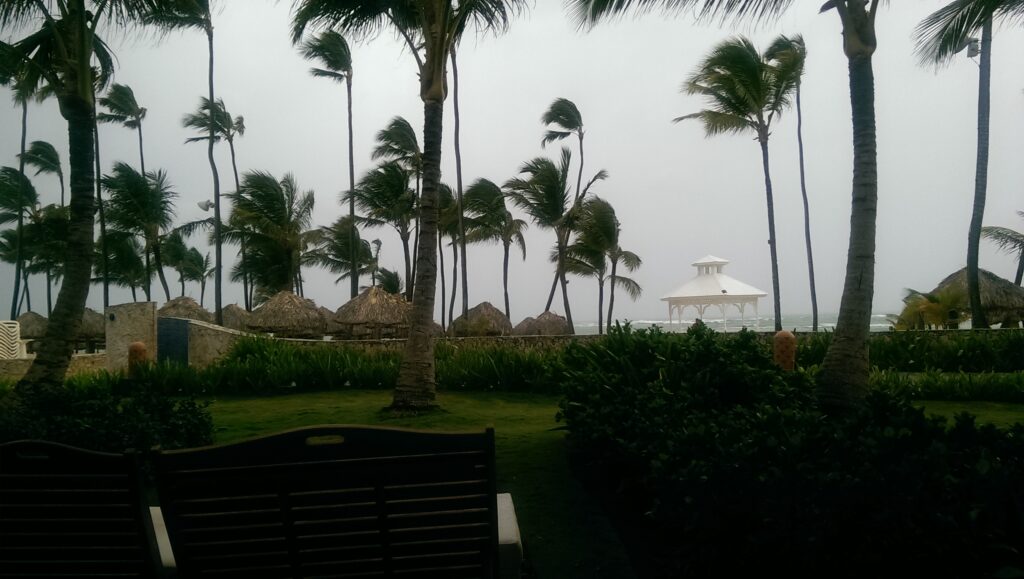 We spent most of the rainy day just chilling in our room playing games. We sat in our cool patio jacuzzi and I enjoyed a super small Coors Lite. The bars only served one kind of beer, El Presidente, but they kept Coors Lite stocked in the room.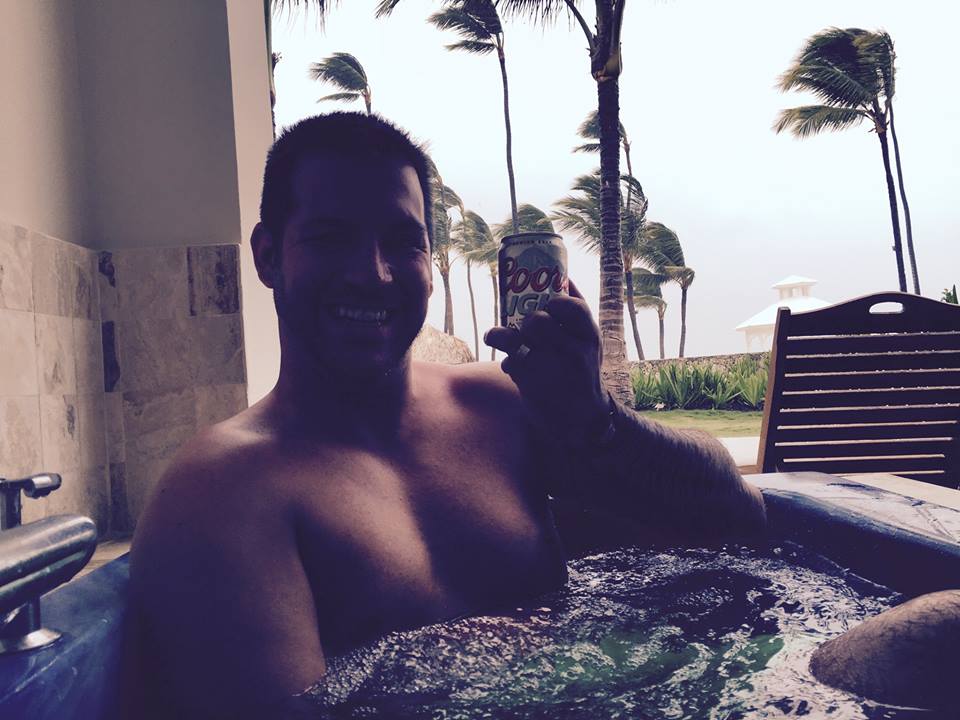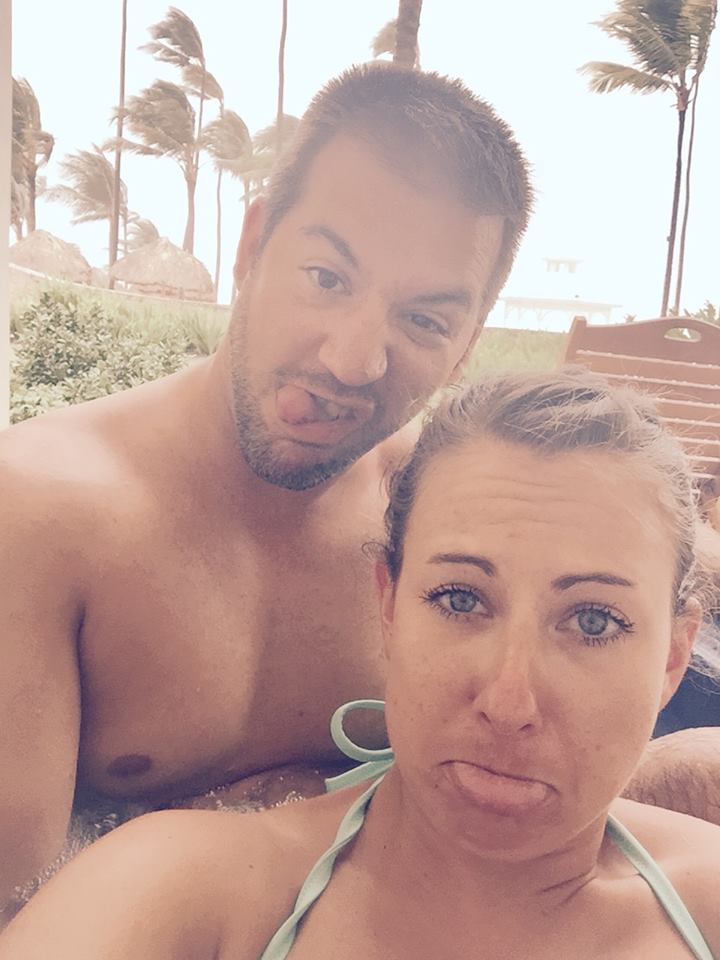 By Saturday though, it had blown over and things were back to normal. Although we kept checking the path of the storm because we were afraid that it might hit Florida around the time we were heading back. We were definitely scared that our flight could get cancelled and we would be stuck there.
There were all sorts of things to do at the resort, but we really just stuck to the beach/pool. The shows at night were okay, I liked the one where they did different classic rock songs. Also, the circus was kind of cool. One night they had a Michael Jackson tribute thing, we did not stay and watch it though.
We did have one complaint about the resort though. Sometimes the staff were not all that helpful. For example, it would take forever to get someone to bring us coffee in the morning. Or when we first went to the restaurant, we stood at the podium for a few minutes and when no one came over, we started to walk towards an empty table. The hostess came back and basically yelled at us. Sometimes the waitstaff would seem annoyed if we asked questions. We had to though, since Lindsey is allergic to shellfish. Again, this was not all of the staff, just a few, but it made us nervous about asking questions. Now, to be fair, I cannot tell if they were being short with us, or if that is a DR thing, ya know?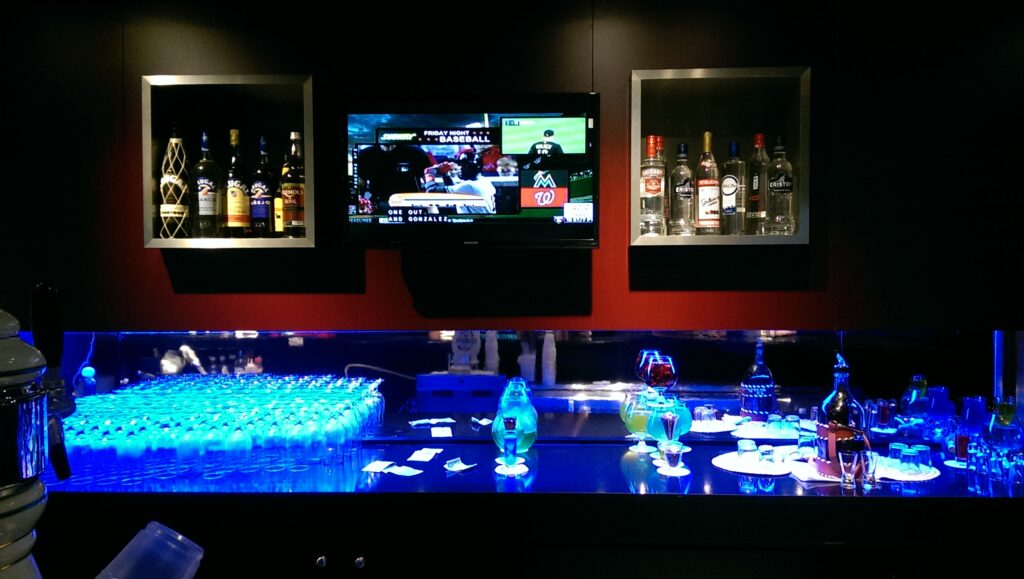 One thing I did find cool though, was how much they enjoyed talking about baseball. If I mentioned that we were from near Pittsburgh, they would usually mention Gregory Polanco. I would have to remind them that Marte and Liriano were from the DR as well.
We did go out the one night to the sports bar and watch the Pirate game. Another night we went there and watched people do karaoke. That same night we went to the night club and met a couple from New York. Well the girl was from NY, but the guy was originally from Bulgaria. Speaking of Balkan countries, I saw a guy with an awesome Albanian flag tattoo. I wanted to get a picture, but Lindsey told me no. I do have a bit of a reputation in Albania…
We also got professional pictures taken while on the island. They came out very well. Our photographer was from the Philippines. Seemed a bit odd to me, leaving there to come to the DR. Anyways, she was good at her job and we loved the pictures.
I do need to mention the poop though. So I had diarrhea the entire time we were there. It could not have been from the water because I did not have any water when it started. As soon as we got back home, it went away. I looked up a few things and it turns out that extreme changes in humidity can affect the bowels. Who knew? Lindsey was the opposite, she was so afraid of drinking the water that she used bottled water to brush her teeth and yet when left, she got sick. She was so bad for the next week or so that I had to take her to UrgentCare. She is all better now.
I know it probably sounds like we were pretty lame and for the most part, we were. But seriously, it felt so good to just relax. We both definitely needed it. I did not realize how mentally and physically drained I was. I would definitely recommend going there at some point.
I have a feeling most of you are going to hate this post because it will be a ton of pictures. I apologize in advance.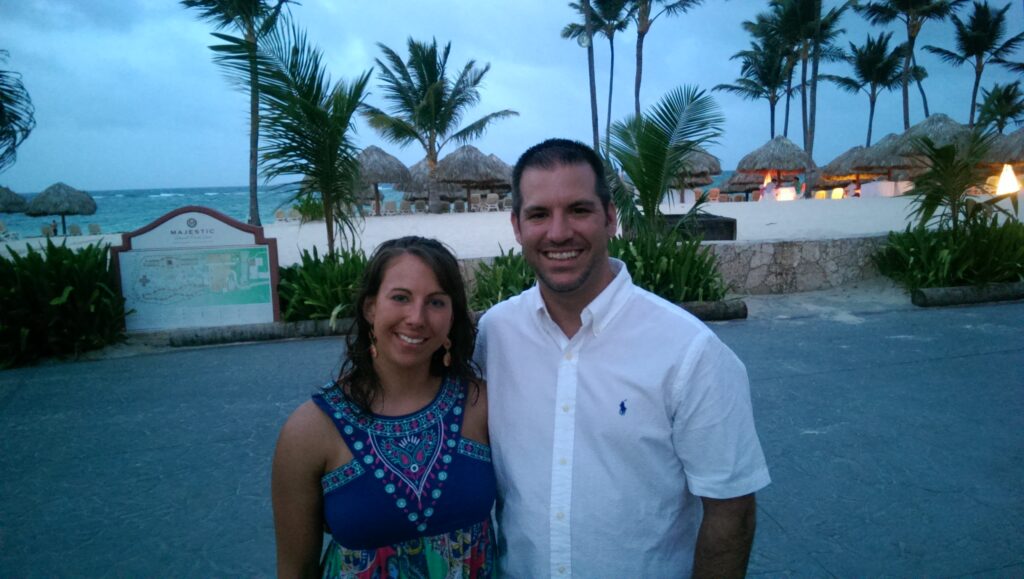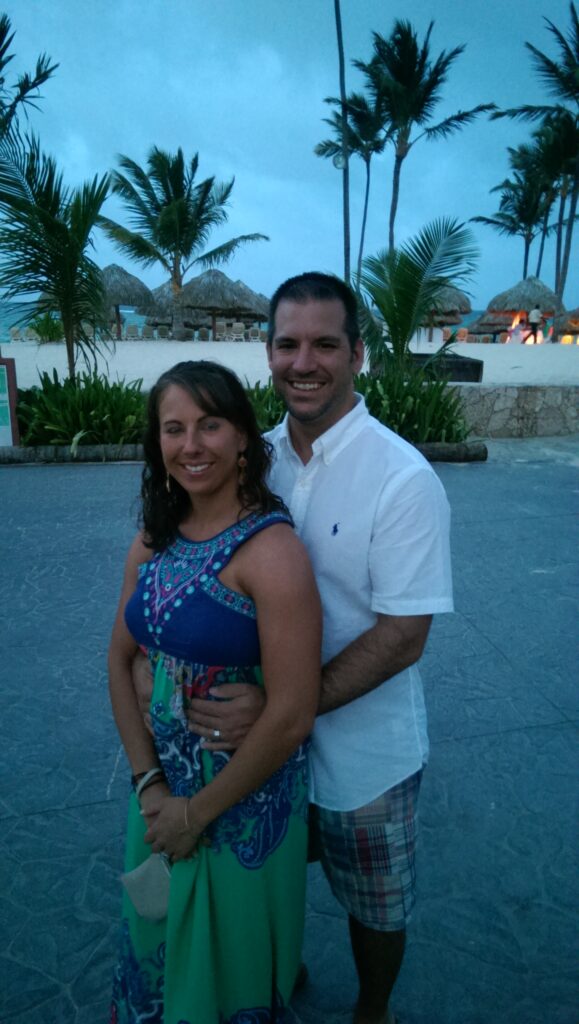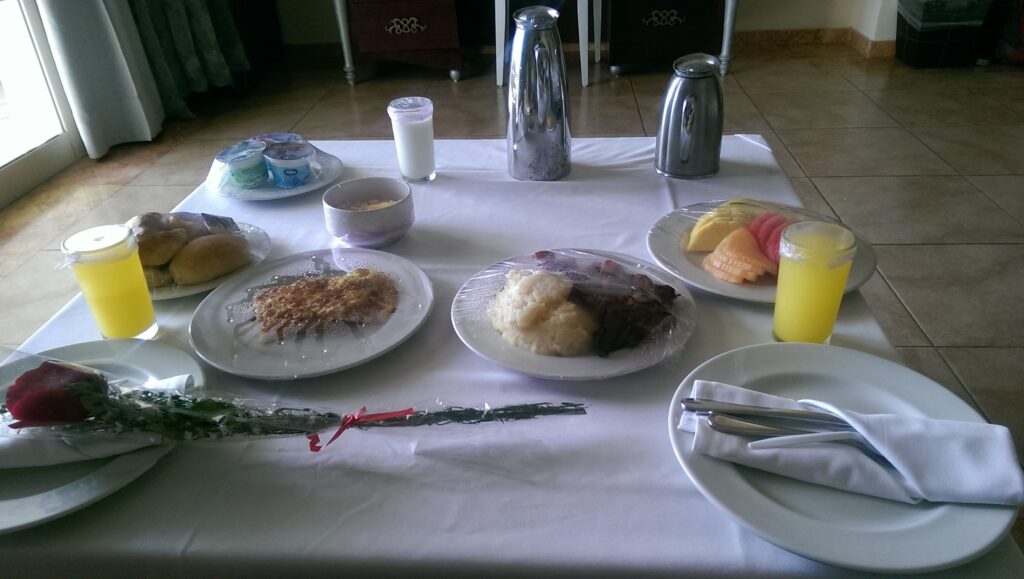 This was our romantic breakfast in bed. Not really in the bed though.