Obviously when you get married, the next major step in the relationship is to have a baby. Right? Well Lindsey and I are not quite ready for that one yet, so we went the other route and we purchased a dog.
His name is Samson and he was born on June 9th. He is a miniature goldendoodle. In case you do not know, this is mix between a miniature poodle and a golden retriever. This is the story of how he became a member of our family.
Lindsey has been wanting a dog for quite some time. She did her research and knew this was the breed she wanted because of a variety of reasons. Unfortunately it was hard to find one for a reasonable price. We kept seeing them for sale near Lancaster for $800-$1500. Then I read somewhere that many of those places in that area are puppy mills and that discouraged us from going there. Another factor for the dog was that we wanted to have a fenced in area for him to stay while we are at work. Unfortunately, this is going to be a project for the spring, which definitely caused Lindsey a little sadness.
After much discussion, we agreed that there was no better time to get a dog. Winter is coming (hehe) and the fenced in area would not be all that useful during the cold months. So Lindsey started looking online. She found one and sent me a picture, I told her to get it, he was definitely super cute. She called the place and they said they had two left and did not know if they would still have them by Tuesday. Lindsey was tempted to go out Monday to get it because she was afraid they would sell him.
She seemed a bit upset on the phone about it and I asked her if she told the lady we would take the dog. She said no, and decided to call back. The lady said we could put a deposit on the dog and come out to get him on Tuesday when we were both off work. Hmm, sometimes it makes sense to call and ask questions.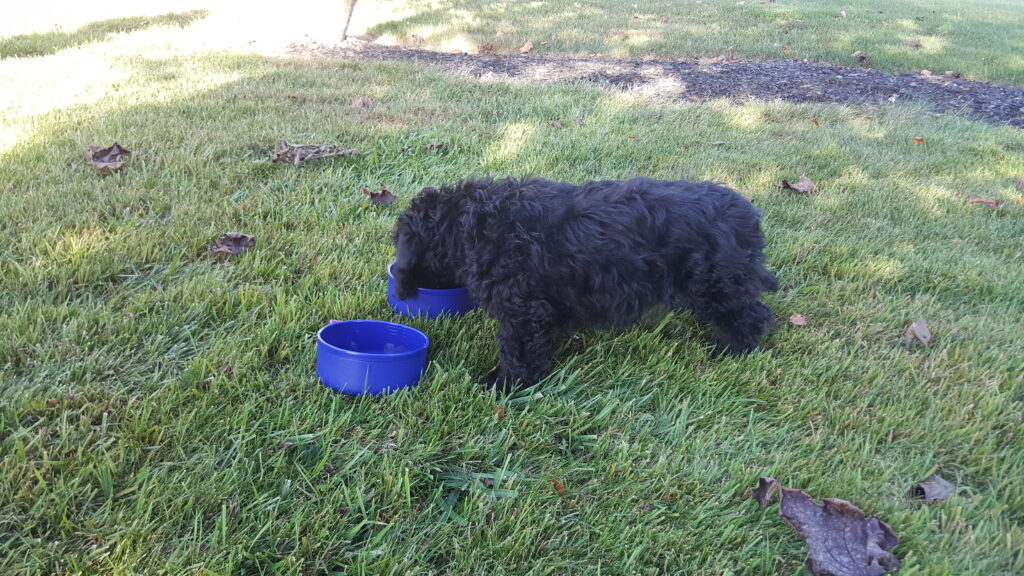 Next came the hard part: coming up with a name. We both had a few choices (can you guess mine versus Lindsey's?):
Oreo
Snickers
Champ
Ozymandias
Rameses
Sawyer
Samson
We got up pretty early today and went to breakfast. We finally got on the road around 9:00 a.m. and the GPS said it would take us around three hours to get to Powell's Puppy Palace in Minerva, Ohio. As we drove, Lindsey and I agreed that Samson was probably the best name, but we would wait until we had him to make a decision.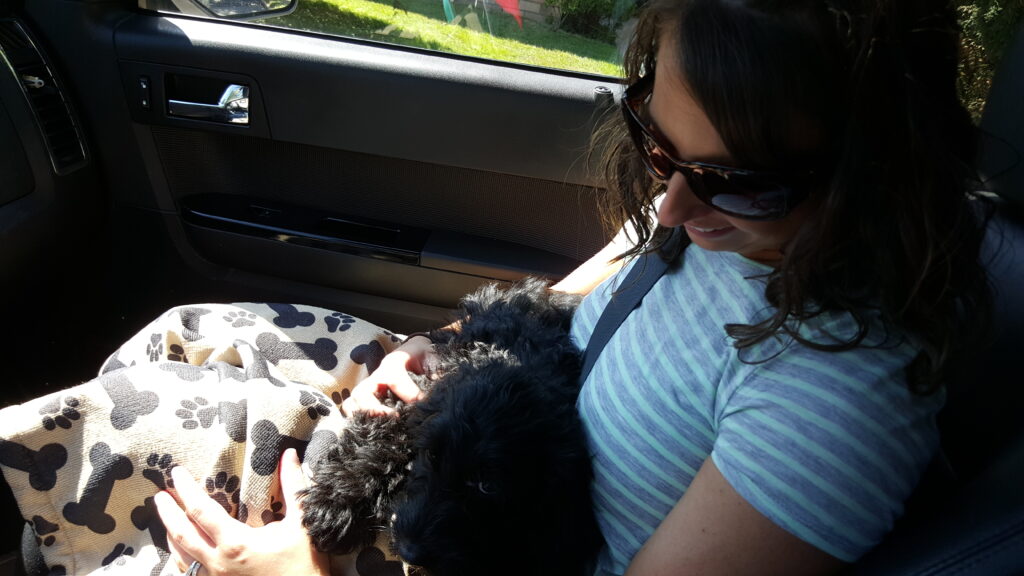 The owner was really cool and helpful. He gave us some tips on training and explained how this breed is very smart. As he was explaining everything, I looked at the file and in it they had a name written for the dog. The name was Samson. At first I thought maybe Lindsey told them that was a name we were thinking about choosing, but then I remembered that I had mentioned the name to her the day before and she had not called them on Monday. I said to Lindsey to look at the name. She looked and we both laughed. The owner asked what was funny and we told him. He laughed as well and said that it was meant to be. He then joked that we would probably go home and make a baby tonight. Like I said, he was a funny and cool guy. He told us that it actually happens more often than you might think. People show up with a name and it turns out to be the name the breeder was calling it.
We drove home with him on Lindsey's lap. I am guessing he is not a fan of cars because he ended up throwing up. He was very scared the entire drive and I was having reservations about taking him to Lindsey's mom's house. We agreed that if he was freaking out, we would just go home. Oddly enough though, as soon as we pulled in and let him out of the car, he was running around the yard and being super friendly.
Now we are home and he is trying to get acclimated to his new home. And trying to catch his tail. We are going to have fun together…