I did not fare so well last week, only getting five right. Lindsey stayed in first place after scoring eight followed by Jason, who also got eight. After that it is Mom, Adam2, me, Gideon, Adam2, Sean, and Pat. Sean has had a rough go of it and decided this might be his best option:
@ngewo My kids just made my football picks for this week's games. Can't do worse than me the last two weeks.

— Sean's Ramblings (@seansramblings) October 15, 2015
I think this should be an interesting week.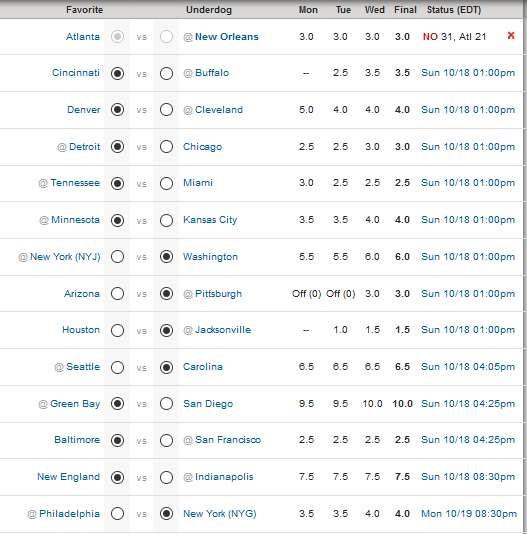 The battle of Croyle House was pretty exciting and just a little tense. It was looking Lindsey had no chance. I mean, at the beginning of Sunday night's game, I was only down like two points, with the Giants defense playing and currently giving me 10 points and Danny Woodhead on Monday. Then things started to get funky. The Giants gave up a bunch of points and instead of 10 points like I started with from them, I ended with 2.
During the Monday night game, I probably checked my phone like 439 times at work. It was a bit scary, Woodhead was not getting the points and it was not until pretty late that he finally got enough to surpass Lindsey. I was still scared because all I could picture was him fumbling or something.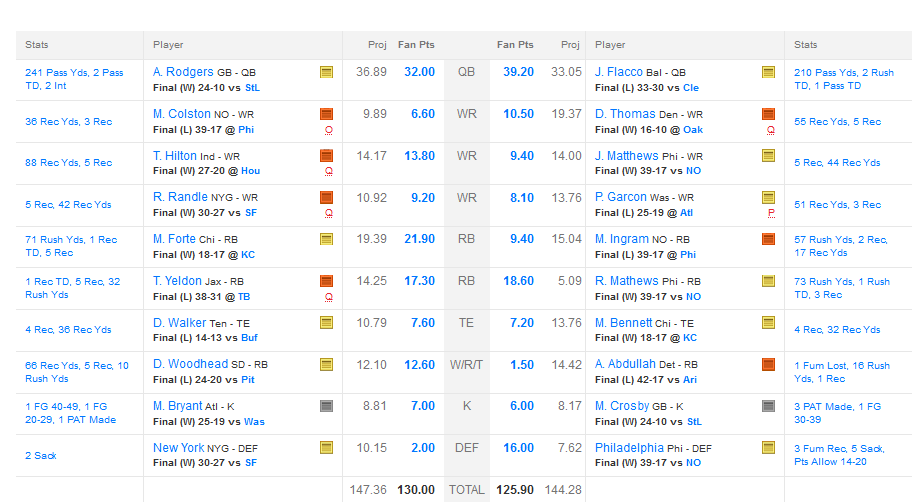 In the end though, I prevailed, which is all that matters. In other news, Ryan remains unbeaten after destroying Jason. Gideon earned his first win with a victory over BatmanJason, Adam beat my opponent this week, Dustin. Jessica took down Jarrod, while Offord blew out Jim.
The standings look like this at the moment:
Ryan
Jessica
Offord
Jason
Me
Lindsey
Jim
Jarrod
Adam
Gideon
BatmanJason
Dustin