This was another bad week, but at least it was pretty bad for almost everyone. Everyone minus Lindsey, she got seven right. Mom also got seven. I only got four. Ugh, this is not going well for me. Lindsey has 54 points, I only have 44. I am not even close to coming back. After Lindsey, it goes Jason, Mom, Adam, me, Gideon, Adam2, Sean, and Pat.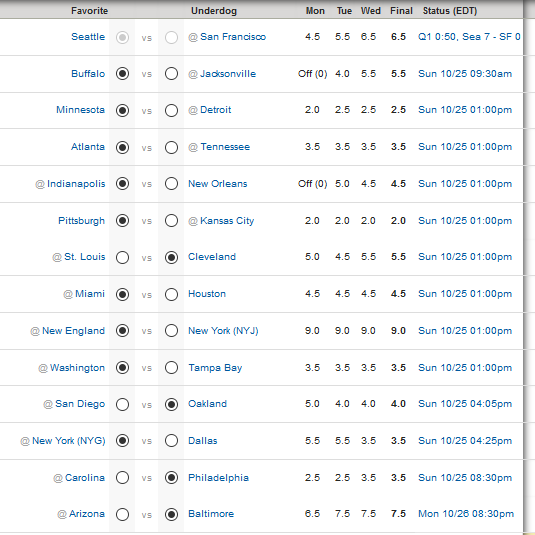 I really thought I would have an easy win this week against Dustin, but boy was I wrong. I should have known, he always gives me troubles in fantasy baseball, why would football be any different.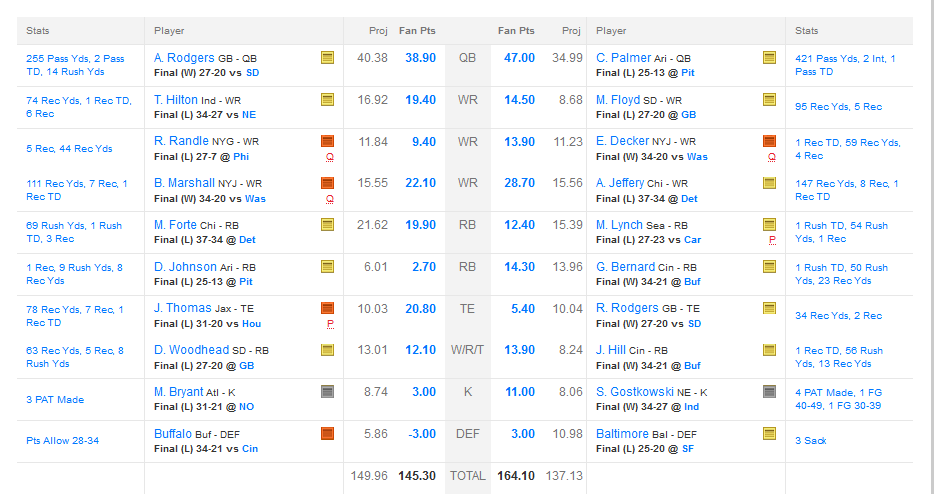 It was a pretty crazy week for the rest of the league. There happened to be a bit of a controversy regarding a trade. Here is the story: Ryan offered BatmanJason a trade on Saturday, Calvin Johnson and Chris Johnson for Jamaal Charles. BatmanJason was thinking on it and then Charles got hurt. A few days later, BatmanJason saw that the trade was still there, so he accepted it.
Ryan got a little angry and demanded that I reverse the trade. His reasoning was that I reversed a trade earlier between him and my brother. However, that was a little different. My brother hit accept when he did not mean to (apparently the Accept/Reject buttons are backwards on the app as opposed to a computer, not sure if that is true, I never checked it out) and he called me as soon he did it. So I just canceled the trade.
The reason I did not cancel this trade was because I assumed that since Ryan proposed the trade, he had a plan for Charles, plus I was not really paying all that close of attention. Ryan was pretty pissed and by the time he asked me to cancel it, the trade was already through. So I reached out to BatmanJason, who said that he only accepted the trade because he assumed I would cancel it. He agreed to trade the players back.
Now, I need to make this declaration here and now. I will not cancel anymore trades. You make a mistake, that is on you.
Sorry for the aside everyone. Back to the normal stuff. Even without those two players, Ryan still beat Jim to remain undefeated and in first place. Jim falls to eighth. In the battle for second place, Offord beat Jessica. Lindsey is in fourth place after a beat down of BatmanJason, who is in last place. Jason is in fifth place after being absolutely destroyed by Gideon, who now has two wins in a row and is in ninth. I am in sixth and Dustin moves to eleventh. In a battle of former roommates, Adam squeaked past Jarrod and is in seventh with Jarrod in tenth.
This week I take on Jarrod. This is my big bye week since Aaron Rodgers and Matt Forte are not playing. I am starting Derek Carr and Alfred Morris, who I traded from Jim. Lindsey takes on Jason, which should be a good battle since she also has a bunch of guys on bye week.