Last week was pretty rough, yet again. I am having a terrible year. Five right, that is not good at all. Sean and Adam both got eight right. Lindsey stayed in first place, but she only got six right. Mom got seven and is only four points behind Lindsey. At least this week I am starting off with a win. I was actually close to taking Miami, thinking they might keep it close. Glad I did not…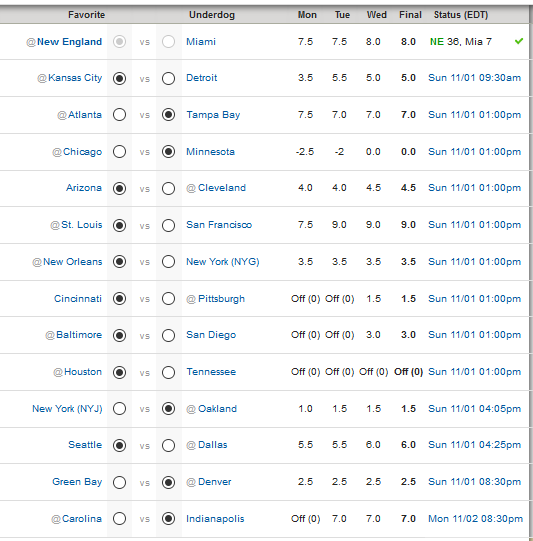 Things went well for me this week. I beat Jarrod even with Aaron Rodgers on a bye week. Who knew Derek Carr would have a good game for me. Also, T.Y. Hilton and TJ Yeldon both had great games, which carried my team since Alfred Morris and Julius Thomas had terrible games.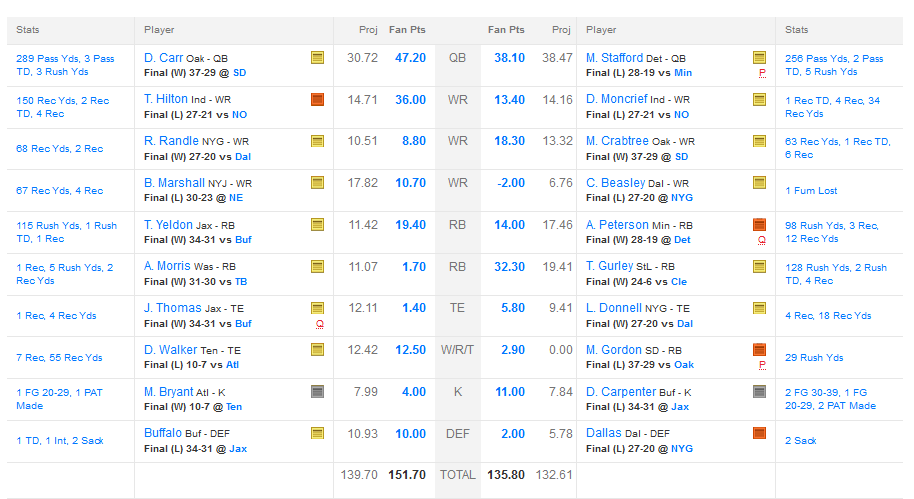 Ryan lost his first game to Gideon, who now has three wins in a row. He is now in ninth place and Ryan is still in first. Offord lost to Adam and Jessica lost to Jim. That is the top three going down in the same week. Jason destroyed Lindsey. After that I am in fifth with my dear wife in sixth. Adam and Jim are in seventh and eighth. Jarrod is in tenth. In the battle of last place, BatmanJason beat Dustin by a whopping 1.10!
This week I take on Offord and it should be a pretty good match. It will all depend on our QBs. Newton versus Rodgers. Green Bay is going up against that tough Denver defense. It could be interesting if Rodgers has a bad game. I am a little nervous.