Alright, things are starting to turn around for me. Mom and I both got eight right, which was the best. That is two weeks in a row that I have scored the most. I am in fourth place and only four behind Jason. Mom is in second and Lindsey drops to third. She only got three right last week. After me it goes Adam, Gideon, Sean, and Adam2.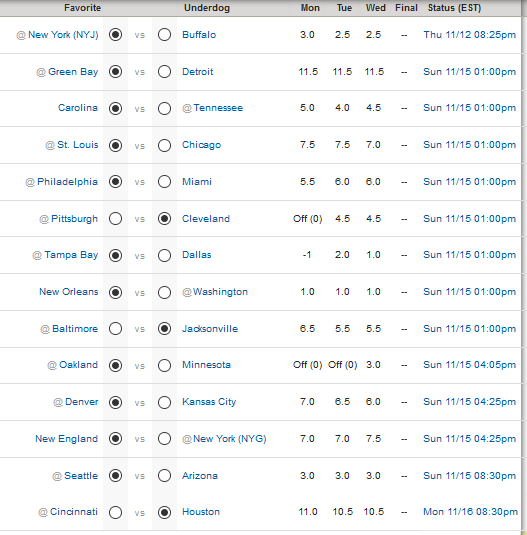 There is nothing worse than scoring the second most points in a week and losing. Anyone else and I would have won, which is annoying. At least my team scored plenty of points,which is much better than the previous week. It was kind of funny, I was actively rooting against Antonio Brown on that final drive. I mean, I wanted the Steelers to score, but I knew if AB hit the 250 mark, it would be another ten points (plus points for each yard and whatnot). Oh well, I guess that is a good way to lose.
I also took the "fantasy experts" advice and decided to bench T.Y. Hilton since he was going up against the Broncos defense and went with Bills defense as opposed to the Giants. That would have put me at around 190 points. Damn those idiot experts.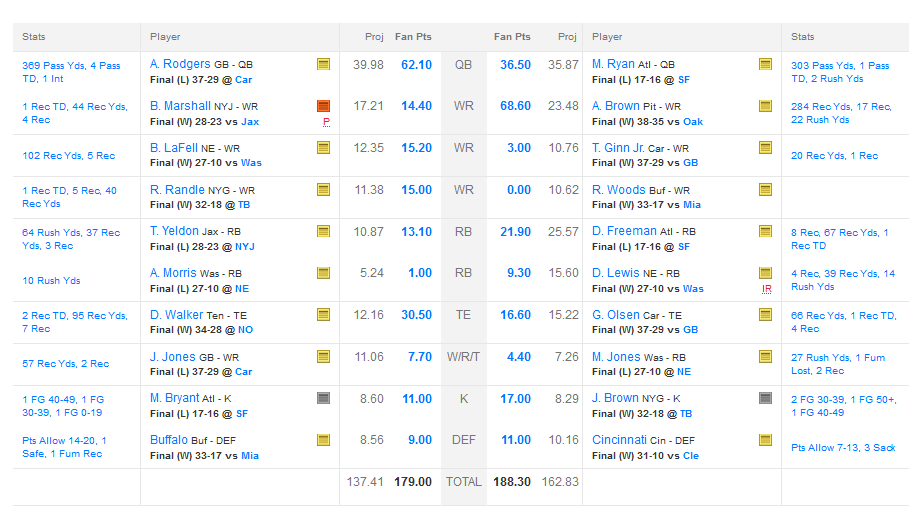 I am now down to eighth place. Ryan is still in first place after beating Dustin. Offord stays in second with a victory against BatmanJason. Jessica is in third. Adam is in fourth with a win over Jim. Interestingly enough, Adam has scored less point that everyone, but the bottom two teams. Jason, Gideon, and Jim are all above me with 4-5 records. In fact, the only person with that record that I am better than is Lindsey. She lost to Gideon, but at least she scored a few points this week.
I take on my brother this week. I need a victory. I must defeat him. Lindsey goes up against Jim. She really needs a win.