After another great week, I scored 11, I am only one behind Jason! Yep, I surpassed Mom and Lindsey. My 11 was not even the best this week, Adam rocked a 12! Great job brother! He is now only five behind first place. Sadly, I did the first game this week on my phone and for some reason it did not save. Not that it would have mattered, as I took Detroit.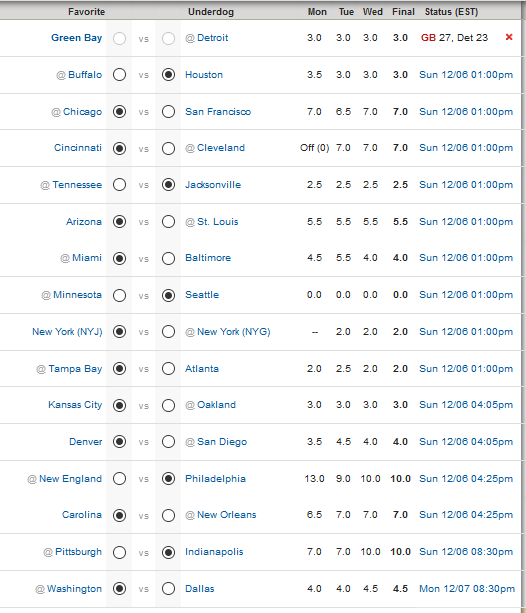 I desperately needed a win. If I did not win, my season was over. I really did not think I was going to pick up a win after Thanksgiving when I only got 32 points from Matt Forte and Aaron Rodgers. And yet somehow I still won. Good thing I have Brandon Marshall and T.Y. Hilton.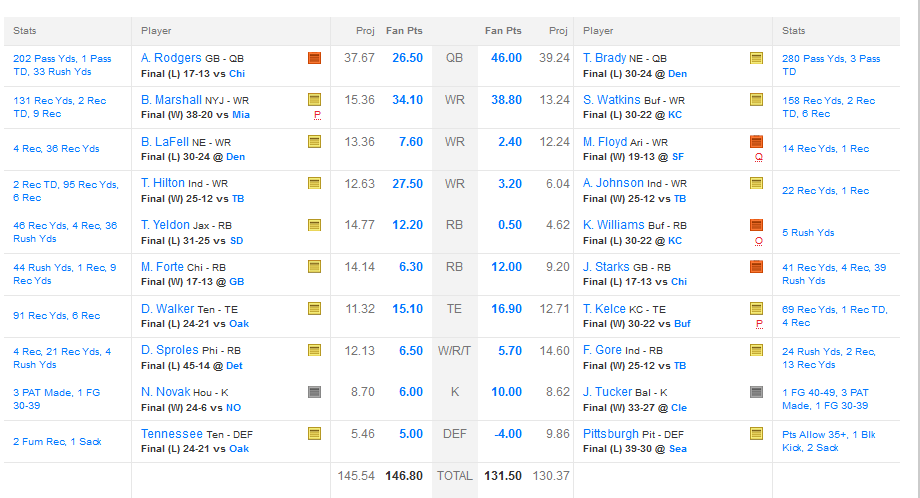 There were some close match-ups this past week. My brother barely got by Jason and Jessica defeated Ryan by .10. In other games, Offord beat Gideon, Jarrod destroyed Lindsey, and Jim crushed Dustin.
Three of us are 6-6 and only two of us can make the playoffs. Right now I am in the seventh spot and 58 points behind Jarrod and 60 from Jim. This week I take on Jason and I already had a great start from Rodgers. Jim has BatmanJason this week. Jarrod had an easy match-up with Dustin, who has not adjusted his lineup in a few weeks because he felt he was out of it. I sent him a text and begged him to set his team so that he could give Jarrod a run and help me make the playoffs. Thank you Dustin!
How did it work out for me? In the Thursday game, Jarrod had three players and only 59.10 points (one of which was Stafford) and Dustin ended up getting 28.60 from Richard Rodgers, who was on his bench until Thursday morning. Seriously, if Dustin beats Jarrod, I need to buy Dustin a present.