Jason moved a bit further ahead by getting ten right last week and I only picked seven. My brother also had ten correct, so he is now just one behind me. Mom actually got the most right with eleven. As you can tell, I am not having a very good week.
Over in fantasy football, I took on Offord in the semifinals and it did not disappoint in being a pretty good one.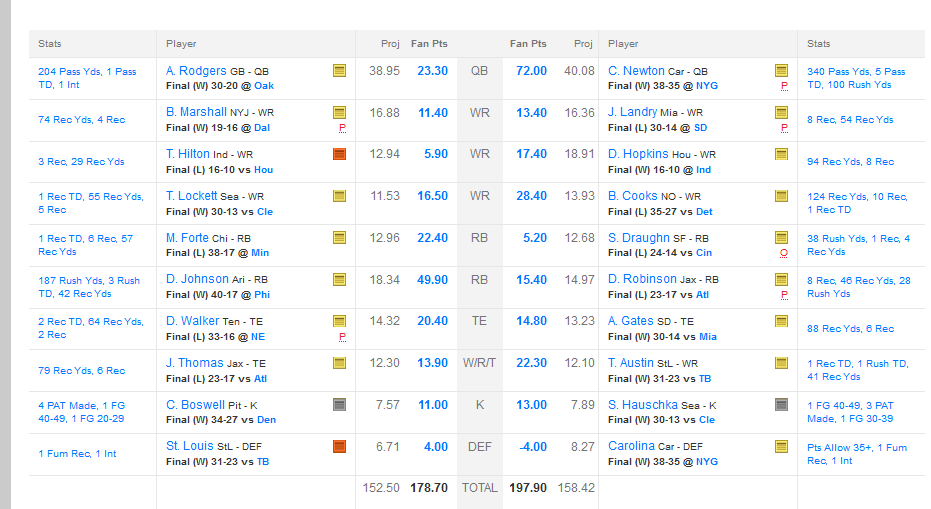 After Cam Newton put up 72 points against Rodgers and his 23.30, I figured the game was over. I even sent Offord a congratulatory text. He made a joke that maybe Boswell could kick a bunch of field goals and tie it up. Then all of a sudden Matt Forte and Delanie Walker had good games and I was down, but not really out. I would need a huge game from David Johnson. And then it happened. He exploded for 49.90 points. We went into Monday night with me leading 178.70 to 169.50. I watched the Monday night game, while cheering against Brandin Cooks. At first things were going my way. He was not getting the ball at all, but then Brees connected with him on a touchdown and once Offord was ahead, I said screw it and went to bed. As you can see, it did not end up very close, but for a few minutes, I was excited that I could pull out a victory.
Over on the other side of the championship bracket, Jessica destroyed Jim, which means I play Jim this week for third place. Good luck to Offord and Jessica. I will be rooting for Offord because I do not want Jessica to build a freakin' dynasty.