I was watching Russillo & Kanell on ESPN today and heard something that was a little silly. They were arguing about the Big Ten and SEC, which conference was better. Russillo then said something like "well come on, top to bottom, the SEC is much better, I mean, Arkansas or Texas A&M versus Purdue, Indiana, or Rutgers? No contest."
And this is what I hate about SEC apologists, they tend to forget about those bottom dwellers of their conference. Notice how Russillo immediately took the bottom Big Ten, but not the bottom of the SEC? I am sorry, but Indiana was not a terrible team, they are better than South Carolina. Here are the standings of the SEC:
Take Vanderbilt for example, they won two non-conference games, Middle Tennessee and Austin Peay (who was winless on the season in FCS). Houston shutout Vanderbilt. You mean to tell me that Vanderbilt would be one of the better teams in the Big Ten. Get fuckin' real. Look at the Big Ten: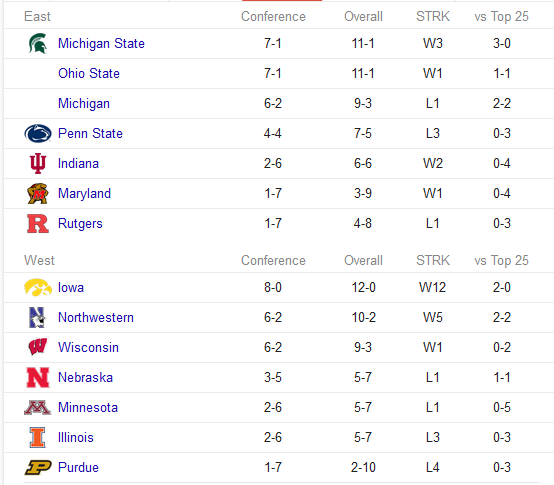 In reality, if you want to take Texas A&M and Arkansas and match them up with a Big Ten team, you need to look at Wisconsin (how great would a Badgers/Razorbacks bowl game be…), Michigan, or even Penn State. I think all of those teams would be pretty equal with each other.
Purdue, Illinois, Maryland, and Rutgers are pretty bad, but they are no worse (if you can really compare how shitty bottom dwellers are) than Mizzou, South Carolina, Vanderbilt, and Kentucky. I just hate when people say things like "oh, the worst team in the SEC would be pretty good in the Big Ten." No they wouldn't, just like a shitty team in the Big Ten would not compete in the SEC.
I guess bowl season will help us determine some of this silliness. Just kidding, everyone knows the Pac-12 dominates bowl games…