I need to preface this little rant with a disclaimer that I did not get to watch the game (why the NFL does not consult my schedule before scheduling playoff games is beyond me), but only saw the highlights much later.
How big of an idiot is Adam Jones? I mean we already knew that he was an idiot from his many exploits over the past years, but it takes a special kind of idiot to cost your team the game by going over and shoving an assistant coach. I do not care if that assistant coach is running his mouth and swearing at you. You do not want to be the guy that gets a fifteen yard penalty that sets up the game winning field goal.
Then you have Vontaze Burfict. Where was his head at? I know Steelers fans hate the guy, but he reminds me of James Harrison. Remember when Harrison got fined like 324 times for head hits and he was like "I ain't changing my style so they will just have to keep fining me." But again, you need to be aware of the situation. There was no need to hit Brown that high, Burfict could have avoided the contact. And yet, he went for the big hit and gets flagged for it.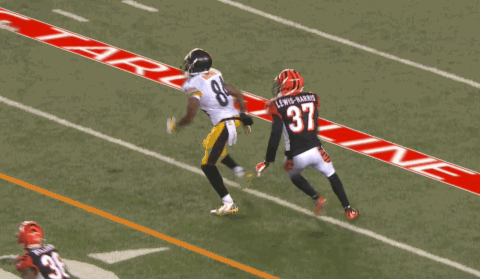 But really, the blame here falls on Marvin Lewis. Do not get me wrong, I think Lewis is a good coach and I would not fire the guy or anything. However, the Bengals need to convince him to hire a touch assistant. Lewis has always been lax on discipline. Remember during the Chad Johnson era when it seemed like once a week someone was getting arrested? I remember there being an after game speech where Lewis tells the team they have off until Monday (I think it was a Thursday game) and that they are free until then and no one better get in any trouble. I think two or three guys got arrested that weekend. That is a coach who does not inspire fear in his players. When Pacman Jones is going towards Joey Porter, where is an assistant coach to come grab his defensive back and drag him back to the sideline (I am not sure if an assistant coach would be allowed on the field, so maybe the point is moot).
And remember Steelers fans, if roles were reversed and it was James Harrison that hit A.J. Green or Willie Gay who shoved a Bengals coach, you would be complaining about the referees and saying that there was nothing wrong with the entire situation.