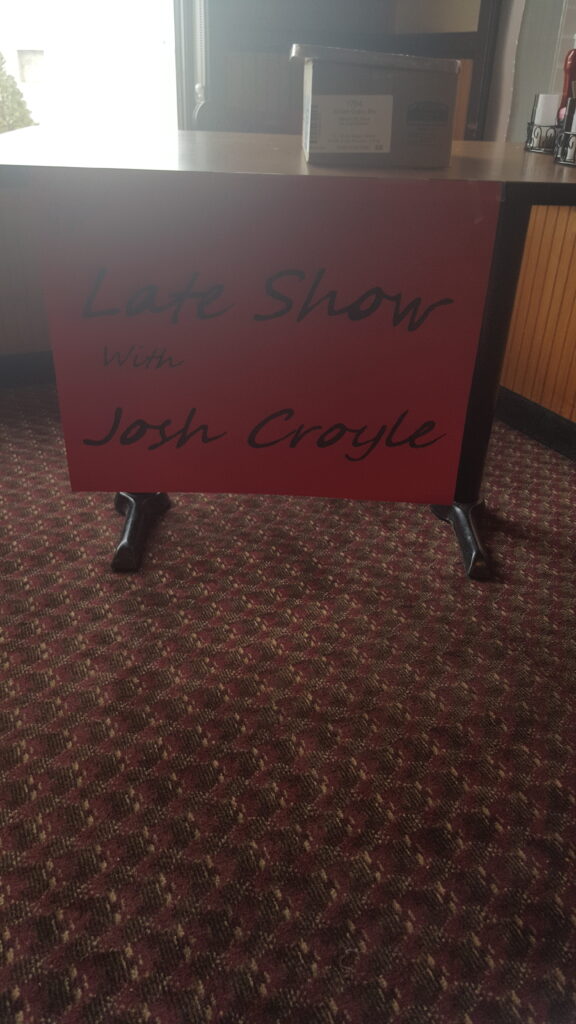 Every May is Team Member Appreciation Month at work. One of the things we do is have a service awards. The general manager is in charge of doing a small presentation, talking about the awardees and saying some nice things about the restaurant. Most general managers keep it simple, but that is not really my style. This was my fourth one and the first at my new restaurant. I wanted to try something a little different. I wanted to do it like one of the late night talk shows.
Sorry, I took a crappy picture of my sign. I actually made that myself and was actually fairly proud of it. I printed the letters out and then cut them out with a utility knife to create a stencil. I bought a paint pen and used that to actually write everything out. I made another sign with the four awardees names and years inside stars, Lindsey then decorated the sign with glitter.
I started the show off with my opening monologue, which included some positive news from the year so far and a few jokes about a couple of our team members. After that I introduced my boss, but instead of just having him come up, I said "we have a surprise guest today, all the way from Los Angeles, California, the star of Captain America: Civil War–Robert Downey Jr!" At that point my one manager came up to me and gave me a note (I planned this all out). I read it and said "oh, seems we made a mistake, Iron Man will be here tomorrow, today you will have to settle for XXXX(my boss' name)."
From there we incorporated a little technology by having a former employee, who went into our management program do a little speech via my tablet. At the end of it I told her to say something like "you guys want to hear a funny story about Josh?" At that point I run over and shut it off and make a joke about "too bad the real XXXX didn't have a mute button."
After that I did the awardee ceremony as if they were guests on the show. I would tell a little bit about them and then say something like "so I hear you have a funny story about…." It seemed to work out very well. The people there laughed when they were supposed to, so that is always a good thing.
The funny thing is that I was pretty nervous at first. I was afraid that people would not really get what I was doing. I think the sign helped. I am also a little bit weird when it comes to public speaking. I feel like I was less nervous doing my brother's best man speech than I was doing this. A large group of mostly strangers is less intimidating than a small group of people I know. I think I am backwards from most people…
There is a negative to doing something different: expectation. Every year I will have to come up with something equally cool. No pressure or anything.