F*CK SH*T P*SS C*CKSUCKER MOTHERF*CKER A$$HAT D*MN D*CK DONGWIGGLER A$$CLOWN SH*TBURGER TW*TMUFFIN AHHHHHHHHHHHHHHHHHHHHHHHHHHHHHHHHHHHHHHHHHHHHHHHHHHHHHHHHHHHHHHHHHHHHHHHHHHHHHHHHHHHHHHHHHHHHHHHHHHHHHHHHHHHHHHHHHHHHHHHHHHHHHHHHHHHHHHHHHHHHHHHHHHHHHHHHHHHHHHHHHHHHHHHHHHHHHHHHHHHHHHHHHHHHHHHHHHHHHHHHHHHHHHHHHHHHH!!!!!!!!!!!!!!!!!!!!!!!!!!!!!!!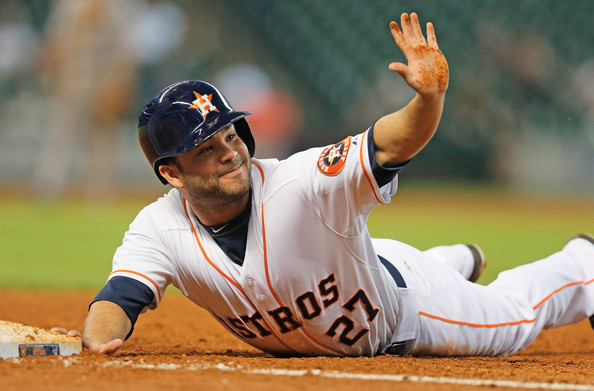 Sorry about that. I am just a wee bit frustrated after this weeks loss to Gideon. Nothing against my old friend, but I should have destroyed him. His team is not doing well this year. And yet, I suffered another loss. This week it was a terrible start in the hitting department and then a mad scramble to catch up. I made a valiant effort, it was tied up at some point on Sunday. On a side note, I was nice enough to go back up and censor myself a bit. I have no clue what a "dongwiggler" is (I am sure Ryan knows a few).
Fantasy Stud
Jose Altuve. The little guy is having a ridiculous season. He now has 13 HRs. He only hit 15 all of last year. And it is not like he is hitting homers while seeing a dip in his average. He is still batting .347. If he was a little better as a defender then he would be leading baseball in WAR (he is at a 4.0 while Trout is a 4.4, with Donaldson in second at 4.1). How good was he this week? He hit .400 with a .444 OBP. He smashed three home runs, scored six times, and knocked in five. The only downside to his power is that it definitely diminishes his stolen bases. Not going to complain about it though, if he wants to crush 30 HRs and only steal 40 bases, that is fine by me.
Fantasy Dud
Yikes Travis Shaw. Things are starting to go south for you buddy. I put too much faith in you when I traded Kris Bryant. Obviously this is just a case of the league adjusting and now it is up to Shaw to adjust back. If not, then I will be in the market for another hitter.
League Results
Offord 7 Pat 5
Jason 6 Ryan 5
Dustin 7 Lindsey 4
Sean 9 Adam2 1
Matt 6 James 5
My loss and Offord's victory meant a change in the standings. Offord is now in first place and I am now in second and a game behind. Sean's huge win brings him to third place and he is only a 1.5 games behind Offord. Ryan, Adam2, and Matt follow, but not nearly as close as the top tier. Jason, James, Lindsey, and Gideon are in that third tier; meaning they are pretty far back, but all it would take is like two dominating weeks and they would be right back in it. Pat and Dustin are at the bottom. I hope they have not given up, the season is not lost. All you need to do is make it to that 8th seed and get into the playoffs…
This week I take on Pat (see, what better way to turn around your season than to beat up on a team that is struggling…I believe in you Pat!), while Lindsey faces off with Ryan.