There are no fantasy results today because we have the cool All Star break week, which means it is time for the middle of the year results! I know you are all terribly excited. If you have been following the weekly updates then you probably know that I was in first place most of the year, but after a poor few weeks have dropped in the standings. Here are the current standings.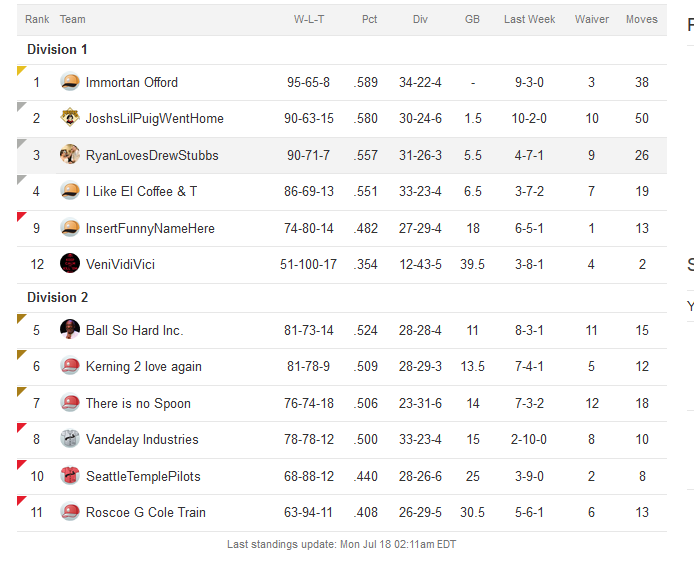 This season may have one of the biggest disparities between where people rank and where they are in the actual standings. It is actually pretty cool. As a reminder, here is my methodology (which is far from perfect, or even good): I take the season totals for each category. I rank each from 12 to 1 (so the person with the most HRs is 12, next is 11, last is 1). I then total that up and get a grand total. Sound simple enough? Cool. First, we shall look at the hitters.

Jason's team is a powerhouse and pretty well balanced. My team is a little bit above average. I definitely could use more stolen bases and hopefully I start seeing some more after the trade I made with Sean (I picked up Odubel Herrara). Maybe if Jose Altuve would just hit singles and steal more then I could have a few more SBs. What a jerk hitting HRs and doubles (he is slugging .551 this season, knock that off Jose)! All in all, I cannot complain about my hitting. Just about where I would expect. If Chris Davis heats up like he did last year at this time, then I could see some huge jumps. Big maybe though. The biggest shock is how low Offord's team is ranked. Judging by this, you would think Offord was in 7th and Jason in 1st. Not the other way around. 

This is where it is interesting. Offord is absolutely dominating the pitching. Here is something odd I noticed. Gideon has 81 holds and yet in that category is 12-2. James on the other hand is 10-4 with just 38 holds. Just goes to show that sometimes totals do not really mean too much in this style of league. My pitching is a little odd this season. I am not picking up wins, which is really shitty. Also, my starters have not been all that great with the rate statistics (and the relievers have not helped bring that number down as they have in prior years).
So by my method (or if this were a rotisserie league), Ryan would be in first place followed by Jason (who is in 6th!). Sean, Offord, and Matt would all be ahead of me.  From there though, things are pretty much where they should be. It just goes to show how close the top four teams are in this league.
I decided to do a few awards for my team this years:
Best Keeper: Jose Altuve
Worst Keeper: Chris Davis
Best Decision: Not keeping Dallas Keuchel
Worst Decision: Trading Kris Bryant
Best Low Draft Pick: Elvis Andrus
Worst High Draft Pick: Collin McHugh
Best Free Agent: Jeanmar Gomez
Worst Free Agent: Jose Berrios
Best Drop: Nathan Eovaldi
Worst Drop: A tie between Carlos Martinez and Julio Teheran
So there you have it. The good, the bad, and the ugly from the first half. Good luck to everyone in the second half of the season.