This was what my team needed! An easy victory over someone. Sadly it had to come at the expense of my wife's season, but oh well. All's fair in love and fantasy baseball. It is kind of funny that I traded away a closer because I was so dominant in that category and then ended up losing saves this week. I am okay with two of my closers not picking up any saves since they both played against the Pirates. I suppose it was a win-win.
Fantasy Stud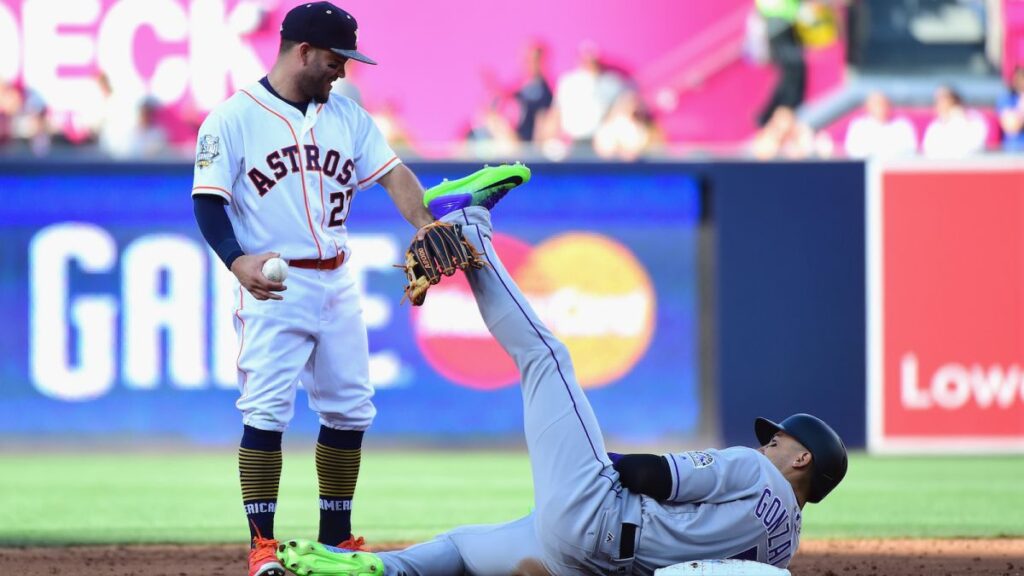 Jose Altuve decided that his lackluster first half could use some improvement. How did he start the second half of the season? A .541 AVG, .575 OBP, eight runs scored, three home runs, nine runs batted in, and two stolen bases. I seriously hope he wins the MVP this season. On a side note, Matt Kemp also had a huge week. Like the olden days Matt Kemp-6 HRs, 9 RBIs. And yet, his AVG and OBP were both .316. Kemp has to be one of the few players who can manage that on a weekly basis.
Fantasy Dud
Wow, Brandon Belt! What the hell happened? A .061 AVG (at least his OBP was .162, maybe Kemp should take a lesson on how to take a walk). Belt did not register any other statistics. That is pretty hard to do, especially in a ten day period. At the very least, you would think he would have knocked in a run by grounding out or something. Or been on base when someone hit a homer. Something! But NOOOOOO, Brandon Belt was just useless this week. Allow me to break down how bad that is: he was 2/33. He struck out 17 times. Both hits were singles, he also had four walks. That is it. During that same time Francisco Liriano had one less hit than Belt in 28 fewer at-bats. Hell, Erik freakin' Kratz had a hit during Belt's terribleness.
League Results
Gideon 6 Dustin 5
Offord 9 Adam2 2
Sean 7 Pat 5
Ryan 6 Matt 6
James 7 Jason 4
Thank you Matt! By tying Ryan, you allowed me to move into second place. Offord keeps the top spot and is five games ahead of myself and Ryan (we have the same winning percentage, but I have a better division record). Sean stays in fourth place, but is now nine games out of first. In the other division we have Matt leading the way, followed by Gideon (he has surged from like tenth place to sixth!) followed by Jason, who is 1.5 games behind Gideon for that final playoff spot. James is in eighth place and just three out from playoffs. After that we have Adam2, Lindsey, Pat, and Dustin. Maybe start planning for next season…
This week I take on James, while Lindsey faces off against Adam2. Offord and Ryan battle each other, so I need a big win and hopefully a super close match between those two. I would prefer a 5-5-2 type of week.