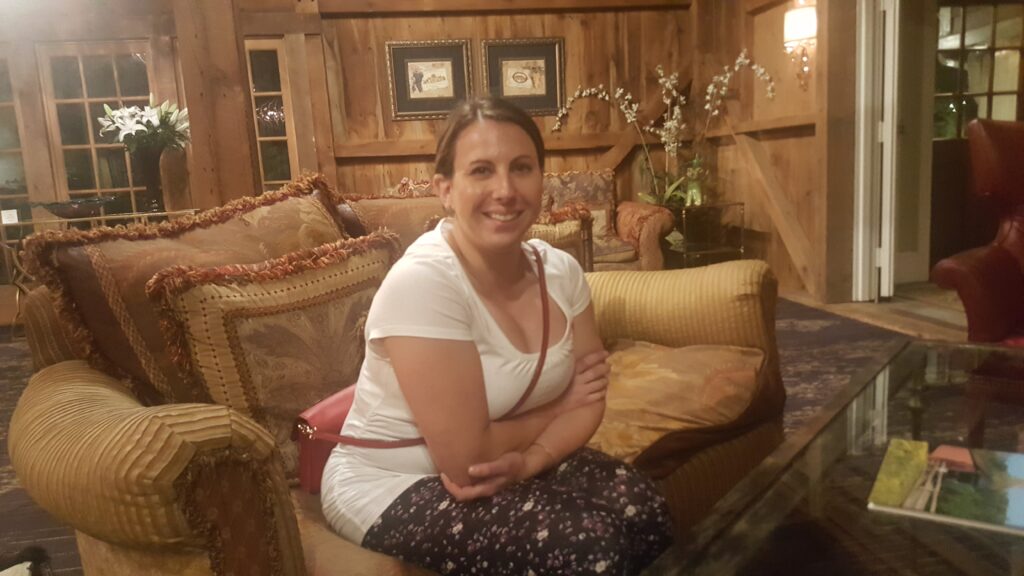 Lindsey and I decided to go somewhere for our first anniversary. We figured this was the only time we would get the chance to go away somewhere for our anniversary without a kid (or kids if you count Samson, which we do). We discovered The Inn at Leola Village on a few different sites and figured a trip to Lancaster was not too far away.
We dropped Samson off with Lindsey's dad and left Windber around 6:00. That was a little later than I would have liked, but Lindsey got stuck at work. Naturally, we had to stop in Breezewood for some dinner. After that it was just a straight drive to the hotel, which only took about two hours from there.
When checking in, the front desk guy asked why we were in town and I said that it was our first anniversary and he was like "oh, that is great, let me upgrade you." I thought he was just kidding, but then he took us to our room and it was the bridal suite. The room was incredible! In fact, the entire hotel was incredible. The place was on old tobacco farm that had been converted into a hotel. There was an awesome billiards room, a pool, walking path, herb garden, and a spa. Our room had a giant waterfall shower plus a whirlpool tub.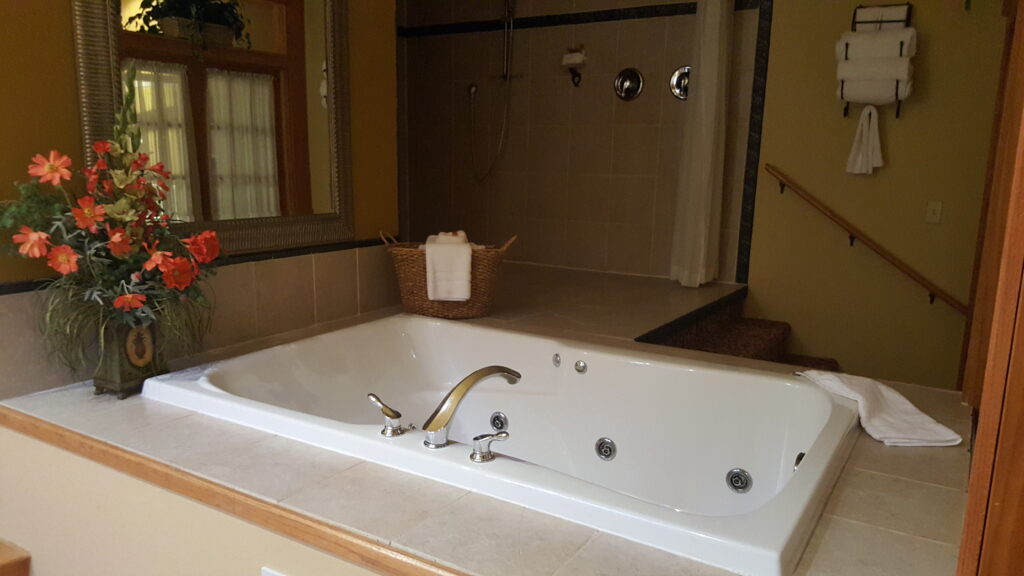 There was one slight problem with the shower and tub. The room is so big and since the entire bathroom area is open, when you shower, the cold air from the AC actually makes it cold. Lindsey found it very difficult to shave in the shower because it was so chilly. The second day we turned the AC off and she actually turned on the heat, which helped. As you can see, the shower only has a thin curtain to keep out the air.
Another slight oddity was the toilet. So once inside the spacious bathroom, you had to walk up a set of stairs to use the toilet. It was cool because you truly felt like you were on a throne. I wanted people to come kneel before him and beg for me not to tax their lands or something. Unfortunately, that tiny curtain was the only barrier between myself and the rest of the room…so while doing #2, Lindsey could hear (and smell) everything. Yikes!
Monday morning, we got up and ate the complimentary breakfast, which was very good. After that, Lindsey went to the spa for her prenatal massage. I am not a massage person, so I went to shoot some pool. Once Lindsey was back from the massage, we went to the swimming pool. We chilled there for awhile, reading and swimming. Lindsey ordered a sandwich and I went back to the spa for my Royal Shave.
I need to take a few minutes and discuss this shave. First of all, I have always wanted a professional shave. You know, like something you would see a mob boss get in a movie, where they tell someone to whack an enemy, while the barber carefully takes a straight razor to the man's face. I wanted to feel like Doc Holliday in Tombstone after challenging Johnny Ringo "you may proceed." I considered getting one before the wedding or before the bachelor party, but a few of my guys were against it…I mean, they would have went along if I ordered it, but they definitely did not seem down with it. So I figured this would be the better time to do it.
I get there and the guy asks me how I want it. I had not shaved in a few days and decided that since it was expensive, I wanted to get the best bang for my buck. I told him I wanted to leave a goatee and then he asked all sorts of questions about thickness, V-shaped, sideburns, and a few other terms that confused me. I finally said "I trust you, use your best judgement." He went to work. First he used the clippers to trim the goatee line. Then he put on a hot towel. After that he rubbed in some lotion. Next came the warm shaving cream and he started the shave. I was a little nervous at first, but when I felt the blade touch my skin and realized how good it actually felt…I completely relaxed. It did not hurt that he played Frank Sinatra the entire time. Nothing makes you feel more like a baller than being shaved while hearing "I did it myyyyy wayyyyyy!" Once he finished shaving me, he put on some more lotion (or maybe it was oil). He then used an ice cold towel, followed by some more lotion (and he basically gave me a face massage, which was surprisingly really relaxing, despite his very large hands) and some talc powder. The entire shave took about an hour and when I was done, my face felt so damn smooth. I wish I could I get someone to do that to me once a week.
BEFORE
AFTER
You may be wondering about the lack of hair on the one side and that was not the barber's fault. That is my odd body. For some reason I grow very little hair in that area. I wonder if it is because I tend to always sleep with side of my face on the pillow and it somehow has worn it away? I am just grasping at straws, I know.
Okay, the shave was over and I went back out to the pool, where I read for awhile and got some mild sunburn. Oh well, it was just my chest. From doing the patio, I am pretty dark, but since I wore a tank-top most of the time, my chest and back have seen no sun.
We went back to the room around 4:00 to get ready for dinner. We had reservations for 6:30 for the restaurant, Osteria Avanti. I ordered the pork chop, while Lindsey decided to go with the Filet Mignon. After dinner, we had coffee and dessert. The meals were amazing! I wish I was at all good at describing food, but I am not and since I suck at it, I will just leave it at amazing. However, I am pretty good at talking about the people around me. So instead of a write-up of how good the food was, you will get to hear all about the table of six sitting near us.
There were three couples. They were all in their 80s. The first thing that stood out was how they sat. Instead of each couple sitting together, they were split apart in a weird way. When they were explaining to the server who was on each check, it was very confusing. Here is my best diagram: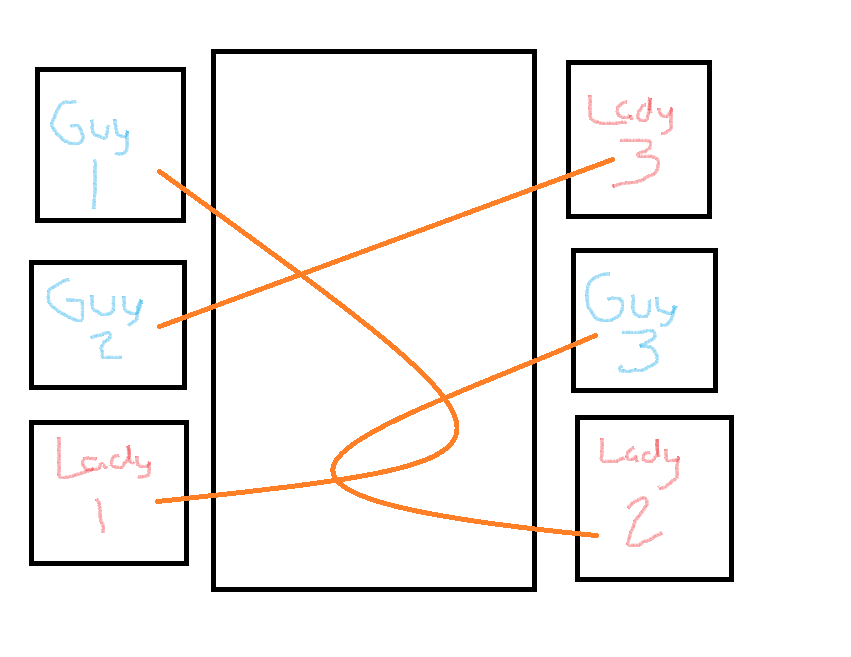 Why wouldn't Guy 1 sit beside Lady 1? And Guy 2 and Lady 3 sit across from each other? Why did Guy 3 sit in the middle? Maybe all of the people sitting on the edge had to because of leg issues. I have no clue, but it was amusing. Most of the people were a little hard of hearing and they definitely did not seem to understand the menu. More on that in a second. The funniest thing was when Lady 3 said that her claim to fame was when she met President Roosevelt and Lady 1 yells "Teddy?" I burst out laughing because it was really funny (for those of you that do not get it, Teddy Roosevelt was president from 1901-1909) meaning Lady 3 would have to be well over 100 years old.
They also did not seem to know each other all that well. Or at least some of them did not. When they asked which way they came, Lady 3 kept yelling to Guy 1 if they came through Intercourse. "Did you come through Intercourse?" I swear she yelled it like five times, which had Lindsey laughing. It also seemed like there were from the same area though because they kept asking each other stuff like "do you eat at XXX everyday? I never see you there." And yet they all seemed like they were from different states originally. So who the hell knows. Maybe they are all close family, but none of them remember.
So back to the menu. Under the salads was a note that said you could add chicken, salmon, shrimp, etc to any salad for an additional amount. I think Lady 1 and Lady 3 ordered the Caprese Salad and asked to have salmon on it. Lady 1 was very specific about how she wanted that salmon done. Guy 2 ordered the salmon dinner. Guy 3 ordered the Caprese Salad to start, but also ordered a meal. He did not have salmon added to it. Lady 2 said to the server that she wanted the same as the other ladies and that she wanted her salmon grilled. They bring out Guy 3's Caprese Salad and he eats a few bites, then Lady 2 eats some of it. When they bring out her meal (which is the same thing), she is incredulous. Why would I want another of the salads? This is not what I ordered. I wanted salmon. The server is very polite and asks "what can I do to make this right?" The lady says she just wants a piece of grilled salmon with nothing on it. So while she sits there, Guy 2 gives her his salmon dinner and eats her Salmon Caprese Salad. The server then brings out a plain piece of salmon. Lady 2 says (very condescendingly to the server) "it's not YOUR fault, taking orders is probably very difficult." At that point, I realized I did not like Lady 2. I wanted to scream at her "bitch, it's not difficult, neither is placing an order!" Ugh, I get so annoyed at people.
After dinner we went back to the room, drank some of our wine/sparkling grape juice that Kayla & Adam2 bought us as a wedding gift. Then we went downstairs to shoot some pool. After a game or two though, we were pretty tired and just came back to the room and went to bed.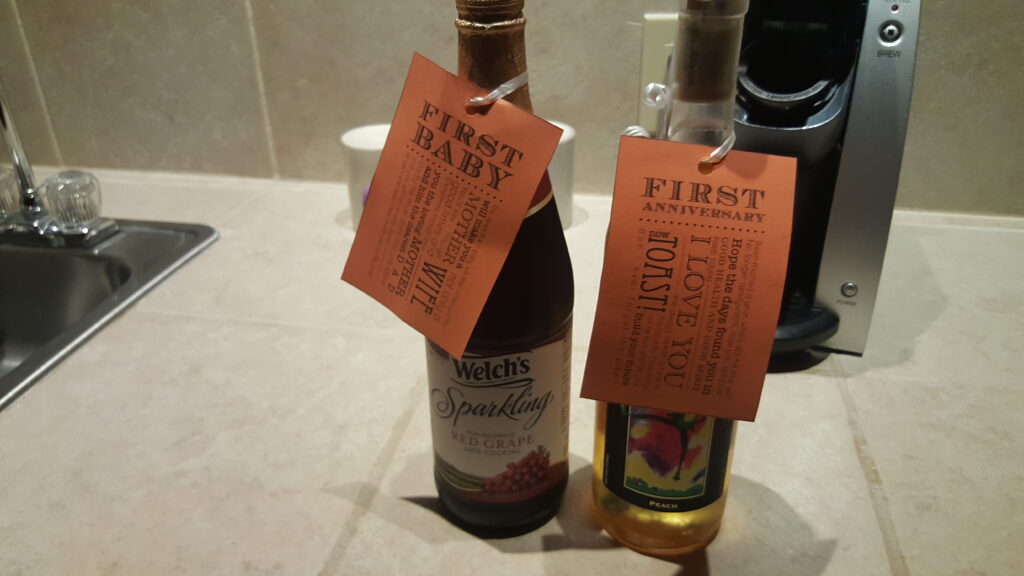 The next morning we woke up and checked out. We walked around the place to get some pictures and then went to the Central Market in Lancaster. Lindsey decided to buy all the produce and flowers she could find there, mainly to make me carry them back to the car. Once we were finished there, we went to the outlets and Lindsey bought some more maternity clothes. Then our trip was done and we made our way back to Windber to pick up Samson, who was very excited to see us!
It was an amazing first anniversary and I look forward to many more! Here are some more pictures…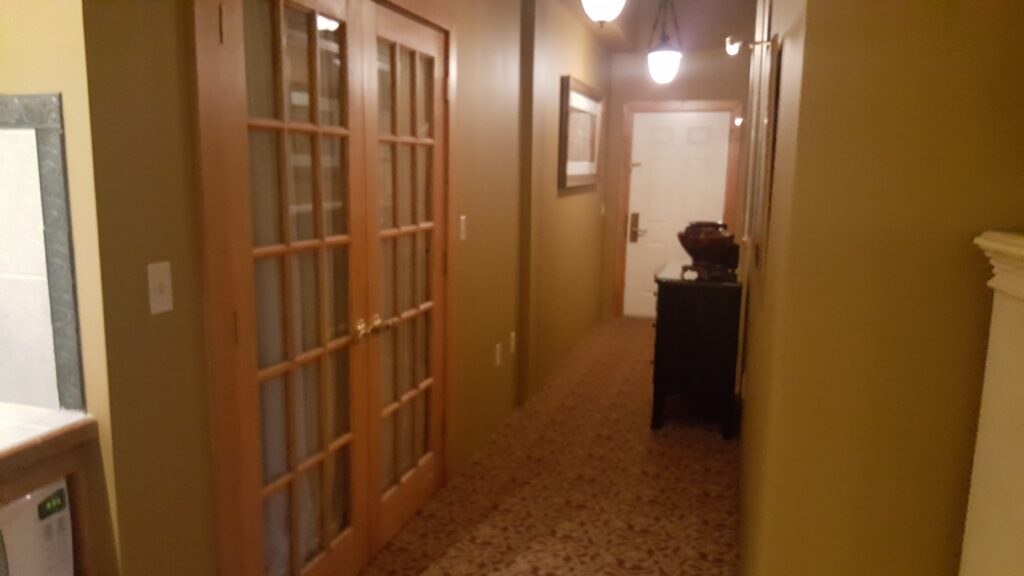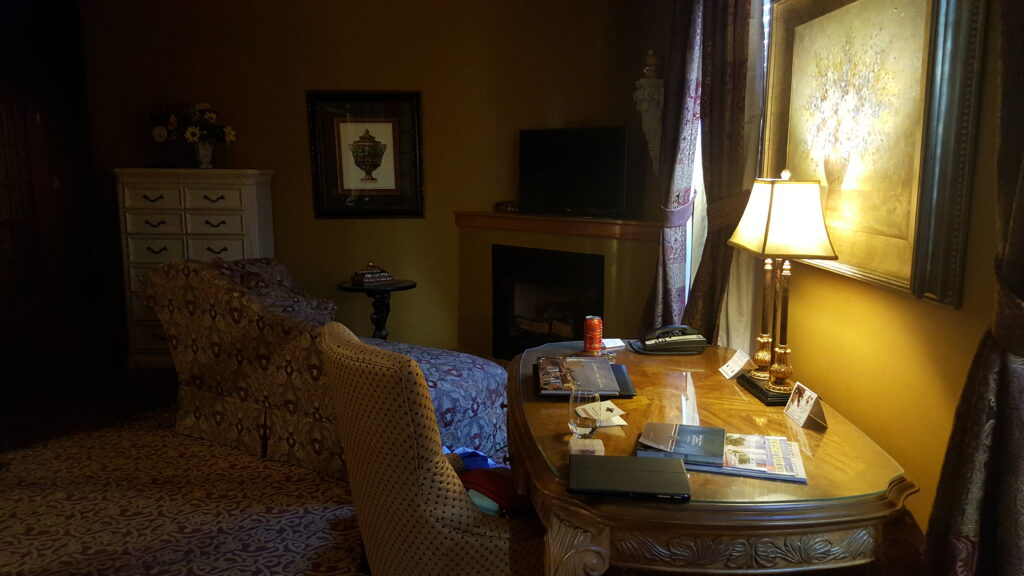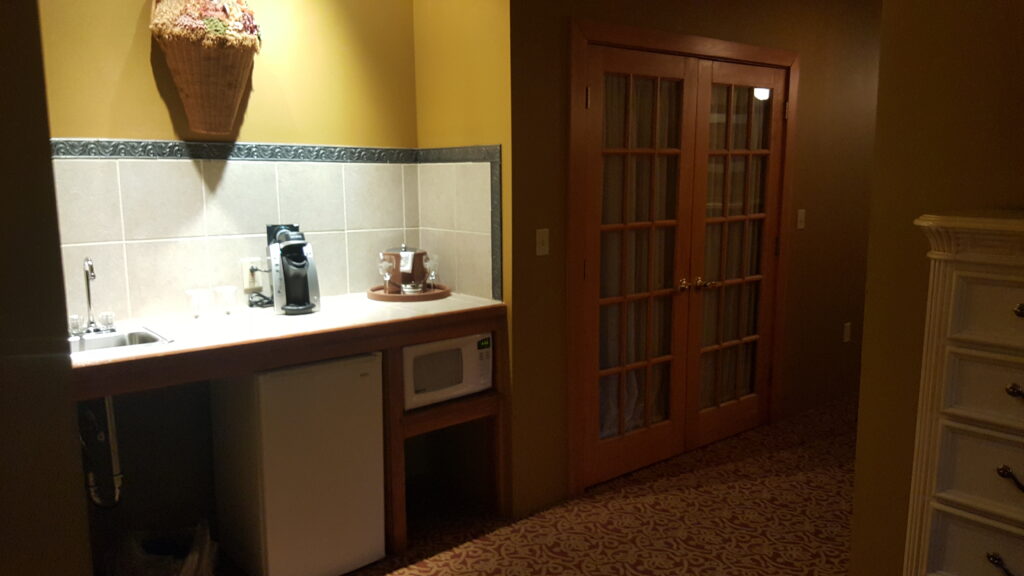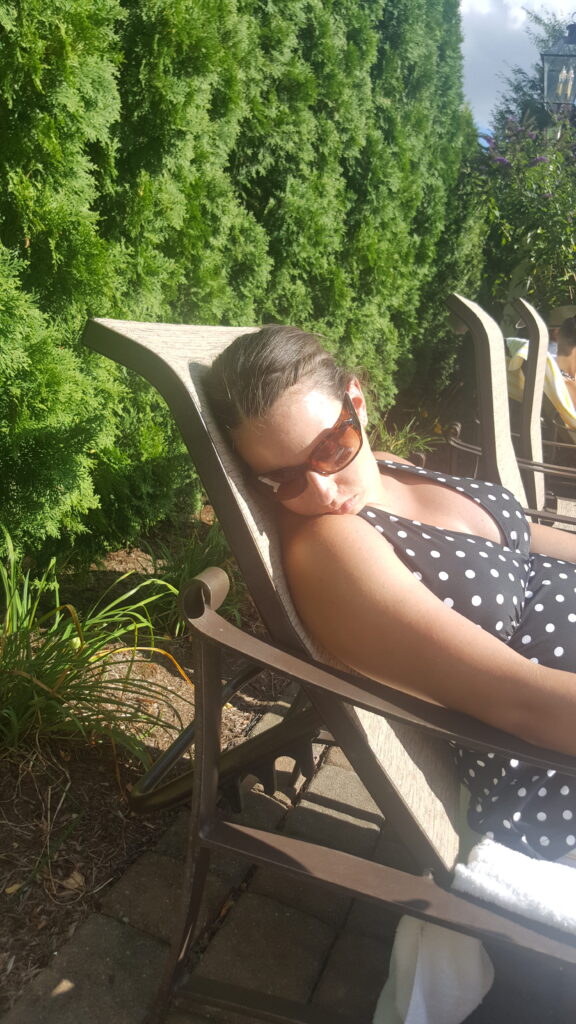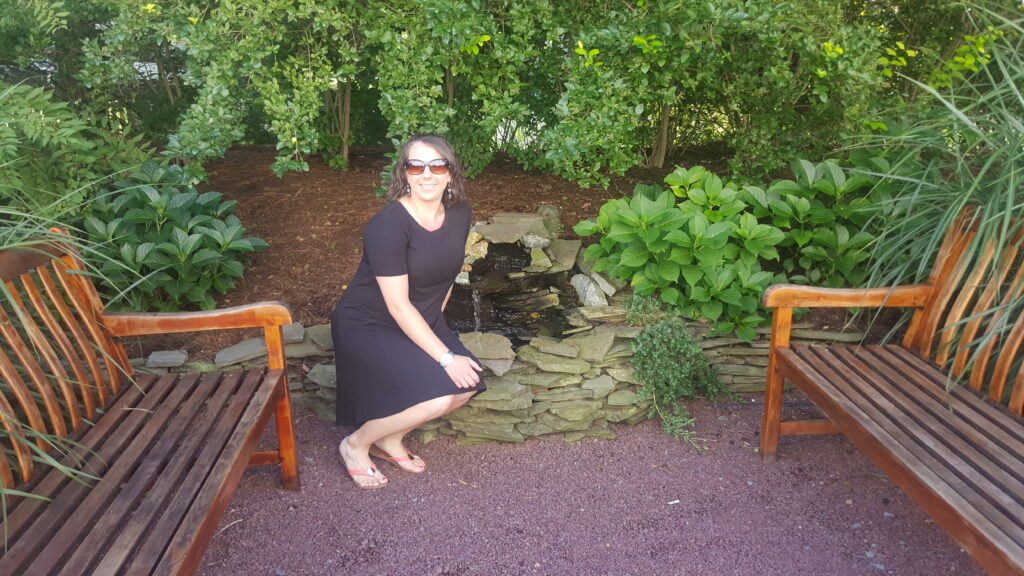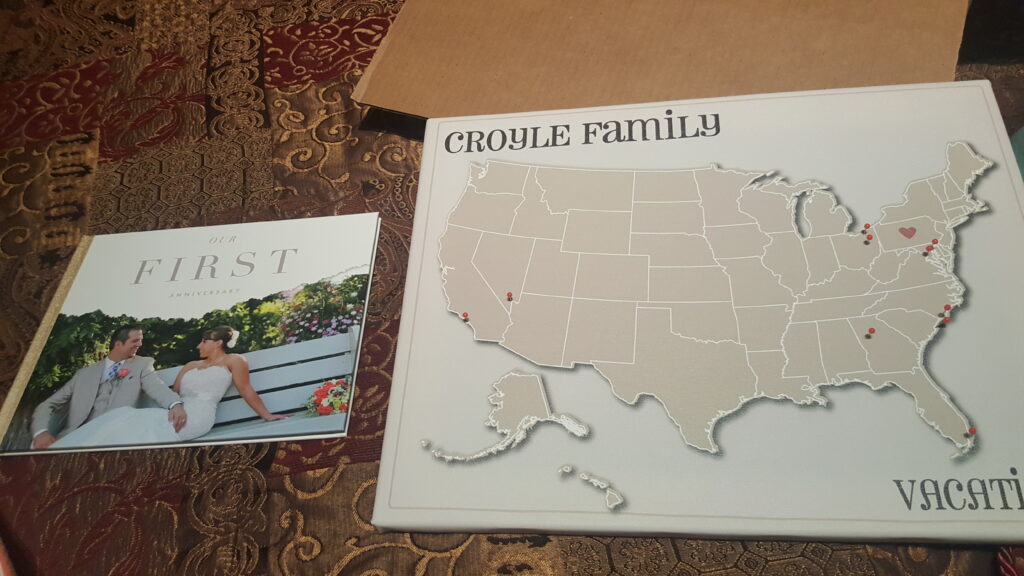 These are the gifts we got each other. I made Lindsey a photo book and she got me a canvas map that you put pins in that says where you have been on vacation. We will use different color pins when we go on vacation with our children.