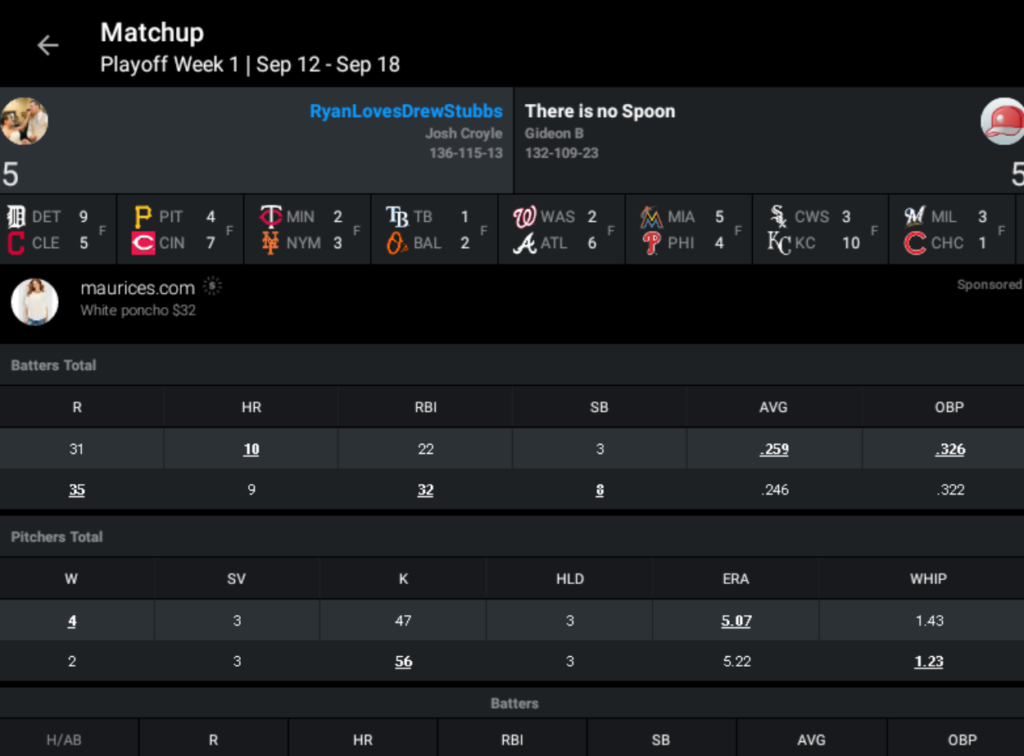 I am writing this week live from North Carolina! As opposed to when I normally write live. I mean, how else could I write? Can't write dead…
What an insane finish! Gideon was beating me 9-2 almost all week. However, he was never very far ahead in any category and I kept thinking that one good day would bring me back to the lead. By Sunday, all hope was lost and it looked like I would need a slight miracle to win.
And then things happened and it turned out that we were tied. I was so excited. I looked into the tiebreakers and could not find a clear answer as to what was the first determining factor. It looked like it was head to head record, but not individual categories. So since we played twice, it was 1-1. If I remember correctly, the second level is division record and sadly this is where Gideon has me beat. He had a slightly better division record. So after all of that fighting to come back, I still lost. I cannot be too upset though since I have been saying for a month or so that Gideon was on fire and would probably win it all.
In other news, Matt defeated Sean, so it looks like we have a Battle of the Blogs for 5th place! Gideon takes on Ryan, while Matt and Offord square off. I apologize for the lack of in-depth insight, but the beach is just too much fun. I promise to get back to my normal scintilating fantasy report next week!