Of all the horrible things to possibly happen…a crushing defeat to Ryan. I started out pretty bad on Monday, but thought "eh, it's Monday, I can come back." And yet, each day my team did nothing to mount that comeback. Over the weekend, I looked at the matchup and said to myself "well, I could still overtake him in HRs, SBs, Runs, and RBIs (although the last two would need some huge days and some luck from Ryan).  I think he was up 9-2 at that point, I thought it would at least come back to a close one. HAHAHAHAHAHA, boy was I an idiot! Ryan put his foot on my throat and never let up.
Things were pretty bad for my team this week. So instead of my normal Stud/Dud (I would say no one was a stud and everyone was a dud). I thought I would share some quick observations. How much has Chris Davis hurt me this season? I could have been starting Mitch Moreland at first base and just taken a minor hit on HRs, but my average would have been better. I feel like that is a fair trade-off. I kept waiting for him to get hot and it just never happened.
Also, will we end up rating the Kris Bryant for Jake Arrieta/Carlos Carrasco Trade as one of the worst trades in fantasy history? Arrieta does have ten wins for me, but also a 3.50 ERA, definitely a far cry from the pitcher we saw dominate last year and the beginning of this year. It seems like every other start he gives up a bunch of runs (but at least still picks up a win). Carrasco has played in two less games, but has almost as many strikeouts and a better ERA and two fewer wins. When it comes to keeping someone next season, should I keep either of those pitchers?
Perhaps many folks will look back at when I dropped Carlos Martinez and Julio Teheran as the point where my season started to unravel. I mean, usually I am so patient with players (sometimes to a fault, Chris Davis) and yet in those cases, I dropped them super early. Offord picked them both up and…well look at where he is and look at what has happened to me.
Okay, enough woe is me shit. I made some bad decisions this season. It is not too late…okay, it is a little late in the season. However, I can correct some mistakes. I dropped Brandon Belt. He has basically been riding an early season hot streak all season. He did not have a hit last week. So goodbye Brandon! I picked up Byron Buxton since he has been pretty hot since his return to the big leagues. I am finally moving Davis to the bench. I cannot afford to have him in my lineup just bringing down my team's average. There is really not a whole lot I can do on the pitching front. I need teams to win and allow my closers save opportunities. It sucks that so many of my guys were traded and put into setup man roles, but there is nothing I can do about it now. I can look on the waiver wire, but I do not believe there are any closers sitting there…maybe Jim Johnson, but I have as much chance getting a save from Joakim Soria as the Braves have of winning. I crack myself up.
League Results
Gideon 7 Jason 5
Offord 5 Dustin 5
Lindsey 7 Pat 4
Seam 7 James 5
Matt 12 Adam2 0
League Standings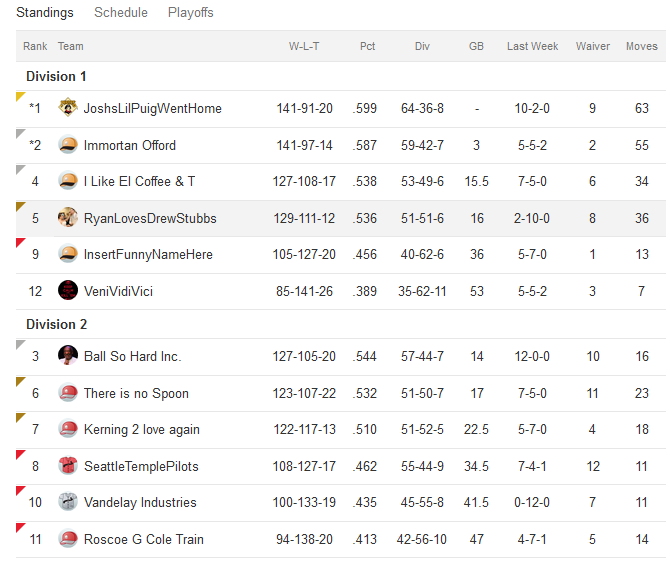 I have to beat Offord this week. I need Ryan to beat Sean. And for the love of all that is sacred in fantasy baseball, please Lindsey, help me out and beat Matt! I wish I could say that I am at least secure in a playoff spot, but as you can see, we are all pretty close. Jason is only 6.5 games behind me and he takes on Adam2. Gideon plays Pat, which could also be an easy victory for Gideon. I could seriously be taken out of the playoffs. I cannot imagine a worse scenario.
I probably deserve it since I made that comment last week about the three of us having the top spots basically sewn up. I mean, those two had the top two spots in the bag, but this asshole forgot to keep playing.
This is it folks! The final week of the regular season. And wow, could it shape up to be an exciting week. Good luck to everyone. Except those people that I need to lose.