Talk about a pretty even match. Although, I am not 100% how much Offord was actually trying. This was a frustrating week because I decided to not start Chris Davis a bunch of days and guess what? He went 5/10, 3 HRs, and 6 RBIs. The days I did start him? Zero hits. In fact, the day I started him over Buxton, I missed a HR from Buxton. Ugh. This feels like a fitting end to the regular season. So how did this victory help me for the final standings? Well…it did not.
League Results
Gideon 9 Pat 2
Sean 6 Ryan 5
Adam2 6 Jason 5
James 6 Dustin 5
Matt 9 Lindsey 1
Thanks Lindsey for helping me out! You could not try to beat Matt? Whatever, see if I ever talk to you again.
Final Regular Standings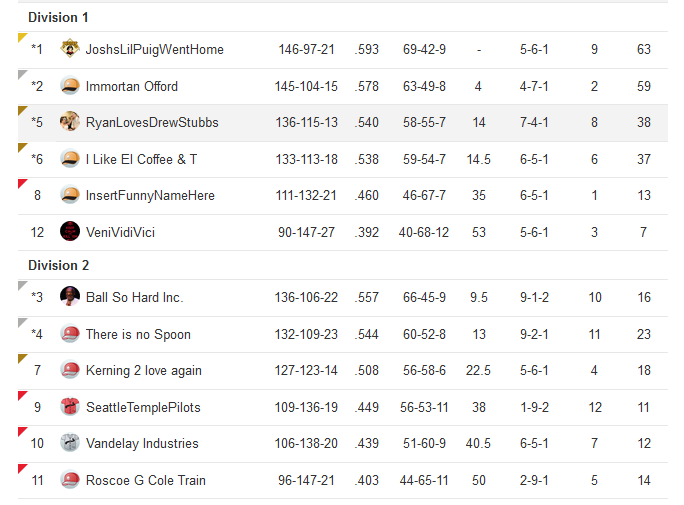 This has to be the closest finish we have ever had going into the playoffs. It could have seriously ended up with myself or Sean out of the playoffs and Jason in there. This has been an intense final few weeks. Now it is time for the playoffs.
The first round sees me taking on Gideon. The winner has the distinction of facing off against Ryan. Down in the lower half of the bracket, Sean and Matt battle to see who plays Offord. I hope everyone continues to try in the consolation bracket. Lindsey takes on Dustin, while Adam2 squares off with Pat. I still want to figure out a reward for winning the consolation bracket…