Jason was the big winner last year in the Pick 'Em. I believe my brother finished second followed by Adam2, then Mom, and myself. Sorry, I should probably do a better job with the final results. I apologize to everyone.
I posted this last year, but figured it would be helpful information again…
Also, as a quick PSA, if you are someone that is in my fantasy sports leagues, but does not ever receive the notification that the league is renewing, it probably means that Yahoo has set your default email as whatever your Yahoo ID is @yahoo.com. I realized that on Lindsey's and had to go in and change the settings.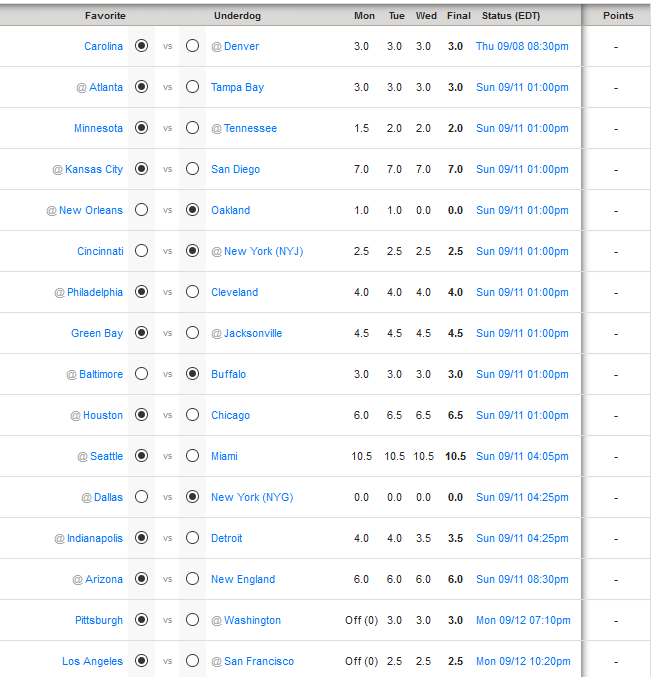 Remember how last year I complained about having the draft pretty late in the year? Well, I think I was able to beat that this year. The draft was last night…tonight is the first game. No one should have any excuses about someone being hurt during the preseason…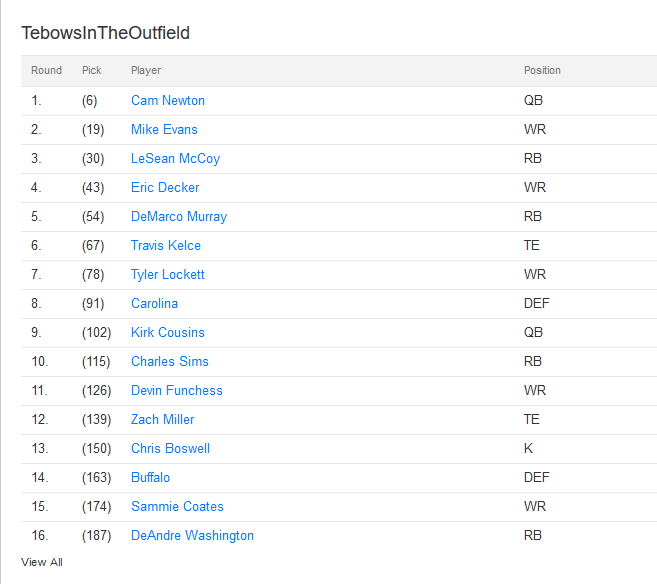 I cannot say that I am all that pleased with my draft. It was not terrible, but drafting at work with people asking me questions every five seconds is not easy. I do not understand how Ryan manages to usually draft while at his play rehearsals. Oh well, enough with the excuses, as everyone will tell you, the draft is the fun part, but it is not really the most important part.
I knew I wanted a high scoring QB. Lindsey took Aaron Rodgers and I was left with a tough decision: take Cam Newton or wait until the second round and see who is still there…you can see what choice I made. If I skipped him, then my next best option would have been Andrew Luck, Carson Palmer, or Russell Wilson. Maybe Newton would have been available in the second round, but it is really hard to say. Ryan took Ben in the first round and someone took Brees to start the second. That is what makes this league so much fun (in my opinion), whereas, in other more standard leagues, the difference between the best QB and a mediocre QB might be two fantasy points in a week. This league is different. Remember when Ben scored 110 points by himself two years ago? That was an insane week. I got beat last year by Offord because Newton put up 70+ points.
The tradeoff for taking Cam that high is that I missed out on some of the better wide receivers and running backs. As you can see, I could be in trouble with some of those guys. Or maybe Murray and McCoy will have huge years and I will look like a genius. A boy can dream, right? I took Kirk Cousins in the middle of the draft because…well I have Cam Newton. I mean, it just seems to make sense to have a decent backup for him. I guess that is not really fair, he has only missed two regular season games in his entire career. Whatever, I like to be safe.
I am still waiting for the Draft Grades to be released on Yahoo. If they are released soon, then I will post them in an update here. For now though, let us take a minute to meet the people in this league.
50 Shades of Jay-Jarrod-finished in 9th place last year, 6th in 2014, 5th in 2013
classylikeFoxNews-Jason (obviously, he always has some political name)-12th last year, 9th in 2014
Daddy Day Care-Dustin-10th last year, 12th in 2014, 10th in 2013
Golden Tater Tots-Jessica-1st last year, champion 2 out of the three years, 8th in 2014
Josh is a Gurley man-Ryan-6th last year, 2nd in 2014
LeVs Chronic Problem-Offord-2nd last year, 10th in 2014, 2nd in 2013 (hmm, when Jessica wins, Offord finishes in second)
Lindsey's Team-Lindsey-11th last year
Milk of the Poppy-Adam-5th last year, 7th in 2014, 7th in 2013
Powder Puffs-Gideon-7th last year, 3rd in 2014
The Magoos-BatmanJason-8th last year, 5th in 2014, 3rd in 2013
RayLewiskilledaman-Seth-new to the league
TebowsInTheOutfield-4th last year, 4th in 2014, 6th in 2013
I take on Jarrod the first week, while Lindsey battles Gideon. Good luck to everyone this season! I may create a Facebook group for any communication/chance to make fun of Ryan/trade proposals, etc.