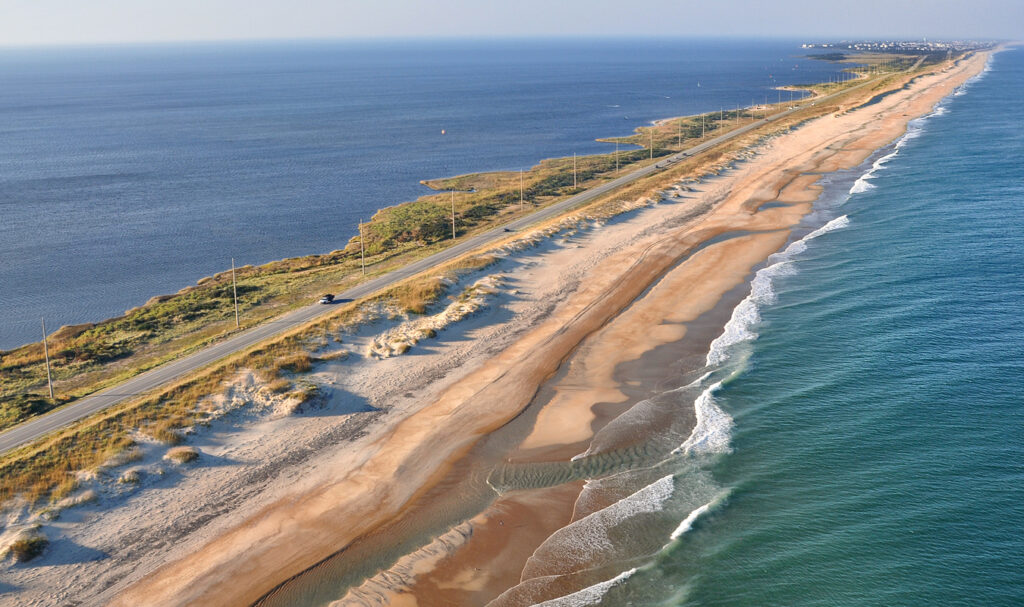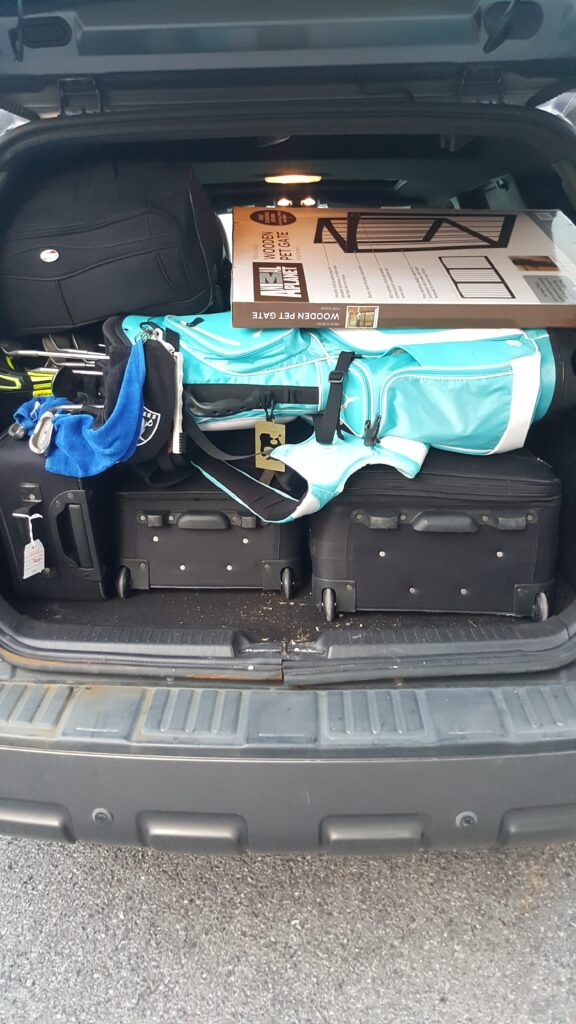 I feel like we have been pretty busy this summer. Maybe not wedding planning busy, but between building the patio and preparing for a baby, it just seems like there has not been much chance for relaxation. We both definitely needed it. Fortunately, we had a vacation planned most of the year to the Outer Banks with Lindsey's family. Neither of us had ever been there (hence the reason our cars do not have cool OBX stickers), although Lindsey kept telling everyone that we had since we went to Topsail.
We woke up at 5:30 a.m. on Saturday and quickly got ready. I was shocked by how fast Lindsey was able to get dressed. We had almost everything packed the night before and we just had to load the car. Well, I had to load the car. I mean, Lindsey cannot lift anything over twenty-five pounds (and when she is not pregnant she can lift like twenty-six…).
This was our first family trip with Samson. So it meant packing more stuff and arranging the car a bit differently. Normally when we go somewhere Samson sits upfront on the passenger's lap. However, for a trip this long, he would have to sit in the back. Plus Lindsey wanted to do some scrapbooking or something (or maybe she wanted to put wedding pictures into an album, I am not 100% sure) and needed the room. We bought him a strap so we could buckle him into the seatbelt. I also left him a nice space to be able to lie down for a nap.
For this kind of trip we had to bring multiple things, not just our luggage. We needed gates for Samson, his toys, his food, etc. Plus we needed beach chairs. Adam2 & I were going golfing, so we needed our clubs and his vehicle was loaded pretty full with baby stuff, so we brought his (hence the Raiders towel). As you can see, the car was loaded to the top.
I was a little nervous about traveling this far with Samson. He is fine in the car, but he really likes to sit in the front. I thought he might get upset with being contained to an area in the back. Before that though, I should mention his behavior on Friday night. He is a pretty smart dog at times. Like most dogs, he is very observant and knows when something is up. He saw us packing and seemed sad (last time we packed suitcases, we took him to Lindsey's dad's house for a few days). He knew we were going somewhere. We just could not convince him that he was coming along.
While I loaded the car, Lindsey took Samson for a walk to poop & pee. When we tried to put him in the car, he just laid on his side and had the saddest face ever. He was definitely confused as to what was happening. I picked him up and he curled into a tight ball and closed his eyes. He was clearly sad!
We started our journey at 6:45. I did not want to go the recommended route of I-95. First of all, I hate driving around Washington DC and never know what kind of traffic to expect. Second, I like trying different things. We stopped at the Bob Evans in Breezewood for some breakfast and to allow Samson a chance to hop out and stretch. He seemed a little better at that point, since he realized he was not being dropped off somewhere.
I need to take a second and talk about having a dog. Before Samson, I would have laughed at someone when they said their dog was freaked out about traveling or was having separation anxiety. I felt like those people were trying to assign human emotions to an animal. Now though, I definitely understand. Think about how confusing this must be to Samson. First of all, he already connects us getting dressed at the same time as "we are leaving him alone." Usually we are going to work. He knows that suitcases mean we are going for awhile or at least he associates them with us being gone. Now all of a sudden, we are getting ready and have suitcases. We have packed all of his stuff into the car. Does he remember when we brought him home? Does he think we are
getting rid of him? All I kept thinking about was that line in Big Daddy when Julian is being taken away and he screams "I wipe my own ass!" I wonder if that is how Samson was feeling…like "hey guys, don't send me away, I promise not to eat your flip-flops again!" I don't know, but it is heartbreaking to see his eyes and know that he is sad and scared. And yet, there is nothing you can really do to assuage those fears. He does not understand that we are going on vacation. One thing I tried to do during the entire trip was never call the beach house home. When we went for a walk, I would not say "Sam, you ready to go home?" I would say "Sam, you want to go inside?" I feel like he associates the word "home" with our house and did not want to confuse him any more than needed (I have no clue if it worked or helped, but I tried).
Okay, back to the trip. My phone decided to reroute us a bit. There was an accident on I-64 and there was some major traffic near Fredricksburg. So, it took us down 522 to 250, which runs alongside I-64 all the way to I-295, which loops around Richmond. It was funny because when we did get to the house, everyone was confused as to how we skipped Norfolk and the tunnel. We were on 460 after Richmond, all the way to 168 which takes you to Nag's Head. We went south, then east, whereas most people do the trip east, then south. It was not much longer and we never hit traffic. YAY!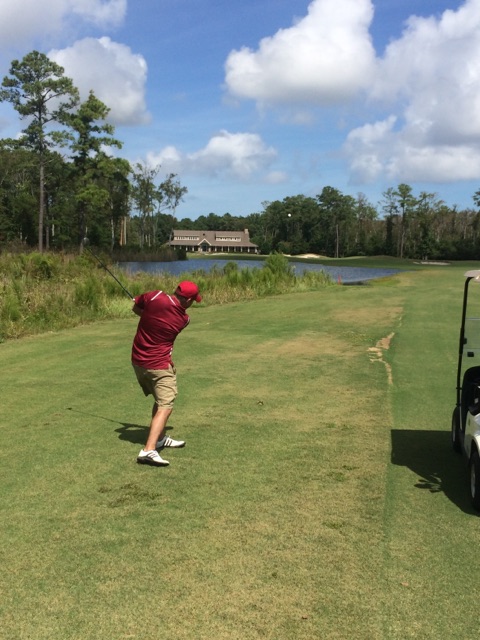 I realize some of you are reading this and thinking "oh my god Josh, you have written over a thousand words and have not even arrived at the beach yet!" Trust me, I do not plan to write a day-by-day recounting of the trip. If you follow me on Facebook or Instagram, you saw plenty of pictures. And to be fair, the beach is the beach. You chill there, read a book, take walks, drink some beer, mini-golf, ice cream, lots of food, and silly shops. Am I missing anything about the beach? Instead, just let me give you some of the highlights.
Golf at Kilmarlic
Adam2 and I went golfing on Sunday at Kilmarlic Golf Club. This was only my second time out this year and it did not actually go that bad. The course was very nice and aside from a little rain in the morning, it ended up being a beautiful day. Adam2 took a bunch of pictures of me during a shot and they came out pretty well. You can actually see the ball in the air. Before you ask, I did get it over the water and managed a bogie on that hole. I think.
One-Armed Mini-Golf
We went miniature golfing twice and both times since Kayla and Adam2 had their daughter, Adam2 had to play with Emelyn attached to his chest. He actually beat all of us the first time, but the second time was not as lucky. I am pretty sure that if you combine the two scores, he was the big winner.
The Aquarium
Lindsey and I went to the North Carolina Aquarium on Roanoke Island. It was a cool little aquarium, which was a nice little change of pace from the normal stuff. We did go a little crazy at the shop buying books for our daughter. Oh well.
Wright Brothers Memorial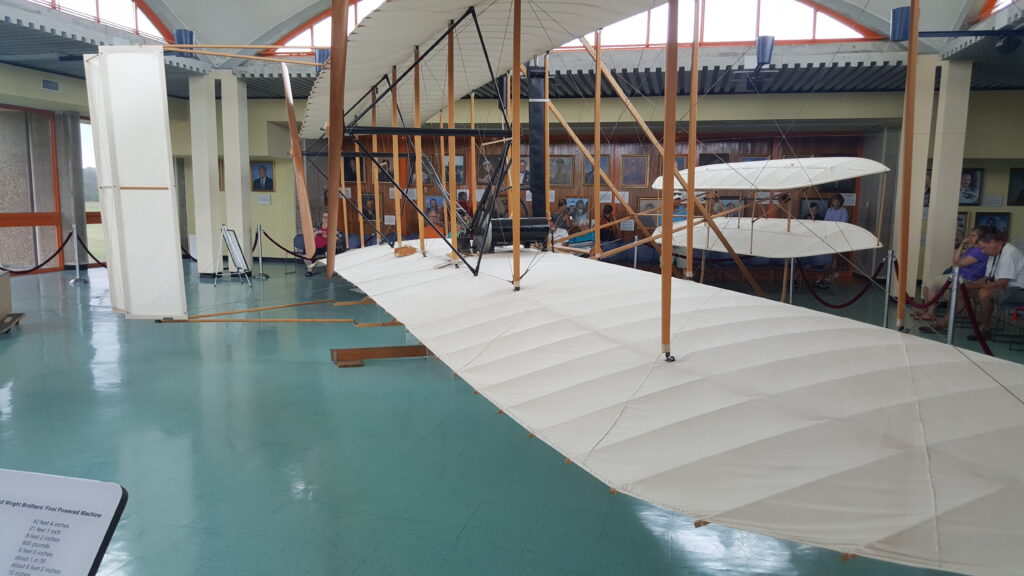 I am not going to lie, but I thought this was going to be lame. I figured it would be a little area that shows where they took off and landed. Maybe a reconstructed plane and that would be about it. Instead, there was a bunch of stuff about the history of flight and the presentation by the ranger was very good. He was funny and informative. I was definitely happy we went.
Bodie Island Lighthouse
This was actually my favorite thing. I honestly never thought I would enjoy a lighthouse, but it was awesome. I had fun climbing to the top and learning a little bit about the construction and history. The coolest part though was definitely the views from up there.
The Food
We ate at some great places. I do not think we had a bad meal the entire time we were there. At Lone Cedar Cafe I tried the she-crab soup, which was amazing. I also decided to give shrimp 'n grits a try. I loved 'em. Lindsey and I went to a Mexican restaurant. We ate at The Bonzer Shack, Barefoot Bernies, Dare Devil's Pizzeria, New York Pizza Pub, as well as a few meals at the house.
The Beach
We had a day or two where the weather was crappy, so we did not spend much time on the beach. However, Lindsey and I tried to walk Samson on the beach everyday (sometimes twice). He liked it. I think. He enjoyed chasing the birds, but he was very timid around the waves. The one day when it was pretty hot, he would actually let the water hit him. Most of the time he just played chase with the water. He was run at it as it receded, then run away when the waves crashed down at him. Such a goofball.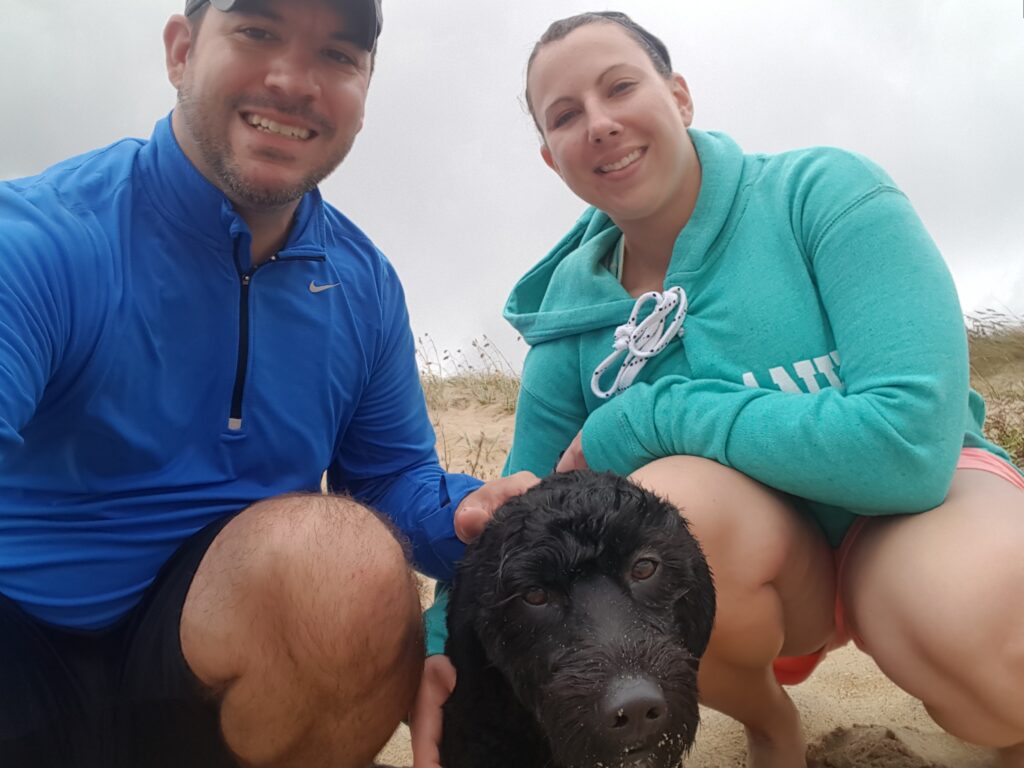 I tried to get some video of him in the water, but he was not being cooperative.
This next one is during the stormy day…
We also tried to get Samson to go in the pool and he definitely did not want anything to do with that. I eventually carried him in, but he wanted out immediately.
Sorry for the poor video quality, iPhones are not known for their video capabilities…
Anyways, we had a pretty great time down there and would definitely go there again. Hell, just to try all the other restaurants…
Okay, for those of you who do not follow me on social media, here are some of the other pictures…