I have having one of those weeks where you think you are doing great before you look at the actual picks. I missed a couple because of the half point. I looked at the score on my phone and assumed I was getting the Oakland game right. I wonder how well I would be doing if this were a straight pick 'em? Oh well, no use dwelling on it. Last week I only picked seven right. Sean was the big winner with nine, while Lindsey and Ryan both had eight. Ryan is still in first, but only a point ahead of Sean and Lindsey. Mom is in fourth, with myself trailing in fifth. Honestly though, we all suck compared to the top three. I went with a few underdogs this week, which is pretty risky. However, I took the Steelers since they are expected to continue to dominate this week with their game against the Miami Dolphins.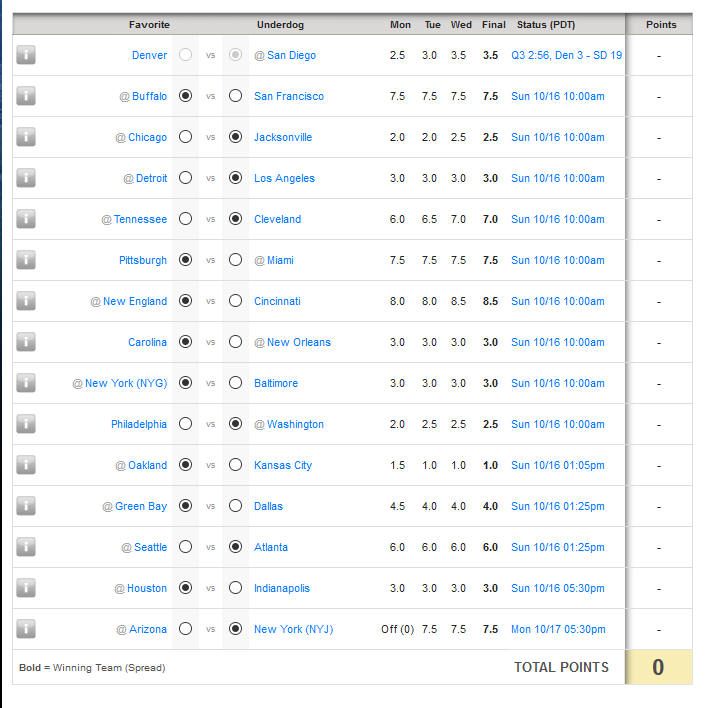 Damn. I lost to my wife. You might think I would be okay with that result, since you know, she is pregnant and all. However, she has not stopped gloating. In fact, I get a text on Tuesday from her.
"Guess what." Since we were both at work, my mind immediately went to work stuff and I responded with "what?" A minute or two later, I look at my phone and this is what it says "I beat you!!!" When we woke up Tuesday morning, she checked her phone and told me that she won. Needless to say, she was pretty ecstatic. And not only did she beat me, but she crushed me with tight ends. Who gets 62 points from two tight ends? Ridiculous.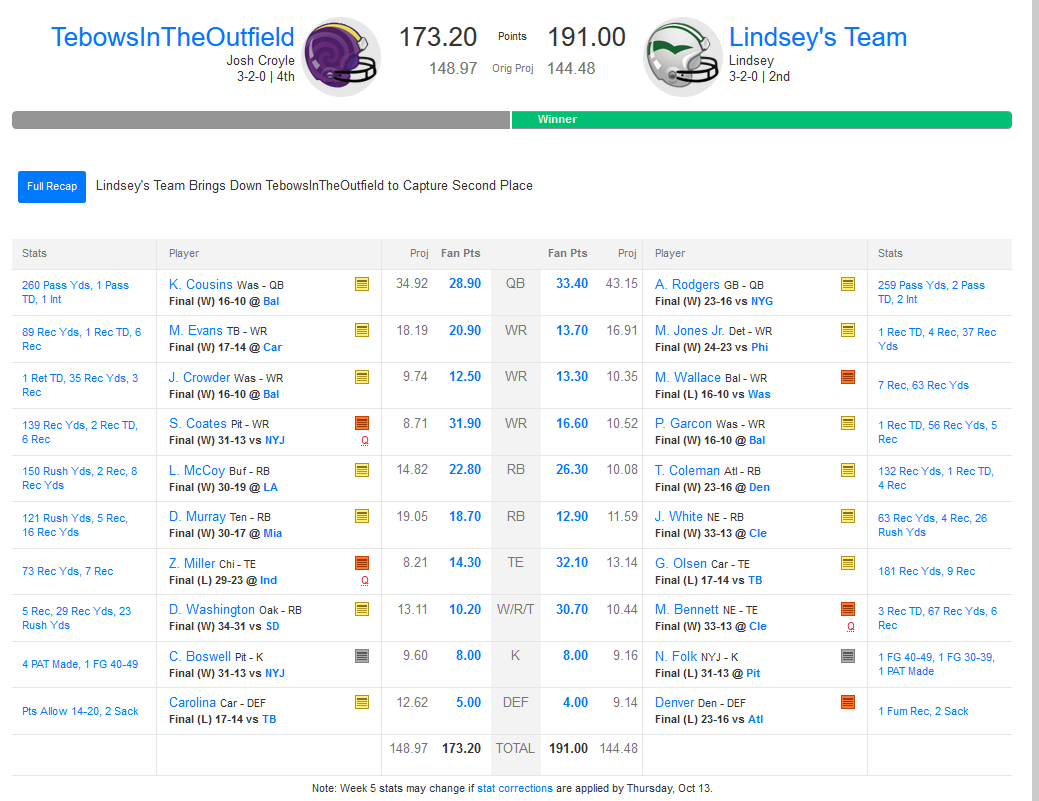 Standings
Offord (4-1)
Lindsey (3-2)
Gideon (3-2)
Josh (3-2)
Jason (3-2)
Adam (3-2)
Ryan (3-2)
BatmanJason (2-3)
Jarrod (2-3)
Seth (2-3)
Jessica (1-4)
Dustin (1-4)
Jessica won her first match! Ryan is on a roll, he has won three in a row. I do kind of feel bad for Lindsey. She has scored the second most points, but also had the most points scored against her. I feel like a slightly different schedule and she is 4-1. This week I continue to battle with loved ones, this time facing off with my brother. Lindsey takes on Jarrod. She needs a big win and a loss from Offord, who has an easy matchup with Dustin.