Not a very good week for me. Or maybe it was a poor week for everyone. Gideon and Lindsey both picked nine correctly. Nine out of fifteen games. That is only 60%. That is not terrible, but not all that great. I suppose that is much better than my 40%. Obviously not the way to make up ground and catch the leaders. Speaking of leaders…Lindsey is now tied for first place with Ryan and must have the tie-breaker against him. After that…well the rest of us pretty much suck. Okay, Sean does not suck, he is only one behind and is the only other person with a winning record. The rest of us though…not even worth mentioning. Offord has missed four weeks and is only 29 behind Gideon. If he just picked seven right those weeks…he would still be in last, but it would be close.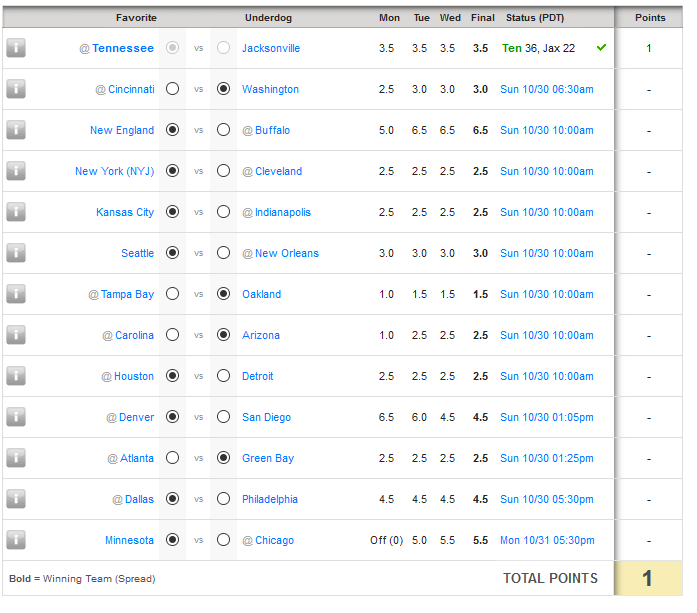 Remember that time when my fantasy football team was good? No? Me neither. Another loss. It was not even close. I am actually annoyed with myself for not accepting Offord's trade at the beginning of the week of Matt Ryan and someone else for McCoy. Hmm, maybe I should have taken that one. Now McCoy will be crap the rest of the year. UGHHHH. I hate fantasy football.
Standings
Offord (5-2)
Lindsey (5-2)
Adam (5-2)
Gideon (5-2)
Ryan (4-3)
Seth (4-3)
Josh (3-4)
BatmanJason (3-4)
Jason (3-4)
Jessica (2-5)
Jarrod (2-5)
Dustin (1-6)
Lindsey was able to beat up on Jason and have Offord lose, unfortunately she did not score enough points to put her in first place. She better be careful though, Adam is cruising along and now only ten points behind her. Gideon destroyed me and definitely is right in the discussion for league champion. Should be a great couple of weeks. This week I take on Dustin and things are already off to an interesting start. He picked up Derrick Henry, who ended up scoring almost the exact same amount of points as DeMarco Murray. So much for a slight advantage there. Lindsey takes on Jessica, who did put a stop to Ryan's winning streak. Ryan faces off with Seth, in a battle of the arts (don't ask). If I had to put money on a big upset, I would say Jarrod over Gideon.