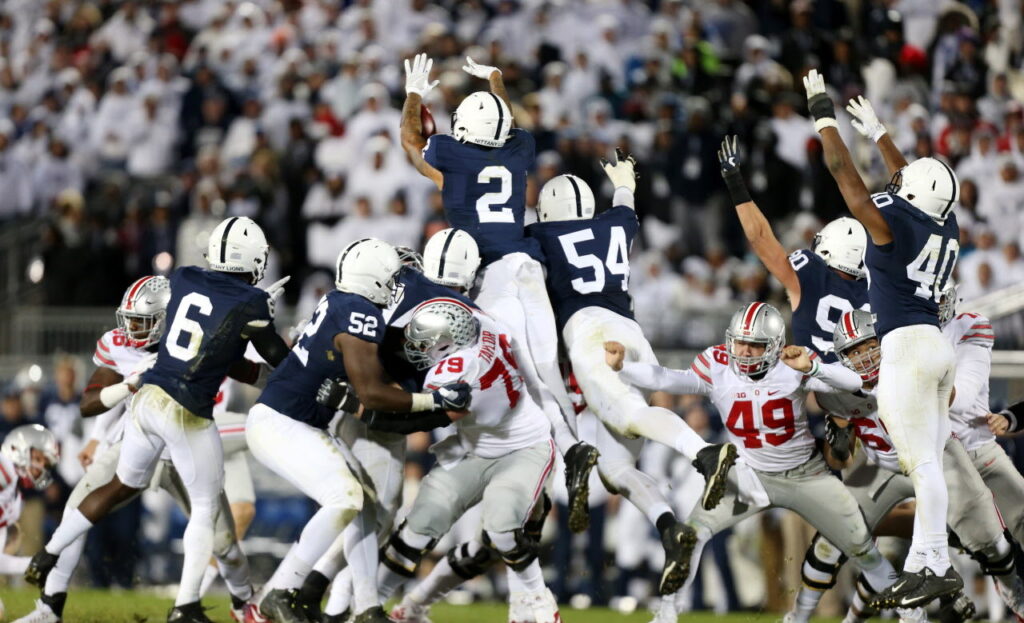 Since I started this blog back in 2006, Ohio State is 8-3 against the Nittany Lions. None of the games the Lions won were upsets, the last time that happened against the Buckeyes was 2005. Hell, if you watched the game, they only mentioned about 20,000 times how Penn State had not won a game against (INSERT RANKING) opponent since (INSERT YEAR). For some reason the Penn State football team has been very lackluster in recent years at winning games against highly ranked opponents. And then last night something insane happened:  not only did they defeat a ranked opponent, but they did it by coming back against OSU who has been so dominant in the second half of football games.
When the Buckeyes tacked on the safety to make it 21-7, I assumed the game was over. I had to get up at 5:00 a.m. and figured it would be a safe bet to head to bed. And then a couple of big plays and Trace McSorley was scoring a touchdown to make it 21-14. Okay, things are interesting, I will stay up a bit longer. Penn State holds the offense to a punt and manages to block the punt. I was getting pretty excited when that happened. I definitely jumped up and did some shouting. They settled for a field goal and that definitely made me a little nervous. So much time and Ohio State is so explosive. And yet the defense held them to a long field goal attempt. It was weird because the more the kept talking about how it would be a career long for the kid and that it was taking so much time, the more I felt like he was going to miss it and Penn State was going to have a very good chance. Something insane happened next. Marcus Allen jumps over everyone and blocks the kick. I swear he took off from five feet behind the line.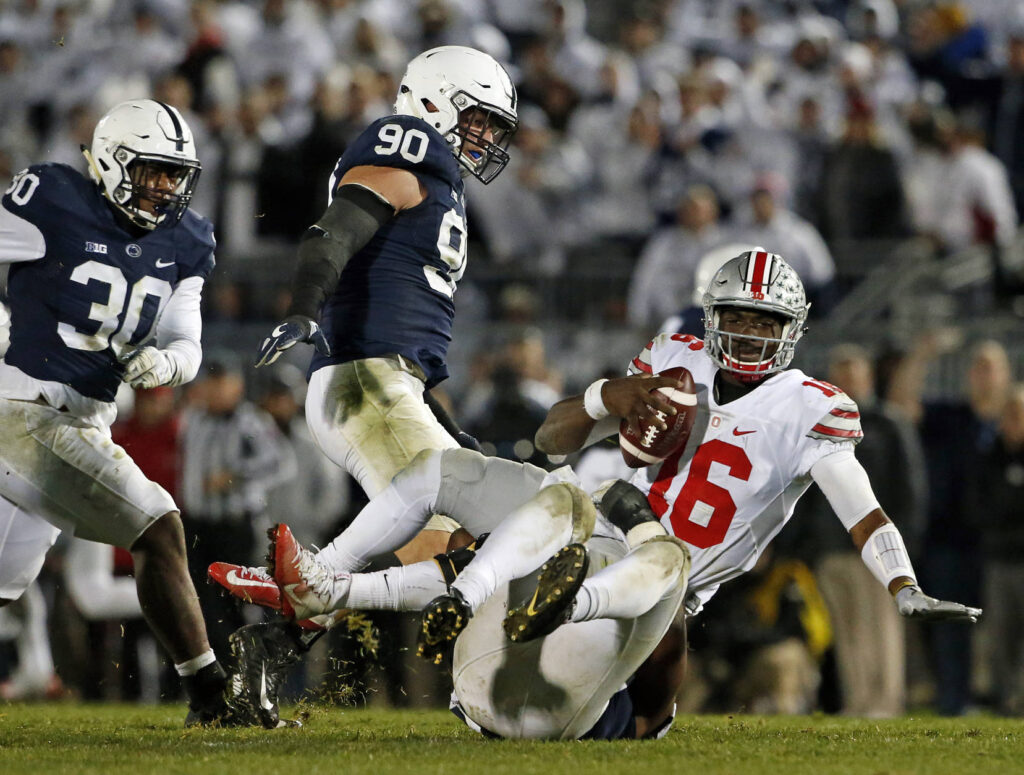 Grant Haley picks up the ball and runs it in for the score. I was so nervous as he was running that the Ohio State player who almost tripped him up would cause him to fall they would be down at the one or something. I just had this horrible image of them making this crazy play, then not being able to score a touchdown. Instead, Haley kept his balance and stumbled into the endzone. Penn State is up 24-21. And yet, I was still scared. Remember 2014? Penn State took the Buckeyes into OT and lost because of J.T. Barrett's heroics. They showed the final play of that game earlier…you remember, Christian Hackenberg being sacked on 4th down to lose the game. Ugh. Please do not let there be a repeat of something so shitty.
There was so much time left in the game. Over four minutes. My first thought was "well, if Ohio State is going to score, I would almost prefer a huge play that takes no time off the clock." The defense clamped down though and only allowed a bunch of short yardage plays. Ohio State wasted a ton of time. It was almost like Urban Meyer knew that Barrett would break free and run for 70 yards or something. It was like he was trying to run the clock down. The defense was having none of it. 3rd and 10, Barrett drops back to pass and Jason Cabinda brings the QB down for a thirteen yard loss.
4th and 23. My heart was absolutely pounding. I was clenching my fists. I was standing…in my house with just Samson, who was confused as to what was happening. My sudden outbursts freaked him out, but also put him in a playful mood; which meant that he kept trying to jump on me during those final few plays. I barely noticed him. All I saw was Barrett with the ball and then two Penn State defensive linemen bringing him to the ground. That was it. Game over. I mean, they had to do a few victory formation snaps, but there it was. A victory over Ohio State. An upset of a ranked team. I think they said it was the first time an unranked Penn State team beat the number two team in the country since 1960 (seriously, who gets paid to look up that shit?).
I am not going to lie, I have been a bit critical of James Franklin. I mean, until last night, his biggest win was against Boston College in a bowl game. Bill O'Brien had a few signature wins (remember the win against Michigan?) and yet Franklin had played six games against ranked teams and lost them all. Definitely was not inspiring much confidence. Last month on Facebook I posted this and then responded…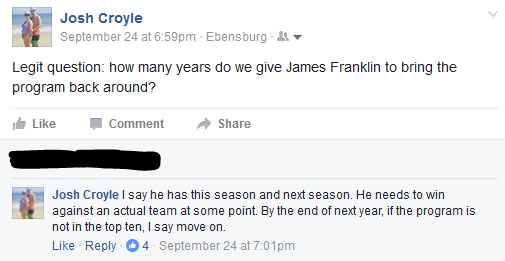 Do you see what I said? "He needs to win against an actual team at some point." Well Coach Franklin, you definitely did that last night and in my mind have bought yourself a few more years to bring this program back to prominence.
The win now brings a little attention back to the Nittany Lions. Positive attention for a change. I just checked the AP Poll and PSU is ranked #24. The rest of the schedule is pretty favorable and they could seriously win out. Who would have thought after losing to Pitt and barely beating Temple, then being destroyed by Michigan that we would be able to say anything positive about this team. Even if they do not win the rest of their games, I definitely saw some incredible things from this team and think that next year they could be even better. Very exciting!
Congratulations to the Penn State Nittany Lions and Coach James Franklin. And remember…
WE ARE!!!