Another year in the books, another championship for Ryan. Holy crap, we have a new champion! Way to go Offord! Looking back at the numbers, was Offord the best team? Hmm, a thorough examination should help determine his awesomeness. By thorough, I just mean my normal way of ranking the category totals and coming up with a total. Obviously there is no better way. Not like we play each other all year to determine who is the best or anything.

As you can see, Offord was the leader in that department by a pretty wide margin. Obviously his focus on runs and stolen bases paid off. In turn, having those kind of guys also helped me tie for OBP. My team definitely needed some work.

Sean was the big winner in pitching, followed by Gideon, Offord, and Ryan.  As you can see though, Offord still managed to have the best team in the league. It was close between Ryan and Matt, as well as Sean and Gideon. Lindsey had a strong playoff run and finished higher than she should have, just as Jason finished slightly lower. So what does this tell me about my team? Next year I need to find better starting pitching. My ERA & WHIP suffered because of my mid-level starters. Like Jake Arrieta. That guy sucks.
Finally, we need to have a look at the history books. Remember when I did this a few years ago? Looks like it is time for an update…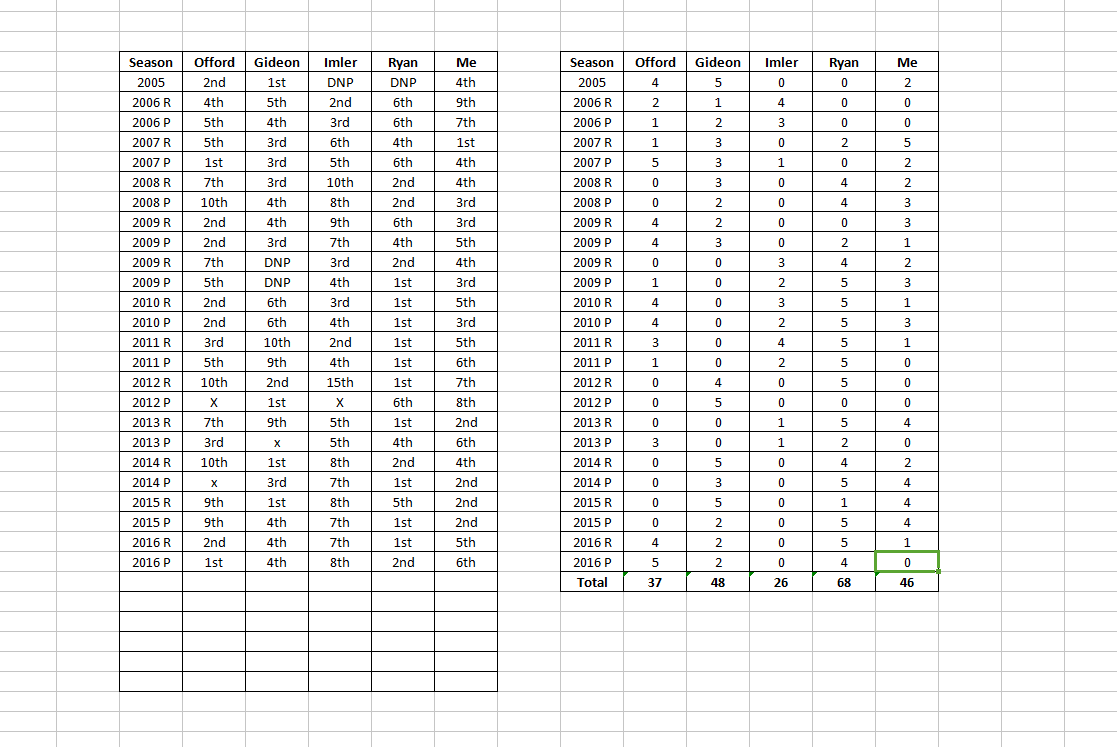 Ryan still dominates the league, but back in 2012 it was Gideon & Offord battling for second place. Now it is Gideon and myself. The years have not been kind to Offord, whereas Gideon and I have continued to be good every year (my worst finish since 2013). I wonder what it would look like if I placed Sean into the mix? He has now been in the league for a significant number of years. Since 2011 he has amassed 15 points. He has the one championship and if Jason is not careful, he could be passed up.
Damn, I am ready for next season!