Uh oh, the race is starting to heat up! I scored nine this week, which was tied for first with Adam2. I moved into third place after Ryan had a poor week. I am now just one behind Sean and only five behind Lindsey. After me it goes Ryan, Jason, Mom, Adam2, Gideon, Adam, and Offord. I am not too confident in my picks this week though, too many tough choices. For example, the Steelers are favored by 9.0 since Andrew Luck is out. They should win easily, but I have seen them almost lose (or just lose) games like this.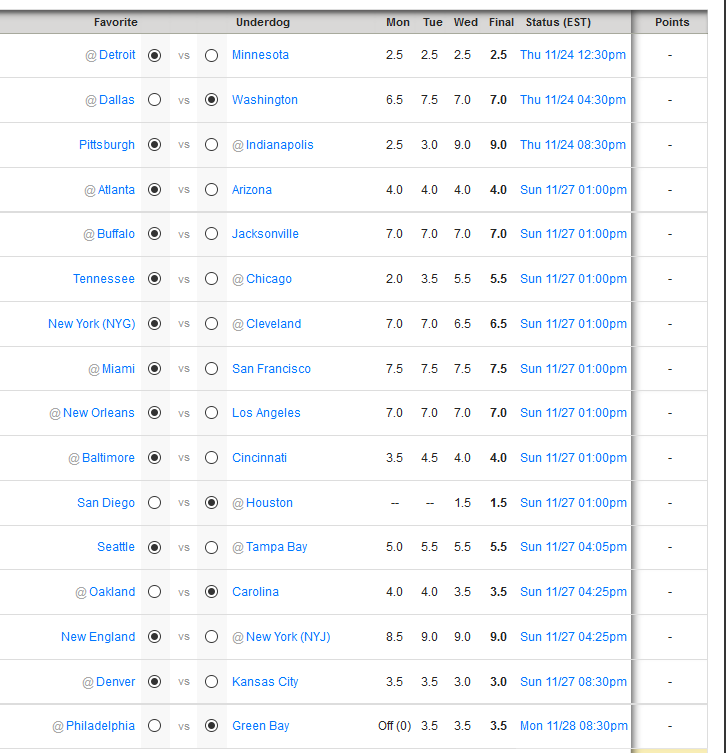 I did it! I managed to beat Seth. I was actually a little nervous at first since Cam Newton only scored 25.90 points. Then I was annoyed because I started the Panthers defense and while they netted me 12.00, Buffalo would have been 13.00. I know, it is only a point, but sometimes every single point matters. One scary moment was when Shady McCoy was injured (dislocated thumb). They are saying he should be good to go this week, but I am definitely nervous about it.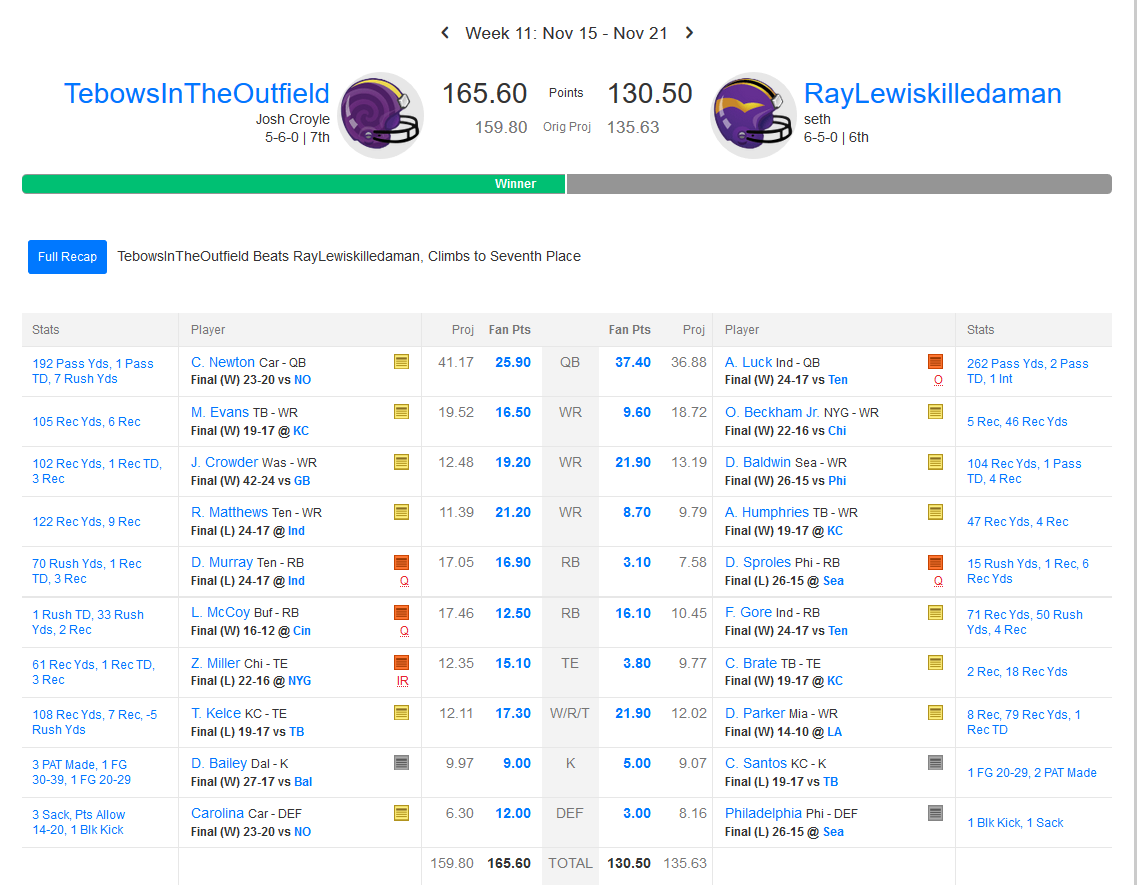 Standings
Offord (9-2)
Adam (9-2)
Gideon (7-4)
Lindsey (6-5)
Ryan (6-5)
Seth (6-5)
Josh (5-6)
Jason (5-6)
BatmanJason (4-7)
Jessica (4-7)
Jarrod (3-8)
Dustin (2-9)
Adam defeated Lindsey, which means she has lost two in a row (Adam has won seven straight, who was the last person to beat him? Offord) and needs a big win this week against Gideon. I take on Jarrod and a win against him with a loss from either Ryan or Seth, should put me in a good position to make the playoffs. Unfortunately for me, Ryan has Dustin this week. My only chance is for my brother to defeat Seth. Please Adam, please win!
In other news, does it really matter who Offord plays this week? We know he will destroy them. He has outscored his opponents by more than 300 points this season. Absolute dominance. Hell, one of his losses was to Lindsey when they both scored over 200 points. Also, after AB's first catch tonight, Offord will be over 2000 points for the season. My brother only needs 206.50 to get there and he is the second best scoring team. I cannot underscore the point enough that Offord's team is really good.
Good luck to everyone and Happy Thanksgiving!