Who was the best last week? That's right, it was me (well and my brother, we both predicted ten correctly). Ryan and Lindsey are tied for first with Sean just two points behind them. I am only eight behind, so maybe there is still a chance to catch up. Maybe. Probably not.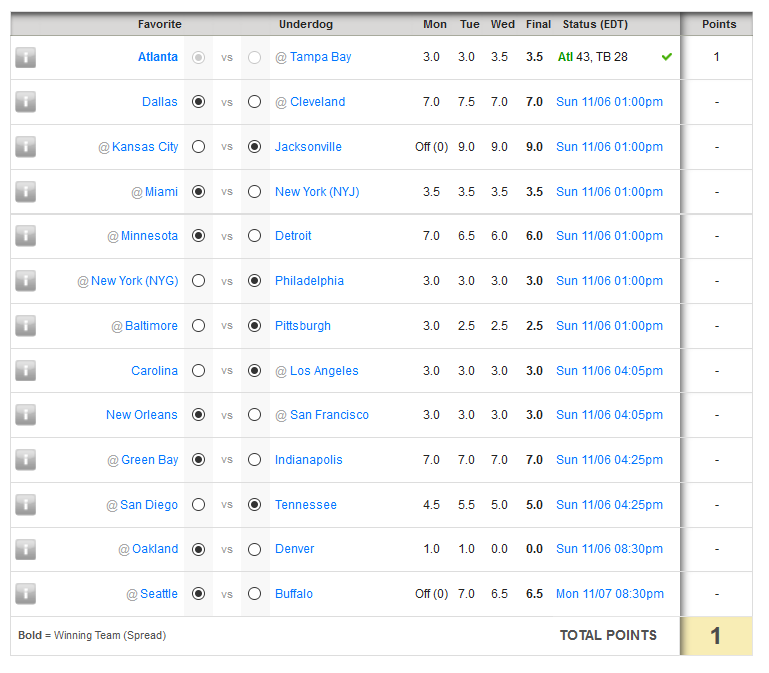 Finally back to winning! Sad though, I should have scored a ton more points. I mean, Kirk Cousins gives me 67.70 and Jamison Crowder gives me 25.70. That is 93.40 just from those two. As you can see, I had a few let downs. For example, I decided to take Boldin over Inman. Huge mistake! And do not get me started on the decision to start the Buffalo defense over Carolina. What the hell was I thinking? Well, to be fair the Panthers defense has been pretty weak (fantasy points wise) and even though the Bills were going against New England, I thought that maybe Rex Ryan would have…oh whatever, I overthought it.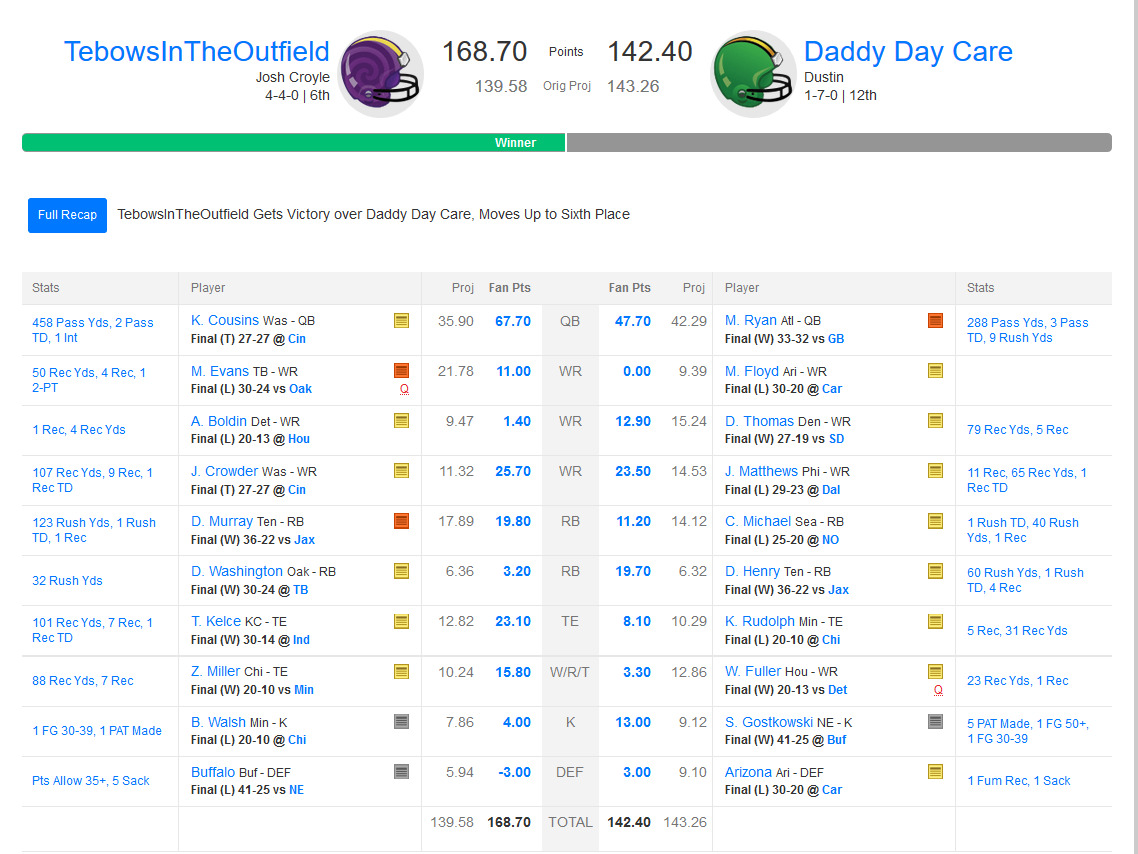 Standings
Offord (6-2) +222.40
Gideon (6-2) +168.60
Adam (6-2) +107.40
Lindsey (5-3) +33.50
Ryan (5-3) +179.90
Josh (4-4) -89.40
Seth (4-4) -24.10
BatmanJason (3-5) -44.50
Jason (3-5) +11.40
Jessica (3-5) -237.60
Jarrod (2-6) -219.80
Dustin (1-7) -107.80
Lindsey lost to Jessica (who is starting to show some signs of life) and that dropped her out of first place contention. She needs some folks to lose. Good news for her is that I take on Offord and I feel pretty confident in our matchup. Probably because I got 43.00 points from Mike Evans last night, that is always a good way to start. Adam plays Jessica and maybe she can continue her winning ways, while Gideon takes on Jason. Hmm, maybe Lindsey could get her wish. However, she better not overlook the fact that has to beat Ryan.
I was looking at point differentials today and noticed that my team has scored over 1200 (which puts me at fifth), but has given up the most. Talk about unlucky. Conversely, Ryan has scored 1100 (good for 7th), but given up the least. For those that are curious, Offord is the best all around. He has scored the most (over 1400) and his differential is +200. Actually, I will put them in the standings this week. I guess those differentials really show just how lucky a team can be with their schedule. I would be interested to hear other opinions. One of the cool things to read is the weekly recap Yahoo does for each matchup. They will mention what each teams record would be if they played every team, every week. Offord would still be dominating.
Oh, and I failed to mention something. BatmanJason chose not to start Derek Carr…who scored 97.60. If he starts Carr, Offord loses. Figured I should pour a little salt on that wound for BatmanJason…