I thought I was pretty awesome with my ten correct picks, but that was good for second as my brother decided to pick twelve right. I gained two more on Lindsey and now sit just three behind her in second place. Sean is a point behind me. After Sean it goes Ryan, Jason, Mom, Adam2, Gideon, Adam, and Offord. Hopefully I can pick up a few more on my lovely wife this week. Remember when I was in like sixth or seventh place? Yeah, she was talking some trash back then…not so much anymore.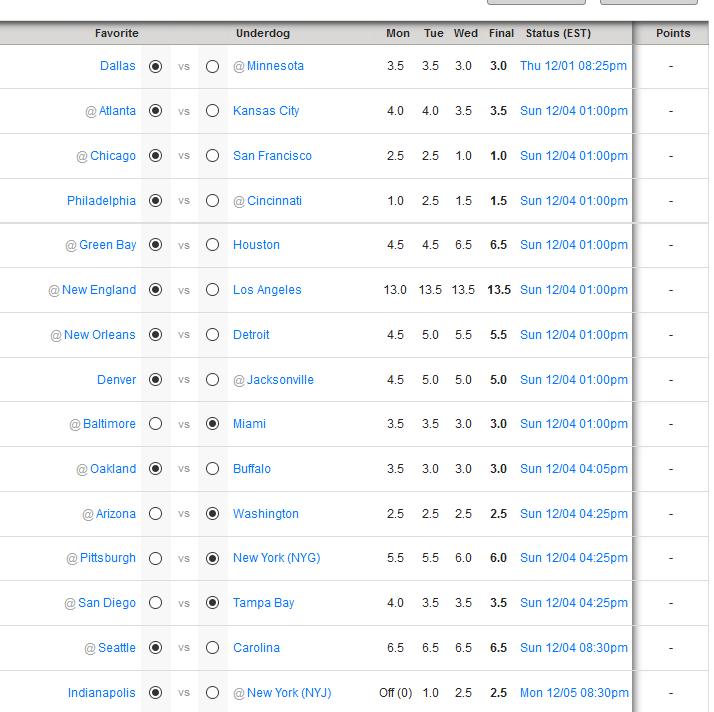 I absolutely destroyed Jarrod. If my team could play like this all the time…damn, I would be unstoppable.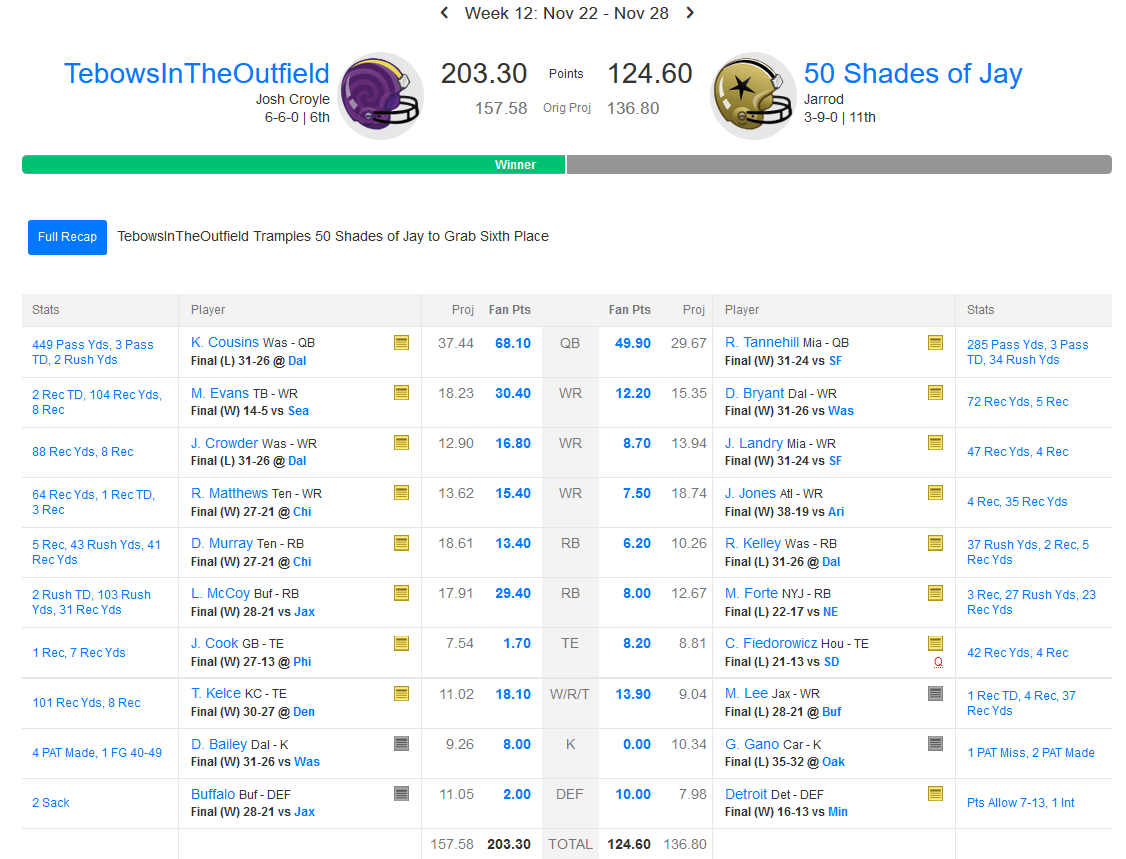 Standings
Offord (10-2)
Adam (10-2)
Gideon (8-4)
Ryan (7-5)
Lindsey (6-6)
Josh (6-6)
Seth (6-6)
Jason (5-7)
BatmanJason (5-7)
Jessica (4-8)
Jarrod (3-9)
Dustin (2-10)
Some pretty interesting things happened last week. First of all, Jessica almost defeated Offord. I bet she is wishing she had started Laderius Green over Julius Thomas. My brother helped me out by defeating Seth, and Gideon took down my wife. BatmanJason beat Jason, which is why there is such a crazy fight for those last three playoff spots. Right now the top three spots are secured by Offord, Adam, and Gideon. This is the final week of the regular season. Interestingly enough, I do not think this is a must win situation for my team. Allow me to explain.
Ryan takes on Offord this week, which means there is a very good chance that Ryan drops to 7-6. Lindsey should have an easy time with Dustin, which would also take her to 7-6. Where it gets tricky is Seth. If I lose, he has to lose as well, which put him, myself, and Jason (who I play this week) in a tie at 6-7. Unless something insane happens like one of those guys scores 300 points, then I should have more points and get the final playoff spot.
The scary scenario would be if Lindsey loses, dropping her to 6-7 and Seth winning. If I lose, I would need to outscore Lindsey this week by at least 12 points in order to still get that sixth seed. OR, I could just beat Jason and be done with it. Again, I cannot see a way if I win that Seth could leapfrog me (he would need to score 250+whatever I score this week).
I would like to point out that BatmanJason and Jessica face off this week. Will she get revenge for the big week two defeat? I love a good married couple rivalry…