Damn, not only did I not gain ground on Lindsey, but Sean decided to pass me. I mean, we are tied, but he owns the tie-breakers, so he is in 2nd place. Lindsey and I both called eight right, while Sean and Mom got nine. Adam2 was the big winner with a season best 13! He is now in 4th place. After that we have Ryan, Mom, Jason, Gideon, Adam, and Offord.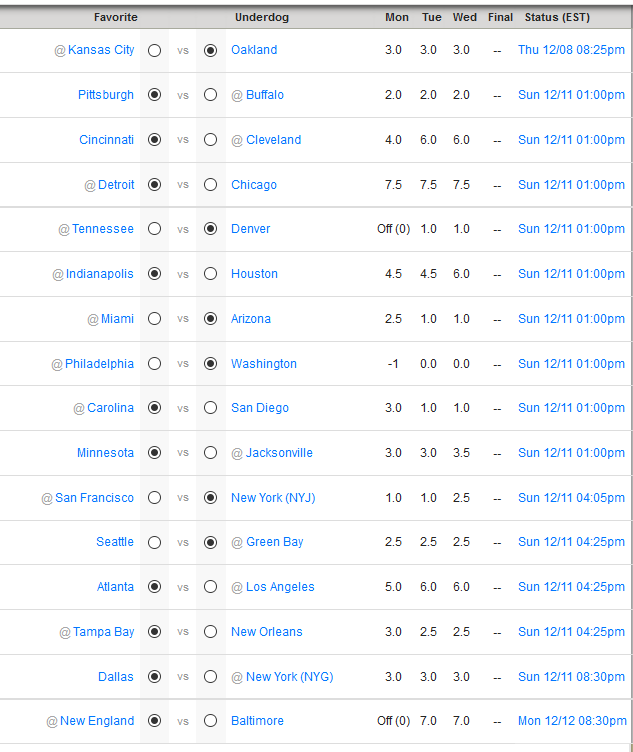 Well nothing like ending the regular season on a crappy loss. Not only did I lose, but I got beat down by Jason. Yikes. Plenty of guys under performed, but the worst was probably the Buffalo defense, who gave me -8.00 points. They were projected for 7 or 8, so that is a 16 point swing (not that it would have made a big difference).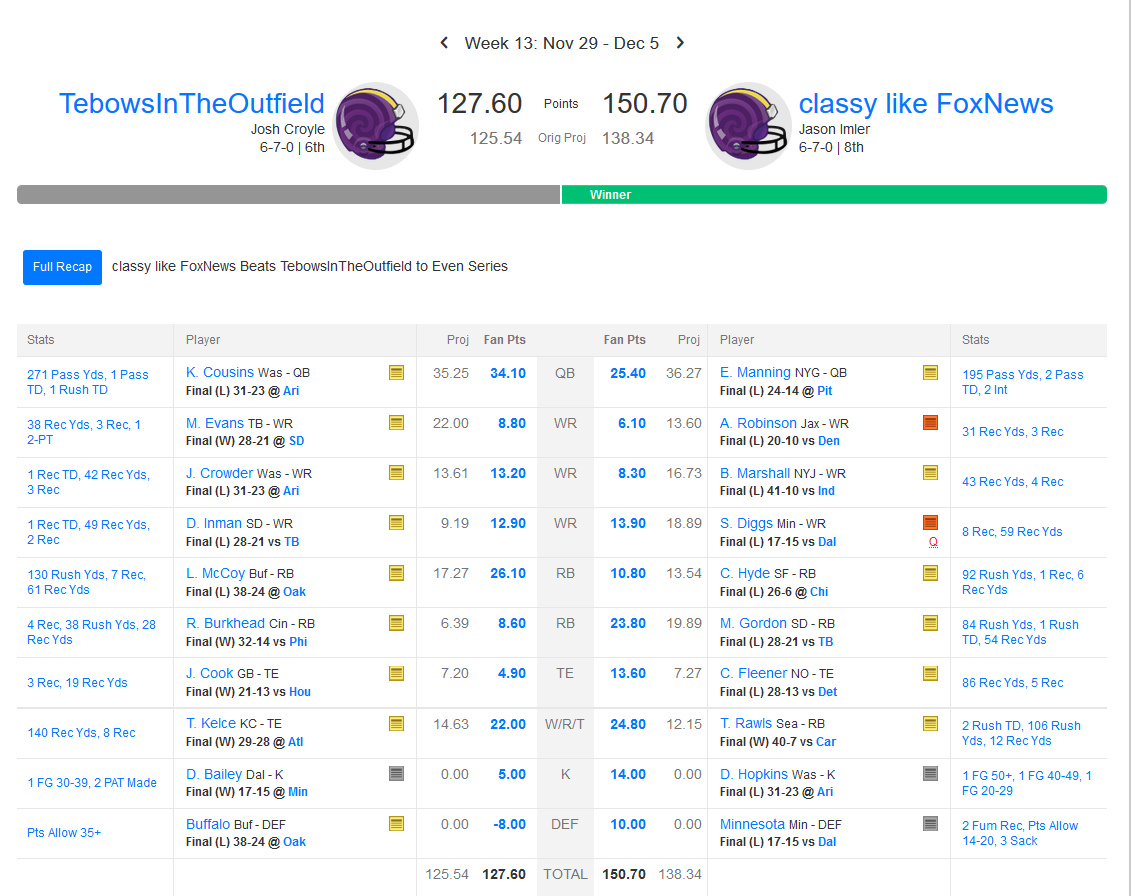 Standings
Adam (11-2)
Offord (10-3)
Gideon (8-5)
Ryan (8-5)
Seth (7-6)
Josh (6-7)
Lindsey (6-7)
Jason (6-7)
BatmanJason (5-8)
Jessica (5-8)
Jarrod (3-10)
Dustin (3-10)
As you can see, Offord lost and finished in second place for the regular season. My brother, who I did not give much recognition all season, was fairly dominant this year. Aside from a loss the first week to Seth and getting crushed by Offord in week four, he only had a few close matches the rest of the season. He averaged 168.22 points per week, I would say that is pretty good. Offord lost a tough one to Ryan last week and I am sure he wanted that regular season crown (but in all honesty, the playoffs are all that matters). He definitely was a scoring machine this season, averaging 180.13 per week.
Remember last week how I said some crazy stuff would have to happen for me not to make the playoffs? Well it almost happened. Seth won and Lindsey lost. If they both won, I would have been out. If Lindsey's team scores 7.40 more points, I am out. Imagine how mad I would have been if Lindsey beat me by less than eight? Considering the negative eight points my defense got me? It does not matter how you got in, just that you are in. I am like the Seahawks that year they limped into the playoffs at 7-9 and beat the Saints in the first round. Well I am like that if I win this week. If not, then I obviously did not deserve to be there.
For my first round, I have the privilege of facing off with Gideon, while Ryan takes on Seth. In the consolation bracket, Lindsey and Jason have byes, while Jessica takes on Jarrod, and Dustin battles BatmanJason.
Good luck to everyone!