OOHHHH YEAH! Guess who is in sole possession of first place? That would be this guy. You cannot tell, but I am pointing at myself. Last week was not the greatest week for us as a group. Jason was the best with 9, while most of us just got 8. Lindsey missed the Christmas day 4:00 games. Not that she got them wrong, just that she did her picks for the early games, then wanted to think about those later games and forgot to set them. Oops, that means she only got 6. Sucks for her. I am now the leader at 126-105 (I may dig through the archives to see how that stacks up to other years).
This week should be a little more difficult. I mean, so many teams have nothing to play for (the Steelers are sitting a bunch of people) and some of the lines are really weird. I mean, the Bengals are the favorite against the Ravens; the Redskins are an 8 point favorite against the Giants? Those are tough ones. Look at the Eagles/Cowboys. There is no reason for Dallas to even start any of their stars, but yet they might and could possibly blow the Eagles out just as a reminder that they are kings of the division. The Eagles are playing at home with nothing to lose, so they can treat this as the Super Bowl, go all out. Yeah, this is a rough week for picks.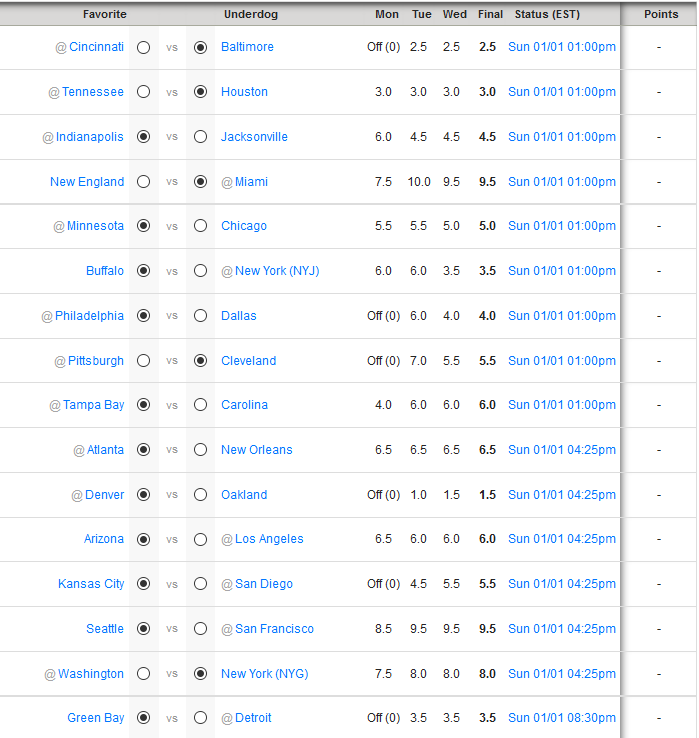 I did it! I finally won a championship in fantasy sports! Okay, I have won before, but this is my first championship in either of my leagues. I will not lie, this was a bit of a nerve-wracking week. My brother was projected to win by a point. I decided to ask friends for advice on which QB to start. The overall consensus was to start Cam Newton. Most people agreed that with the cold weather in Chicago and the Bears decent defense, Cam would be the better option. As Offord put it "drop both QBs and pick up Kaepernick. Screw you."  I guess he was still bitter about losing to me.
I listened to them and as the game was happening, my chances of winning started to drop drastically. Newton was having a terrible game…and Cousins? Ugh, he had like 30 points in the first half. However, Adam had decided the last day to switch Stafford for Marcus Mariota. I caught a huge break (ughhh, not cool Josh) there. He also had Dak Prescott on his bench. Kelce had a monster game, which put me up by a pretty good amount going into Monday. He would need a huge game from Golden Tate (and me to get few points from my kicker).
Cool fact. If we had started our best lineups (meaning I would have had Cousins, Boldin, Burkhead, Sims and he would have started Prescott, Watkins, San Diego, Montcrief), then Adam would have won 201.10 to 192.50. That is a ton of points sitting on the bench.
The Final Results


2. Adam
3. Offord
4. Ryan
5. Gideon
6. Seth
7. Lindsey
8. Dustin
9. Jessica
10. Jason
11. BatmanJason
12. Jarrod
I would say the biggest shock, aside from a 6-7 team winning the championship would be Dustin going from last to 8th with a nice playoff run. If anyone cares, Offord beat up on Ryan pretty handily. He made a great point, if Yahoo reseeded, then he would have won it all.
Anyways, thank you to everyone for another great year. I will be using the Facebook group to discuss changes to next season. I will now leave you all with a little music…